As we progress to the second week of the production at Nanyang Polytechnic, AlphaCrescent step up their efforts on keeping ahead of schedule. Under the guidance of their instructor, Miss Beverly, they were able to craft out lots of clay models which I found to be very exquisite!
Here's one of the clay buildings:
2 cute little clay humans standing in front of the building.
Doing a stop-motion meant that you constantly have to adjust the clay and take picture for every single frame. Seems a little tedious but it now made me appreciate stop-motion animation even more.
Wondering how they move the clay?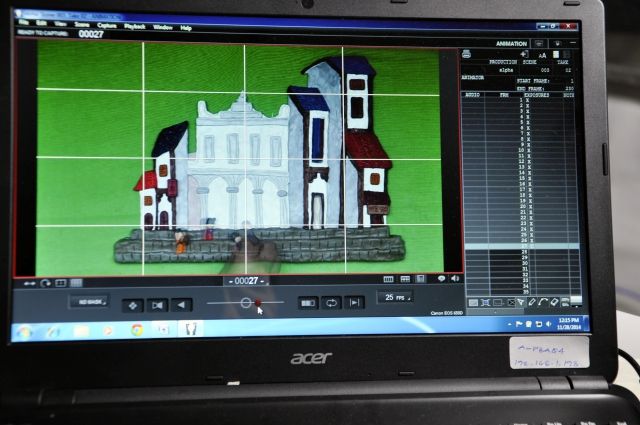 There's a translucent layer of the previous shot! So this is how they constantly adjust according to the previous shot and how they want the next shot to be.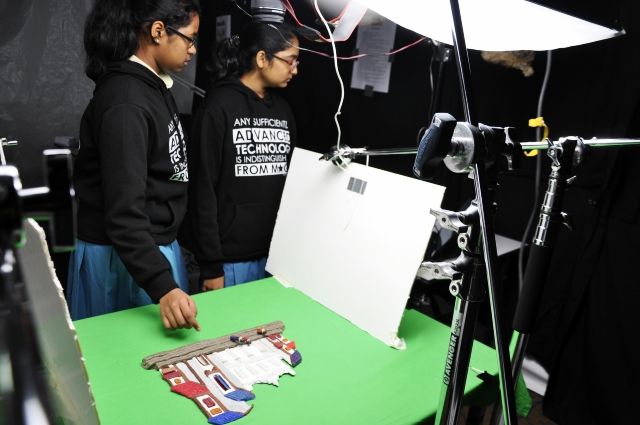 There are two camera booths so two of them will work on one. It does speed things up a little when you have someone adjusting and the other one making sure that everything looks right on the computer!
This is the other photo booth. Realise there's something different? Yes, it's the background! The background is different so that they can do their editing. The green on the clay will not show up on a green background and vice versa, so they use the ones with green clay on a blue background.
The clay humans which I found to be very cute. Too cute! You will see it soon enough as to how these are used! Each of them represents a different profession that helps to build Singapore's foundation.
There's something dark about this, as the teddy bear gets impaled by the pole. The girls were telling me that these poles are protruding everywhere so they needed something to protect the ends, and the bear 'volunteered'. It belongs to Miss Beverly!
In the meantime, please don't forgot to like their Facebook page! Show them your support and click on here and 'like' AlphaCrescent now!!! AlphaCrescent's news feed on instagram and twitter is available right here.