It's been some time since I last posted something for myself and this time I wanna share something really personal. I seldom talk about my dog but he's the one first one to greet us when we come home from school or work. My dog, Bobo, has been sick for about a week already. The lethargy, labored breathing and sneezes wasn't enough for me to take him to the vet. You know, he's usually healthy and we thought that it would go away in a few days.
This is how he sleep for the past few days, with his mouth opened and snoring away
Yesterday, I went back home for lunch and decided to take a quick nap. As I closed my eyes, I heard Bobo sneezing and I sensed him walking towards me. When I opened my eyes, he was sneezing so badly that there's mucus and blood spraying on me! I was so shocked that I told my mom to bring him to the vet.
The vet says that he's just having a normal flu and prescribed some flu medicine for him. Awhile later at home, he followed me to the kitchen and I wanted to feed him. Then he looked really dazed and confused and this is when it happened.
The seizure
It didn't occurred to me that it's a seizure but I know that something is terribly wrong when he arched his back so badly that I thought he's going to break his own neck. He was running on his sides, arching his back and yelping away. The whole episode probably lasted about a minute.
And he urinated on himself.
Sprawling on the floor, he was trying to stand up but he could barely crawl to a spot where he felt safe. Bobo managed to sit up after awhile and starting salivating. I was just so shocked because this is my first time witnessing it and I didn't know what to do. One part of me wanted to video it down so that I could show the vet what this is, but the other part of me was afraid that people would call me cruel to tape it down instead of helping my dog.
Dazed bobo ignoring me when I try to coax him out
I told my mom and brought him to the vet. The vet explained that it's a seizure, and is unlikely to be a side effect from the medication she prescribed. So she asked if we could do an X-Ray and a blood test to see if there's anything wrong internally; I agreed.
Bobo is very fierce, as my friends whom came to my house before would know it. Still remember everyone would try to do a 'Dog Whisperer' on Bobo... Hahaha.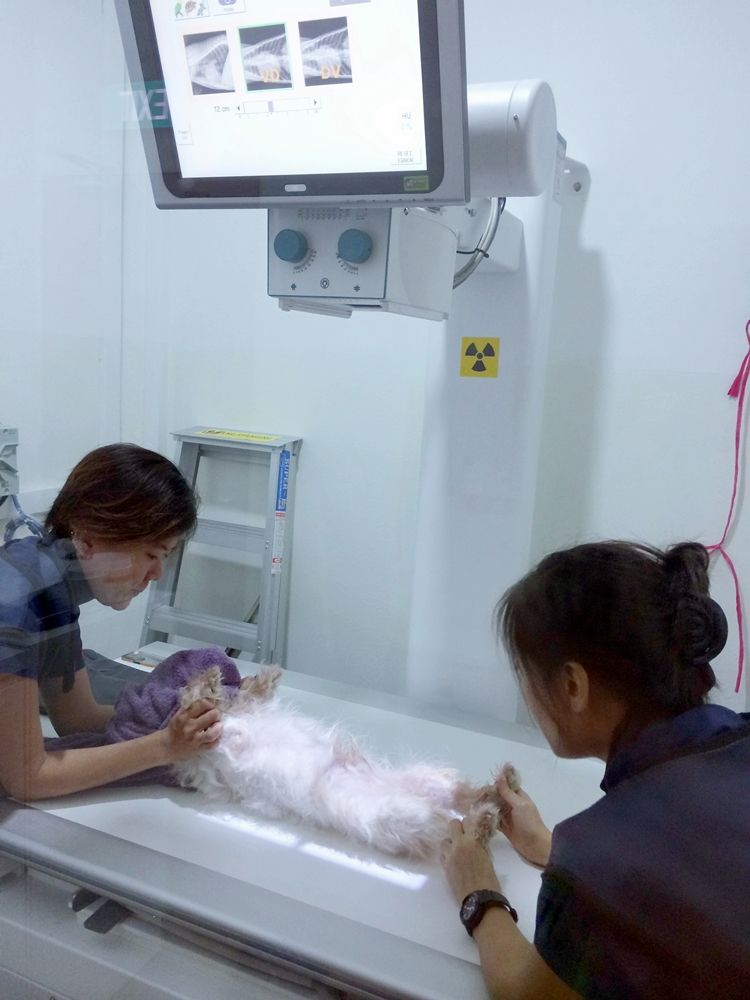 The assistants held down Bobo as they did the scan
The results were normal and it showed nothing wrong with Bobo. The vet said that it is possible for a mass to be growing inside Bobo's head or an allergy to penicillin, causing the bloody mucus, panting and seizures. She gave Bobo an anti-inflammatory injection, switched his medication to a non-penicillin base.
Well, I didn't expect all that to be so expensive! The whole medical bill came up to $400. I rather it be me who's sick than Bobo, there's hardly any cheap vets around. Heck, when you are sick, you get medicine from government clinics and it's subsidized. But when pets fall sick, you can hardly find a cheap vet and it's simply unbearable to see your pet in pain.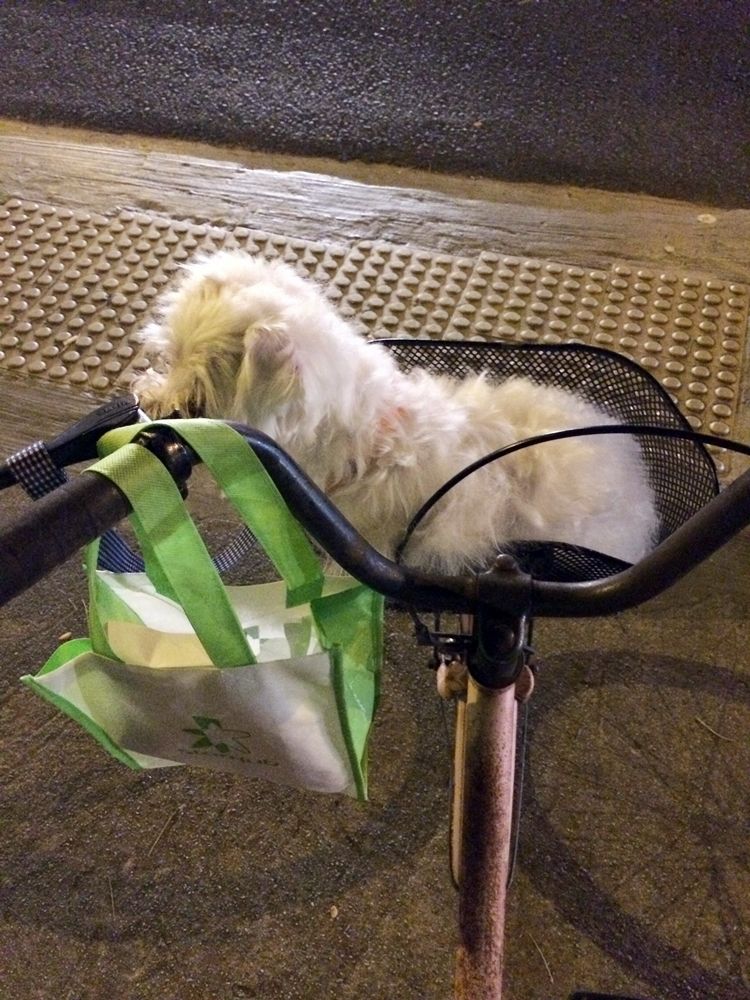 Let's go home, Bobo
It's been awhile since I last rode a bicycle, and it's the first time Bobo came out with me on a bicycle.
I went home to nap but I was woken up by Bobo's yelping. A groggy me thought Bobo was just randomly barking at my neighbors but then I realized, that yelping sounded familiar. So I quickly rushed out of my bedroom to see Bobo having a second seizure. It really broke me heart to see him in this state.
Here's a video of how a dog's seizure may look like:
Bobo on the other hand, didn't stood up as quickly as the dog did. It is very heart breaking to see your beloved pet in this state. The yelping, peeing on himself and being helpless to his seizure... I really wish with all my heart that Bobo recover soon.