The 9th edition of N.E.mation! is here! A competition organised by Nexus for youths to turn their ideas about Total Defense into animation, the one-week selection here is to bring out the top 10 teams with ideas that are closest to the theme! During the call-for-entry phase, the top 100 teams had been selected for this one-week selection where they will be coached to refine and pitch their ideas to a panel of judges. During this very exciting process, 90 teams will be eliminated to bring out the top 10 teams!
These are the themes for Singapore's 50th anniversary:
Believing in Singapore: Because This is Home
Pioneers
Forward-looking
SAF50
STLC George Goh, representative from Nexus and also one of the 4 judges for the selection giving a short speech before revealing the top 10 teams. And here we go!
One more cheer for everyone who made it into the top 22! It was very difficult to decide who gets to be in the top 20 so this year was an exception, allowing 2 more teams to be in the top 20.
The top 10 teams coming in your way!
The ecstatic moment where this team found out that they will remain in the top 10. Several teams were called out and at every round, only few teams could stay in the competition. Sitting there, I couldn't help but marvel at the organisers whom did a really fantastic job at pumping up the atmosphere!
Between this two teams, one of them would have to leave while the other one remains in the top 10. Both of the teams were very nervous; they grasp their team mates in hopes of remaining in the top 10, the other team held on tightly to their symbol of the team (the lemon of course). And who will it be?
.
.
.
.
.
.
.
.
.
.
.
.
.
.
.
.
.
.
.
.
The Elemonators! I can tell that the initial reaction was disbelief and shock, like 'wut?'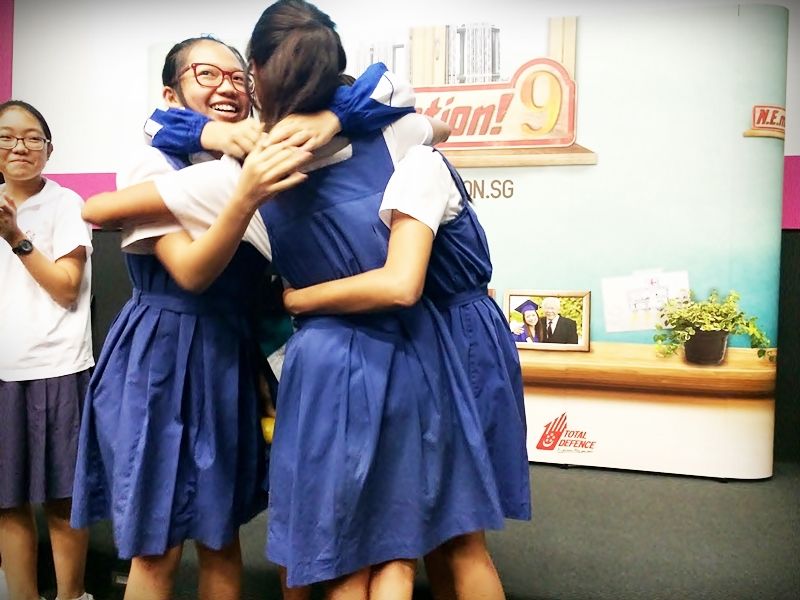 And they hugged each other knowing that they would endure the long journey ahead with each other's encouragement and support.
It was a tough fight between the top 22 teams, we all know it because the judges took nearly 2 hours to deliberate the final top 10 teams. Be it the ones who stayed or the ones who left, tears streamed down their faces. It was a memorable experience and no regrets for those who had to leave, it was not easy to make it to the top 22 in the first place.
And with that being said, this year was a little more special. The teams who managed to make it there to the top 22 were all given medals as a token of participation.
As the selection came to an end, we can now reveal all out top 10 teams who will remain in the competition! Here they are:
1.
Acrylics
from Raffles Instituition
2.
AlphaCrescent
from Crescent Girls' School
3.
Believed Beliefs
from CHIJ St. Nicholas Girls' School
4.
Chunky Monkeys
from Singapore Chinese Girls' School
5.
Elemonators
from CHIJ St. Nicholas Girls' School
6.
HigherThanYou
from Cedar Girls' Secondary School
7.
IDK
from Raffles Girls School (Secondary)
8.
JJKN59
from Kent Ridge Secondary School
9.
Millennium Dragons
from CHIJ St. Nicholas Girls' School
10.
wasd
from Commonwealth Secondary School
Curious about how they really felt during the elimination round, I managed to talk to one of the teams who got into the top 10.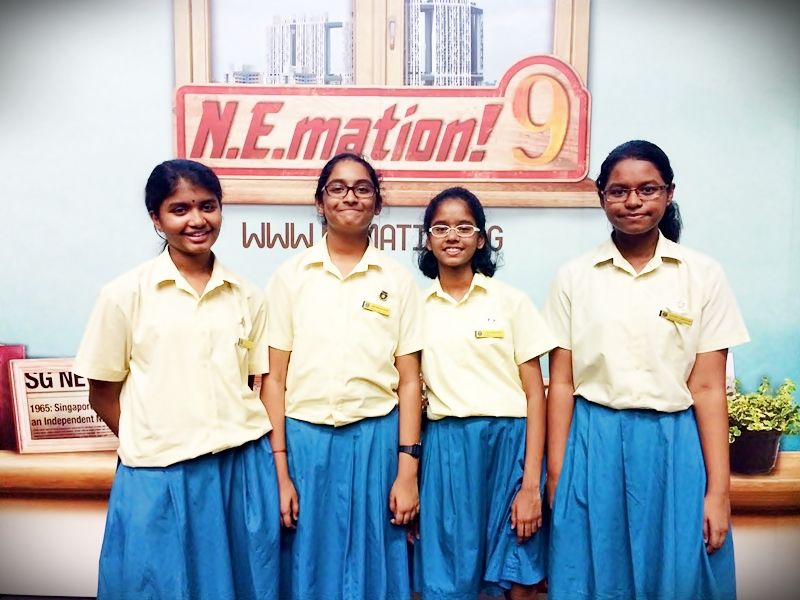 This is
AlphaCrescent
from Crescent Girls' School. They are all schoolmates in the same CCA, and very excited for the next phase of the competition! All of them were in total disbelief when the results came out, they thought other teams had better ideas but it must have been their presentation and sincerity that won the judges' heart!
Image from Isiah who caught this special moment
Even though the journey ahead can put girls' friendship to a test, AlphaCrescent told me that they have faith that they will be able to make it through and will be giving their best efforts for it, even if it meant forgoing their holidays!
Now that we finally have our top 10 teams, it's time to move on to the next phase!
The teams will be spending three weeks of their school holidays in November working on the animation and in between this period, they will be attending pre-animation production and workshops to help them in their final product.
All the best to all the teams! For updates of the competition, do visit
N.E.mation! 9 official site
and subscribe to the
Facebook
page!