Here's my one-day itinerary at Sentosa when Victoria came over to Singapore and stayed with me.

Checked in to Spa and Resort Hotel Sentosa

Proceed to Universal Studios Singapore (USS) with express pass

Luge Rides

Here are some pictures of our day spent at USS! We got the express passes and that really helped a lot on a saturday. Even though we went in the morning,the queues can go up to an hour long. So in order to maximize our time spent in Sentosa,we got express passes!

Ticket Type

Adult (Ages 13 to 59)

Child (Ages 4 to 12)

Senior (Ages 60 and above) One Day Pass

$74

$54

$36 Express passes available at a top up of $30 and only allow once per ride.
Vic and I,I always loved this street because it's so cute! They made everything look so realistic.
Arriving at the Ancient Egyptian.
No matter what,I still gotta say that I'm really impressed with the way USS designed this section. Towering figurines and...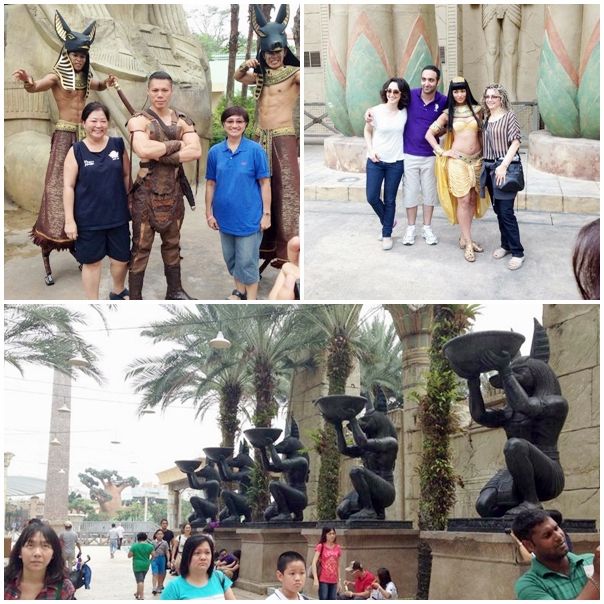 Meeting the royalties! Like Anubis and that Cleopatra lookalike. The guys really have well-defined abs. Me likey! =P
Taking a kiddy ride
Transformers! I really like this because it's pretty intricate.
Some random tourist. Main focus is here at The Lost World,we MUST take this Jurassic Park Rapids Adventure ride! Where we sit on a circular raft,sail through the river with dinosaurs on both sides of the river bank. Then we sped right down the slope and landed with a splash! Woo,it was fun!
We then went out after finishing most of the rides and walked to beach station for the luge ride. Passed by the Merlion and Victoria took a picture with it.
Touristy shot! Haha,I've not taken this shot before but not going to do it!
Sitting the skyride up. Vic is gripping very tightly because it's her first time taking it and she's scared.
But the second time,she's not afraid anymore because it's really safe and you know what to expect!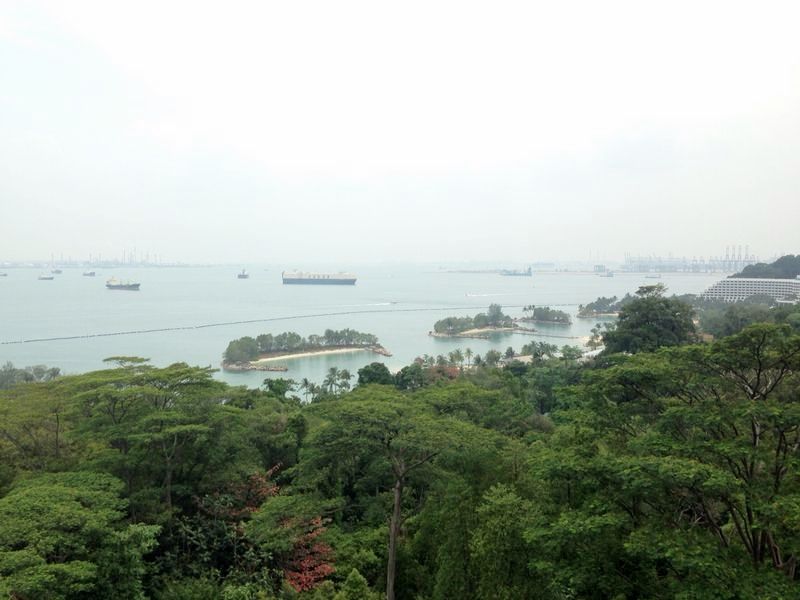 The sight is really beautiful if you look back and see the sea,the ships... It's simply beautiful =')
Queuing up with our helmets and the luge ride is behind us! It was really quite fun and definitely worth the money. No pictures while playing cause it's too dangerous,we might just swerve to the side and scrap our knees/arms.
Here are some details for the Luge ride:
Individual Deals:
1 Luge & 1 Skyride at S$15 / Person
3 Luge & 3 Skyrides at S$25 / Person
5 Luge & 5 Skyrides at S$33 / Person
Family Deals*:
4 ride family pass at S$35
8 ride family pass at S$55
10 ride family pass at S$62
Child Doubling** at S$3 / Ride
Skyride only:
1-way at S$11 / Person
2-way at S$15 / Person
Unlimited at S$17 / Person
We went to Wavehouse,wanting to buy swimming costumes for Adventure cove.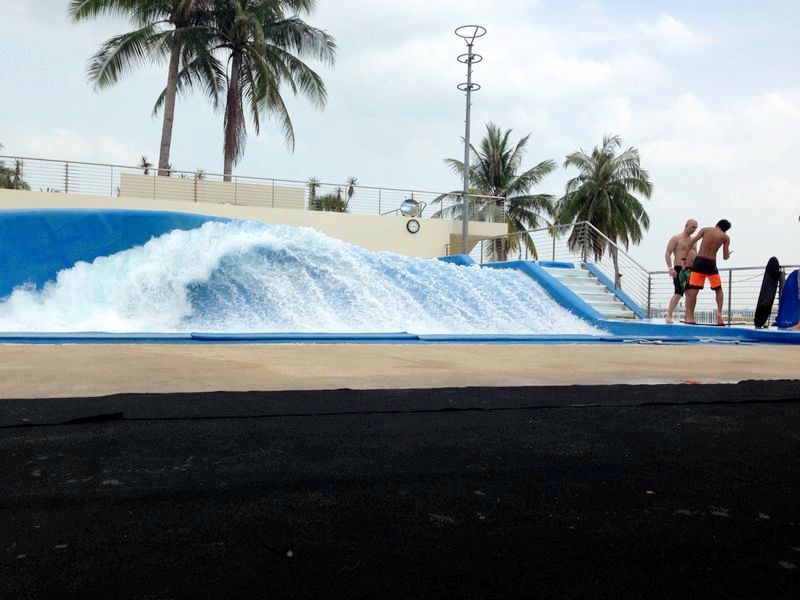 Watched people surf for a bit and went back to the Adventure cove. It was a little too late though,we reached at 4.30pm when it closes at 6pm. There was no point going in since we only had 1.5 hours. Well,if anyone wants to spend an entire day covering this 3 attractions in one day,I would say go for the Adventure Cove after playing at Universal Studios,as the luge rides doesn't close that early.
Head back to the hotel and had a good rest. I didn't take pictures of the room but it was very lovely,a very big room with a very big bath room. Feels luxurious in fact! Woke up early in the morning to swim since we didn't get to go to the Adventure Cove. Here's the swimsuit that I bought:
There are peacocks strolling around too,super therapeutic to just lie on the deck chair. Enjoy the breeze,sound of water and occasional cawing of the peacocks!