So on the 3rd day of my Korea trip,I went out with Andre because he's going to Ehwa Womans university and I have not been there before. I was looking forward to visiting the university and in my mind,I was picturing lots of girls around. I guess it must be a sort of dream come true for guys huh,pretty girls and brains - all in one place!
Ewha Womans University (이화여자대학교)
is located near Edae Station(이대역). Womans isn't a spelling error. American missionary Mary F. Scranton,founder of the school wanted to emphasize every student's importance and uniqueness than lumping them together as a collective group of students. Many firsts of women that came into role in society are students of the school, such as the first female prime minister,president,doctorate and so on. I really like their school motto:
Truth, Goodness, and Beauty
진(眞) · 선(善) · 미(美)
Walking along Ewha Yeo-dae-gil (이화여대길),you will see many stores selling clothes,snacks and accessories. I love 계란빵 GyeRanBang (Egg Cake) best,it is delicious especially during winter.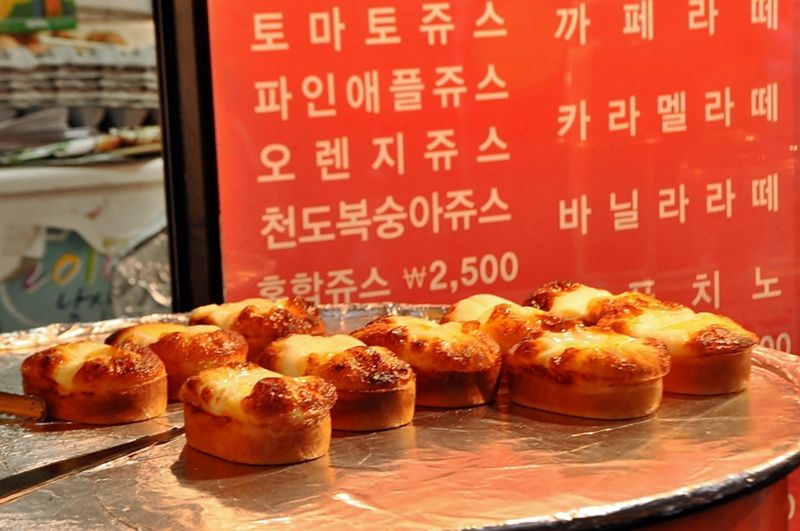 I bought this at W1,500(SGD$1.80). The bread crust is crunchy and the inside is damn soft. And warm. Feels damn good to be eating this while walking,many people like to huddle in the small tent and eat while avoiding the cold or taking a break from all that shopping.
So anyway,here I am at the university!
I was delighted to see this. The architecture is amazing and this campus is HUGE. Like,massive huge. Having the largest underground campus in Korea,the lower level contains a library,gym,bookstore and cafes.
They also have an eco park around,Andre commented that it must be beautiful in autumn with all the autumn colours around,such a pity that the tress are bare now. The sky is still very blue and the grass very autumn-y. HAHA!
I think there's a chapel up there but we can't enter because they are preparing for Christmas.
Snow,snow!
It was just a small patch but I was very excited and ran towards it. I told Andre that I must have a picture with it,lol!
Then we walked around looking for a cafe called
Egg & Spoon Race Cafe
. It's hidden in a corner,you would certainly miss it if you don't look hard enough. Take to Ewha Woman's University Station (#241) on Line 2, Exit 3 and head straight. Turn right at the second street,it will be on your right. The address is Seoul Seodaemun-gu Daehyeon-dong 54-9.
It's a very small cafe,but cosy enough. It feels good to step out of the cold and into this small cafe. We didn't wait too long for our seats,as it was dinner time and there were some foreigners whom are leaving. Spoons and forks hung overhead,menus on photo frames decorated the cafe. Many travelers must have visited this cafe as well!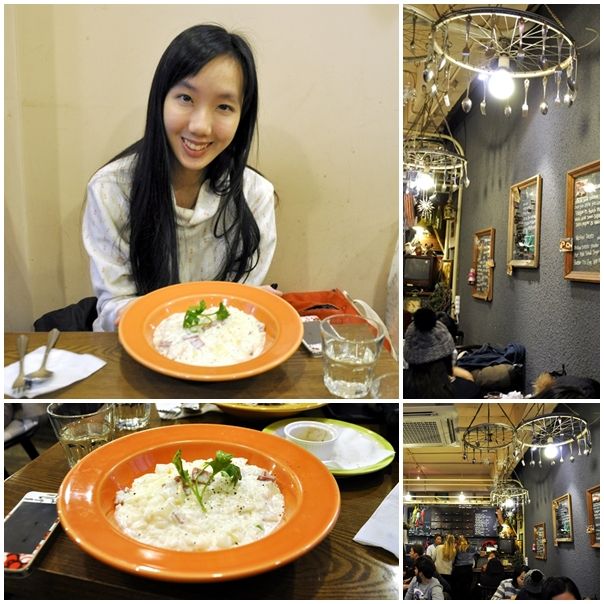 The waitresses were able to speak some basic English and the menu was available in English as well. It can be a little pricey but the food was good. The prices were written like US dollars instead of Korean won so you gotta remember to add 3 zeros behind it. Risotto was one of the recommended main course so I went ahead and ordered a Bacon & Cheese risotto.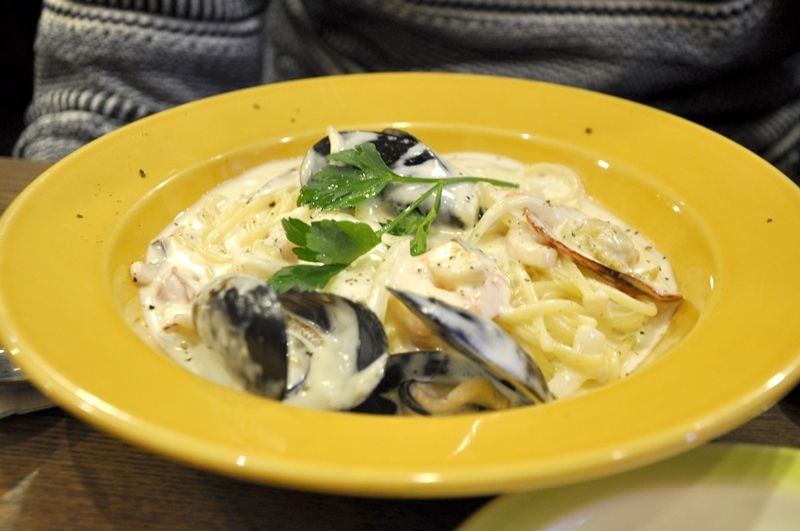 Andre had seafood pasta. The cafe had more american food than korean food,which is a good break from all the korean food that can be found everywhere. There's pizzas,a good selection of teas and the usual coffee and soft drinks. Prices range from W9,000 to W25,000.
The sky darkened quickly and I don't feel like my body clock is used to it. I am used to sleeping 2-3 hours after dark when the sun sets around 7.45pm in Singapore. But over here in Korea,the sky is completely dark by 6pm. Time seemed to pass so slow =(
After dinner,there's plenty of time still so we head off to Dongdaemun Shopping Complex (동대문종합시장 쇼핑타운). It's a short walk away from the station and might be a little confusing to walk there,so do ask for directions if needed. It's too cold to get lost in winter,and the wind kept blowing! Brrrr.
There's two shopping complex here,a little like Bangkok's Platinum mall,except you don't have to buy in bulk for discounts! Over here,it's either a yes or no for discounts. But I think the prices are quite reasonable. I didn't buy much because it's winter and the clothes are suitable for Singapore. Only a few basic knitwear for school and future travels. Andre was getting screen protector.
So I decided to change my Hello Kitty screen protector too. It wasn't sticky anymore so I changed to a skin cover instead,also a red and white Hello Kitty one. So many different ones for me to choose from! I got it at W20,000 (SGD$24),which is okay I guess cause the previous one was SGD$12 from Japan.
You can literally shop for hours,because they open until 5am! Madness,I tell you. I got tired quickly as I feel sleepy soon after dark so I guess it's about 9pm when we left.
Food.
YUMMY FOOD! The price range is about W1,000-W2,5000(SGD$1.20-$3). So much food,I can't even. I seriously want to try all of them but I can't,it's so annoying when the wind blows and the sauce will just drip on your scarf.
So anyway,I bought a breaded hotdog and ask Andre to take a picture for me. Didn't know that the seller was giving me a death stare. Damn epic,haha! The food was delicious by the way,I'm beginning to suspect its the winter that is making me feel this way!