I was alone on day 2,even though I could have asked Norah out. I did what I wanted to do: Seoul-searching. Having been so sick (literally fever + cough + sore throat) and worn out for the past one month,so I thought this day would really be a good time for me to take a break from all interactions. No phone connection or wifi. Whilst taking the train to Samseong station,I passed by Han river. It was one of the most beautiful scenery I had seen so far in Korea...
I did not know that this was a scenery that I could have seen while traveling out of the city area because the train was underground in the city area. I was a little apprehensive about getting off at this stop right next to Han river,called Dongjak and Seoul's national cemetery right here. While returning to the guesthouse,I decided to get off at this stop anyway to admire Han river.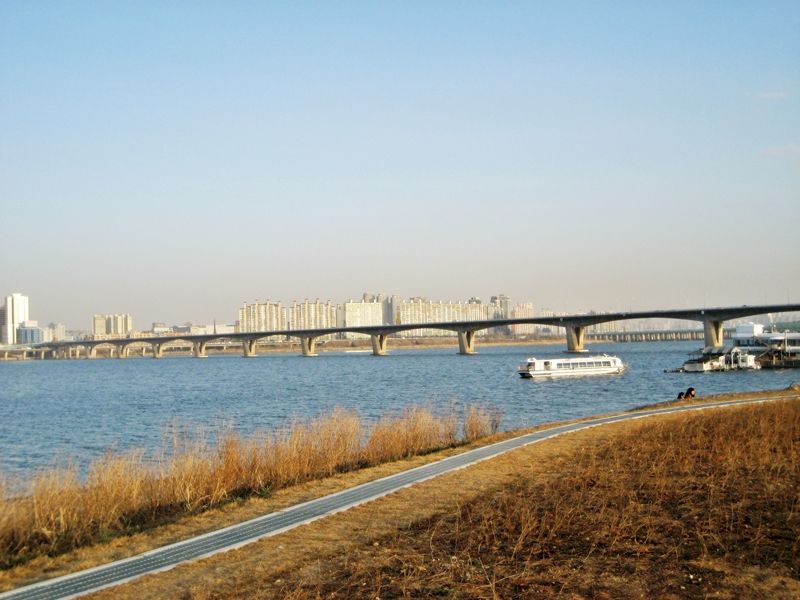 Walked along Han river and many thoughts ran through my mind,about life and marveled at the works of nature. The world is so big,yet only so big. A gust of cold wind blew,as I snuggled my face deeper into the warmth of my scarf. Sun sets early during winter,and my eyes traced the distance to the banks of Han river on the other side. My thoughts flow like the river,and felt melancholic as I recalled this poem:
既不回头,何必不忘。
既然无缘,何须誓言。
今日种种,似水无痕。
明夕何夕,君已陌路。
Since there's no return,why don't you let go?
Since there's no affinity to meet again,there is no need to make any promises.
Events that happened,will leave no trace like the flowing water.
Be it today or tomorrow,you and I are both strangers to each other.
~
A secret kept even from ourselves:
how bridges are falling
between the imagined word
and the spoken one,
between what I say
and what you actually hear.
If you could slow
time down, perhaps you might
even hear them falling.
Bridges of years our hearts
have signed away to crumble,
collapse
down the middle, leaving
behind a gasp
of air between two banks, wide
with unspoken truths,
a thousand pleas for empathy.
New bridges are rising
into form, incompletion, then
falling away. Maybe it is
this moment of our lives,
when the bridges
left standing are the ones
we miss,
when the ones we did
not mean to build
we built
from betrayal, regret, guilt and loss.