It felt so surreal that I am boarding the plane to visit Korea. There was much to look forward to,like exploring Seoul and see what they have to offer. I am definitely not a Kpop fan but I do enjoy watching Running Man! I am also very excited to know how much Korean I have learned that can be put to use,hehe!
Flew with Singapore Airlines,one of the most trusted airlines around the world. I would have taken a midnight flight to maximize my time,but I guess either Korea is popular or SQ is popular. Their seats are running out really fast and I got pushed to the 9.30am flight =(
I always try my best to book the big planes at the right timing! I can't stand flying in small planes for such a long journey.
No appetite on board so I didn't take pictures of the food even though it looked pretty good. I need my sleeeeeeeeeep! I stayed up all night planning my itinerary and packing my bag.
Arriving at 4.30pm in the afternoon(Korea is one hour ahead of Singapore),the first thing I did was to change into my winter clothes. I jumped from 28 degrees t-shirt and shorts to 4 degrees jeans and jacket. Then I went to get my sim card,which I was sorely disappointed with because it did not work during my entire trip. SY was waiting for me to have dinner together so I quickly went out and took a bus to my hotel.
Jung-gu, Namsandong 2 ga, 33-3, Seoul, Korea 100-042
The journey from Incheon airport to where I am staying at is pretty long. It took more than an hour! =( I stayed at
Namsan Guest House
. Thanks to Grace's recommendation,I had a really wonderful stay with them. The price is good and quite comfortable,starting from SGD $25/20,000Won per night for their dorm. They have four different buildings and this is just one of them.
SY was waiting for me when I got down from the bus. The sim card just doesn't work! He helped me with my luggage and I checked in before we went off to have dinner. Both of us were famished!
My first Korean meal in Korea. Grilled pork! Looks yummy! There were so many store that sells the same thing. We didn't know what to choose and randomly walked into this one. It costs us 26,000Won for this. I think it's definitely overpriced......
Well,I had a shock when they started dishing out so much vegetables on our table. Apparently we were suppose to put everything on the lettuce or something and eat it together. The pork is pretty thick and I think I'm fine eating that alone!
With SY! We both were commenting on how delicious the food were and catch up about life.
Wheeeeeeeee! See how thick the pork is,I'm so happy to eat such yummy food!
Polished off everything within an hour. The auntie was really nice as she kept grilling the pork for us and putting it on our plate. Then there was steamed eggs as well. So all in all,my lettuce had
kimchi + steamed egg + carrot + bean sauce + some sauce
that they took out. IT WAS DAMN DELICIOUS! I really love the whole thing put together and each bite tastes heavenly. Not sure if it's the cold or what,but it's really delicious. I'm drooling now just by thinking about it!
After dinner,we went off to Myeong-dong(明洞,literally 'bright town'),which was across the street from where I stayed.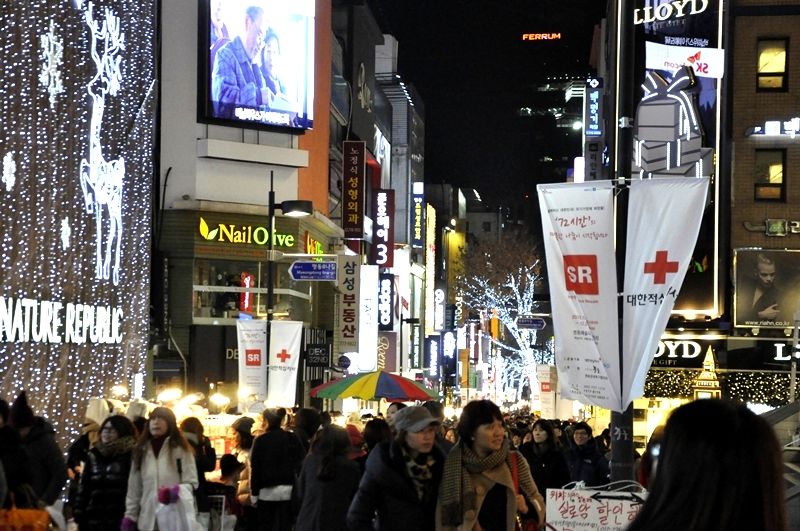 I was really excited when I saw how bustling it was! Everyone is doing their Christmas shopping,all the shops had their staffs outside inviting shoppers to go in,especially those selling facial products.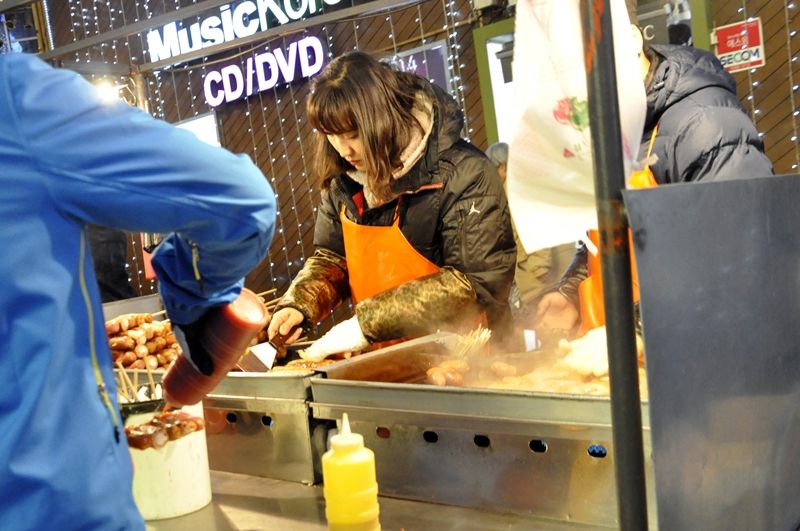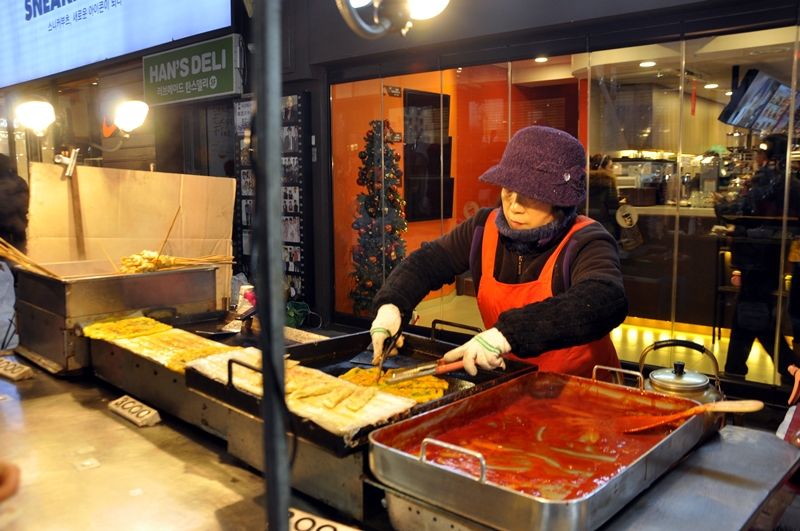 There's a lot of street-side food vendors selling all kinds of delicious food as well. Delicious smell wafted through the air,and it's really nice to eat something warm(or even spicy!) and delicious amidst the cold. There's fish cake,rice cake and lots of hotdogs. They costs about 1,500Won at least. But you can request for a cup of hot soup on the go for those that sells fish cake. I'm not sure if it's MSG,or the cold,but the soup tastes heavenly.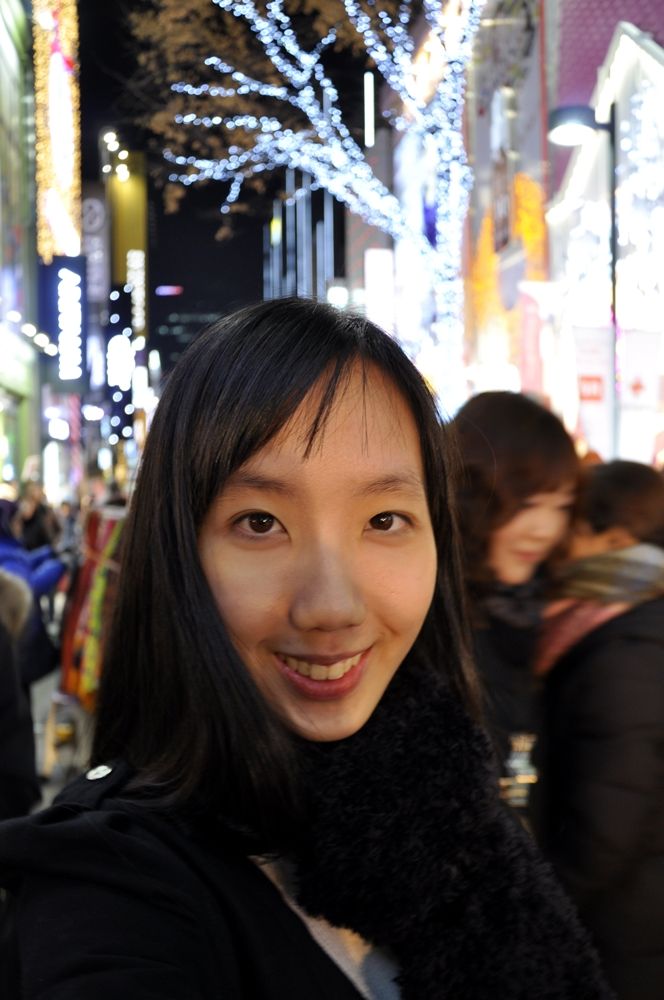 Hello Seoul =)
Christmas decorations are all around with Kpop music blasting from different shops. I think it's safe to say that the Koreans really love their entertainment and I see lots of Korean artistes endorsing their local brands. I really loved the joyous atmosphere,all that shopping and the cold. Can't wait to see how the next few days would turn out! This is the end of Day 1 now as I head back to the guesthouse to avoid the cold weather. So glad that I brought a scarf along!