I have been away for a long time but really,time is not on my side. I so badly want to blog about my Germany trip! But first,a quick update about my life.
I read a lot and lately,I stumbled upon this article writing about the right way to eat an apple. Right way? I always thought the right way is to just take a bite! There's no right or wrong way to eat an apple! Or is it so? Then I watched this video:
This video totally had my mind blown. Seriously?! I never thought about it but that evening,a green apple caught my eye and I decided to give this method a try. I am not one who eats fruits but curiosity got the better of me. And it works! Here's proof that this method works:
A happy me eating the apple. Fuss-free,no apple juice running down my fingers or down my cheeks. Never felt any happier eating an apple! By the way,I always thought green apples are sour. But for some unknown reason,this one isn't.
_________________________________________________________________________________
Studying in the library
Term tests are coming up and I really am getting more stressed with the heavy work load. I just got myself a pair of ear studs. It's been YEARS,literally,since I last worn a pair of earrings. Dearest Mint and Collin bought me a pair of Swarovski ones but I haven't got around wearing it. Oops!
Amidst the revision,I have certainly not forgotten to take some time out for my friends.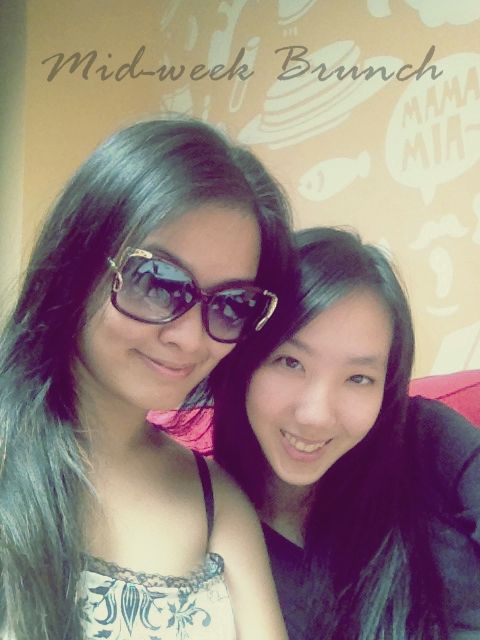 Went to Strictly Pancakes for brunch with Shirley the other day.
Here's a poem that I encountered recently and I believe it resonates with all the broken hearts in this world.
Time Does Not Bring Relief: You All Have Lied
By Edna St. Vincent Millay
Time does not bring relief; you all have lied
Who told me time would ease me of my pain!
I miss him in the weeping of the rain;
I want him at the shrinking of the tide;
The old snows melt from every mountain-side,
And last year's leaves are smoke in every lane;
But last year's bitter loving must remain
Heaped on my heart, and my old thoughts abide.
There are a hundred places where I fear
To go,—so with his memory they brim.
And entering with relief some quiet place
Where never fell his foot or shone his face
I say, "There is no memory of him here!"
And so stand stricken, so remembering him.
Literature students,analyze away!