This morning,SJ's sister invited us both to join his cousin's birthday lunch at Au Petit Salut. I jumped on it immediately because I haven't been to Dempsey for some time plus it's french food! We arrived at the restaurant with a heavy storm raging outside but it's okay,I was quite impressed with the posh setting and how the whole place is nestled within the lush greenery of Dempsey.
No pictures of us,my phone's camera was spoilt and I was too embarrassed to borrow SJ's phone to take a picture of myself or us. Lunch was considerably cheap,$38++ for a 3-course set lunch.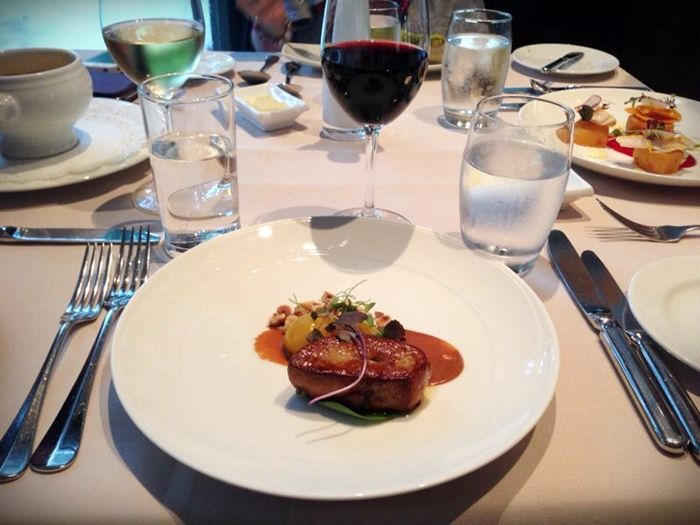 Sautéed duck foie gras, hazelnuts and Mirabelle plums (+$8)
It's delicious,but not the best texture you can find. So soft and flavourful! I nearly ordered some lame quiche cause I thought the foie gras comes with salad,something that I would not want to eat. It's a good thing I went ahead with foie gras anyway.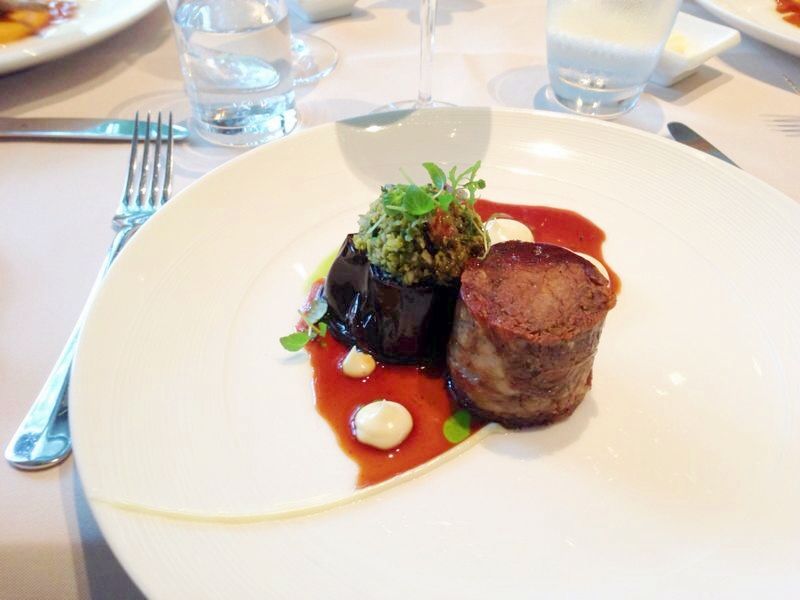 Slow cooked lamb shoulder, roast eggplant, capers & cornichons
The main course was okayyyyyy. I was a little annoyed with this dish because the lamb is like some shredded lamb cupped tightly into a cylindrical chunk of meat. The whole lamb kinda split and fell apart upon a single slice. It's a dish that I did not enjoy that much,because there's also the roast eggplant there with cornichons. I didn't even touch those! The eggplant was way too soft and cornichons was kinda sour. SJ's duck leg confit was not any better because it was too salty. We learnt afterwards from the waitress that the duck leg was cured in salt before being toasted. Ha. Ha.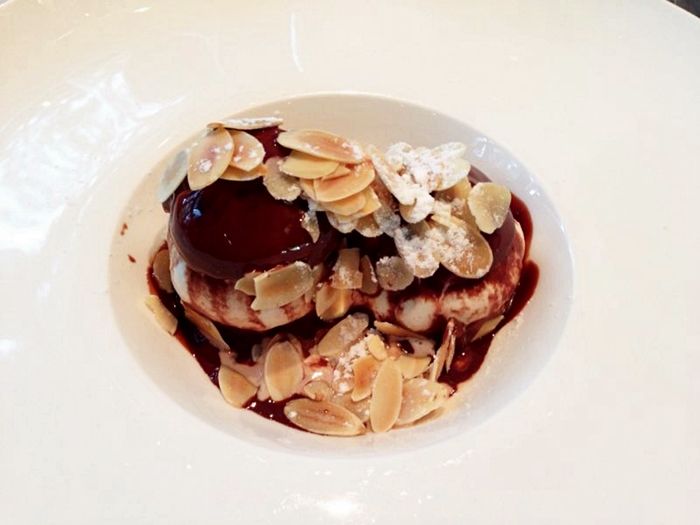 Choux buns filled with vanilla ice cream, warm chocolate sauce and sliced almonds
Quite yummy,but you have to take a bite of it with a bit of every ingredient. It's the best way to eat it like that because you can have the sweetness of the vanilla,warm chocolate and crunchiness of the sliced almonds. YUMS! Thinking about it just makes me wanna drive back there right now and eat it.
Soya cheesecake, wild strawberry compote, vanilla crumble and Jasmine sorbet
Switched with SJ's soya cheesecake. Not the best cheesecake around because I know a place elsewhere that sells cheaper and more savoury cheesecake than this. But I enjoyed the jasmine sorbet with vanilla crumbs. One can never get enough of those.
The rain subsided and I could see that it's really beautiful outside at the open air sitting area. It's a good place to chill and I will most definitely go back there for more! You might wanna check out their menu online over
here
.
Au Petit Salut
40C Harding Road
Singapore 249548
T: 6475 1976
F: 6475 1966
Operation hours:
Monday - Saturday
Lunch : 1130hrs - 1430hrs
(Last order)
Dinner : 1830hrs - 2230hrs
(Last order)