After going through a massive renovation,Suntec just unleashed its new look with a whole lot more brands in its building. Bringing the Brit fashion in town,
New Look
and Omy invited several bloggers to their sneak preview of the latest Fall/Winter fashion that's about to set the trend for the next couple of months!
We were introduced to the clothes launched for the Fall/Winter season. After being divided into groups of 3,we have 20 minutes to put together an outfit that we think fits best to the theme that we had drawn by chance!
Celine and are my team members! We had Baboushka which focuses on rich colours and sumptuous fabrics. In short,rustic Russian charm. Patterned knits are often favourites for this fashion style,especially during fall. Prints and textures are layered up with accessories to create an opulent look that imitates autumnal colours, luxurious textures and statement jewels.
More than one team was tasked with Baboushka. No prizes for guessing!
Celine looked gorgeous! We went around deciding what kind kind of shirt or dress we should go for. And making sure that we don't clash the top and bottom pieces. With so many different prints for this Fall/Winter season,we were simply spoilt for choice and used up the entire 20 minutes given!
We put together a white crop top with intricate designs,calf-length skirt that accentuate her figure with a pair of peep-toe heels to show her edginess. Proportions,people. The black & gold necklace would match her clutch and heels of the same colour.
Finally,all the models representing their teams stood together as Janet and
The others have themes such as New Model Army (very army-ish) and Grunge(edgy).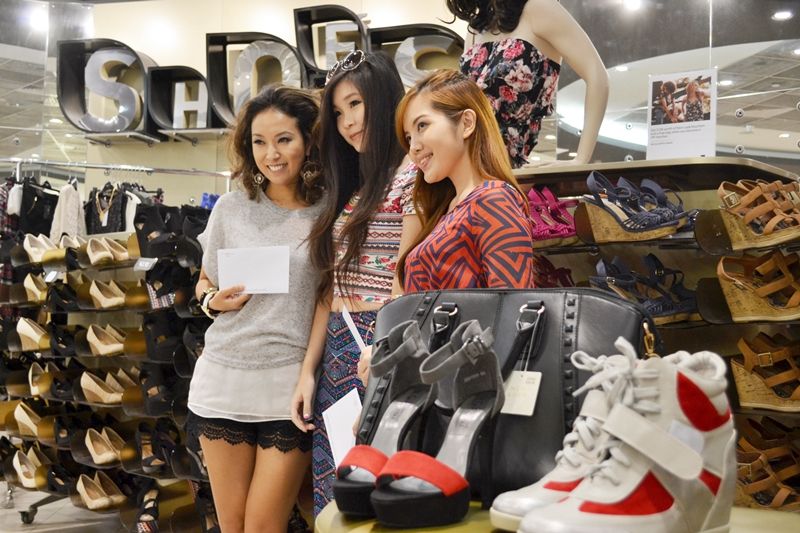 And we have a winner here,from Baboushka theme too! They won themselves New Look vouchers. Woohoo! You know what that means? SHOPPING.
All of us together. Don't envy,because I am about to tell you a good news now. Quote "
omy bloggers
" at New Look stores and receive a 10% discount on regular-priced items! This promotion is valid from
14 to 30 September 2013.
Check out their Facebook page
here
for more information.
May you all look pretty and cosy in this season!
Toodles~