I steadied my balance while tottering on high heels,trotting along the street that led up to No.5 Emerald Hill cocktail bar. I was invited by Poppy to the Corona Singapore's launch of their new beer:
Corona Mexican Bulldog
No prizes for any guess on the origins of the beer,especially this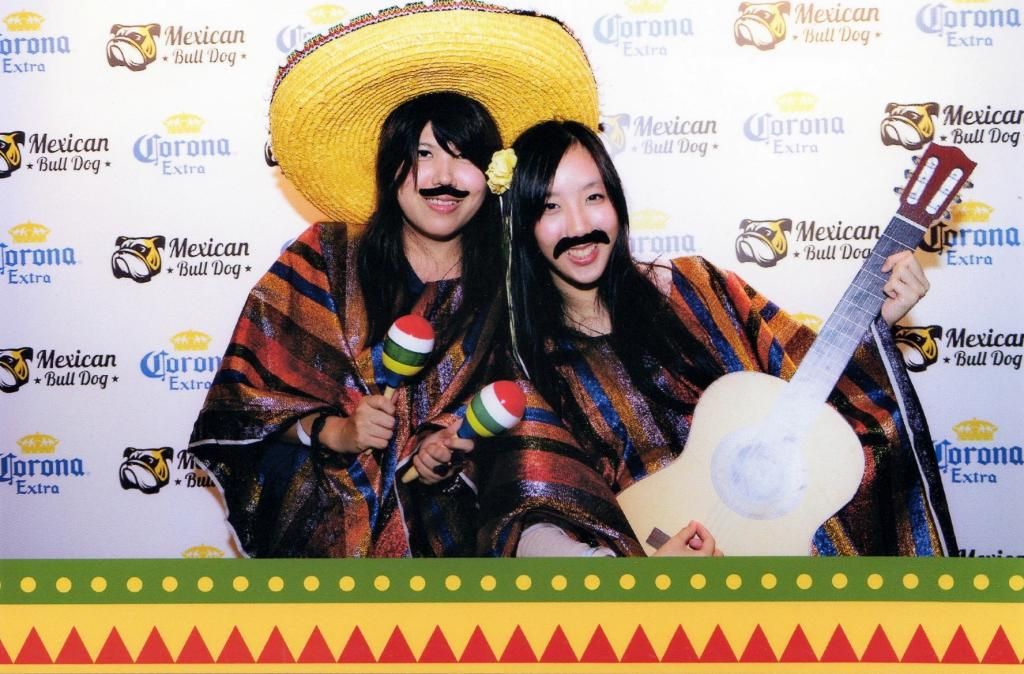 Jessie came as my plus one. Heck,let's just put on a fake mustache and get in the mood!
I love the look of the place. Red lamps hung overhead while we were immediately served with a bottle of Corona beer each.
Along with peanuts too! Everyone in the bar is just making small talk while sipping beer while waiting for the launch. Even with the music I can still hear Jessie talk as we did the same and commented about the taste of the beer. More friends arrived and I couldn't be any happier to catch up with them.
Ohhhh yes. As you might be able to guess from the picture,something exciting is about to happen!
Samba dancers! Along with Mexican drummers,they danced on back and forth in their choreographed steps,hyping up the mood. Everyone watched in glee and some woman,I kid you not,went up and jiggled her shoulders along with the dancers. Haha!
Our emcee for the evening. The Samba dancers pushed out a trolley of smoking cold (yo man,it's dry ice) Corona Mexican Bulldog for its official launch.
It looked something like that. My first thought was omg,the margarita is SO gonna spill over when we turn that Corona upside down on it. But no,it slowly sank into the margarita. For some reason,I do enjoy this 'cause of its light and refreshing taste. Got me asking for a second bottle ;) I couldn't be more happy when Fiona sent half a dozen to my house! It's time to organize a house party. Thank you Poppy and Fiona for the invitation,and Jessie for being such a good company!