Some time back,I had the opportunity to try out hot pot rice,with thanks to Open Rice for the invitation. I am never a Chinese food person,preferring western and Japanese food over any other cuisine. I have often heard about hot pot but never got around trying it so I thought,why not?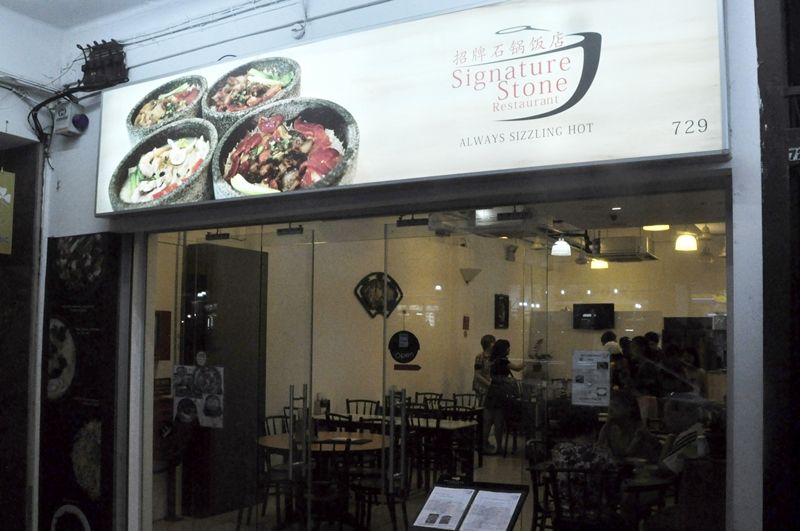 Signature Stone Restaurant
Address : 729 Havelock Road
Tel: 6271 9918
I have been on this road once and it as not too difficult to locate. Just a 10min walk away from Tiong Bahru MRT station,I arrived at this cosy restaurant. It was a cold evening,and I am in desperate need for something to warm me up and to stop my stomach from growling.
Stone Pot Chicken ($5.30)
Upon the food's arrival,the staff will proceed to drizzle some dark soy sauce to balance the taste and stir the rice. It reminds me of bimbimbap though. This dish is made up of marinated chicken, salted fish, sausage, mushroom and veg. The next dish is however,my favourite.
Wine Chicken - $8.00
The wine chicken is sooooooo tender! I really love its tenderness and tastefulness. Each bite exudes the taste of the soup - a tinge of spice and rice wine. They say each dish has got their specialty,whether is it the soup or the meat. I can't decide for this one!
Stone Pork Chicken, Longans and Black Bean Soup (Big - $12.40)
As the name itself suggests,there's chicken, dried longan, black beans and slice licorice. Personally,I feel that this is a little oily for my liking. The chicken was not as tender as the previous one but there is a hint of sweetness in there which people may enjoy.
I love how cosy the place felt. Ariel,the restaurant owner,came out personally to host us and told us how she experimented with different hot pots to bring the taste she thought was good for hot pot lovers. I cannot imagine the amount of patience and effort put into each hot pot,tender loving care I suppose! That evening,I met up with many new bloggers and happy to see Calvin again. It's been so long!
Tiffany and myself.
Makan session with the other bloggers
You may find out more about Signature Stone restaurant at their website:
http://www.signaturestonerestaurant.com/