One of the world's most successful and popular musical has returned once again to the shores of Singapore for the third time:
The Phantom of the Opera
More than 130 million people worldwide had seen this phenomenal hit by Andrew Lloyd Webber, whom celebrated its 27th anniversary last year on the West End stage where it continued to play to full houses nightly in London, New York and around the world. Needless to say,the same phenomenon is seen in Singapore where seats were quickly swept up weeks before the opening night and organisers said that they are almost sold out.
With a 130 cast members,crew as well as an orchestra that comprises of mainly Singaporeans,more than 230 costumes,the musical is set to amazed you with its grandiose and splendor. Telling the story of the Phantom's obsession with the budding young singer Christine Daae,he masterminded her success and vie with handsome Raoul for her hand in marriage.
Masquerade scene.
Being a student who used to study literature,I love this scene for its. A scene of celebration just before *spoiler alert* the Phantom arrives. Such a lovely party!
If you caught the one back in 2007,you might be delighted to find that it is the same Phantom who will be performing for this month-long season! Thanks to the overwhelming support from Singapore,they have decided to add 8 more shows. With its extension to the 1st Sept 2013,do get your tickets now! The price range is from from S$55 to S$230, excluding the booking fee of S$3 per ticket.
Click here to purchase your tickets.
Whenever I'm in the mood,I would start humming to the songs and often wondered when are they returning to perform. I went to the
opening night in 2007
(pardon the 14-year-old me with poor command of English) with my first boyfriend and found the whole musical tremendously amazing. I had been treated to a visual feast of colourful costumes,magic tricks and beauty in this musical. This time round,I felt really blessed to invited to watch The Phantom of the Opera once again. Not just an audience,but to also step upon the red carpet and the opportunity to interview the amazing cast members:
Brad Little as The Phantom.
He exudes a very fatherly aura whilst everyone gathered around him to hear him speak about his experiences during the performances,on and off stage. Raoul and Christine may lack a bit of chemistry onstage but the Phantom is able to make it up with his act. He is one of only four men in the world to have played the most famous character in musical theatre history over 2,000 times! I must say,this time round,The Phantom of the Opera feels grander and more dramatic. The different Christine(s) help keep the experience refreshing for him,he chuckled while saying that.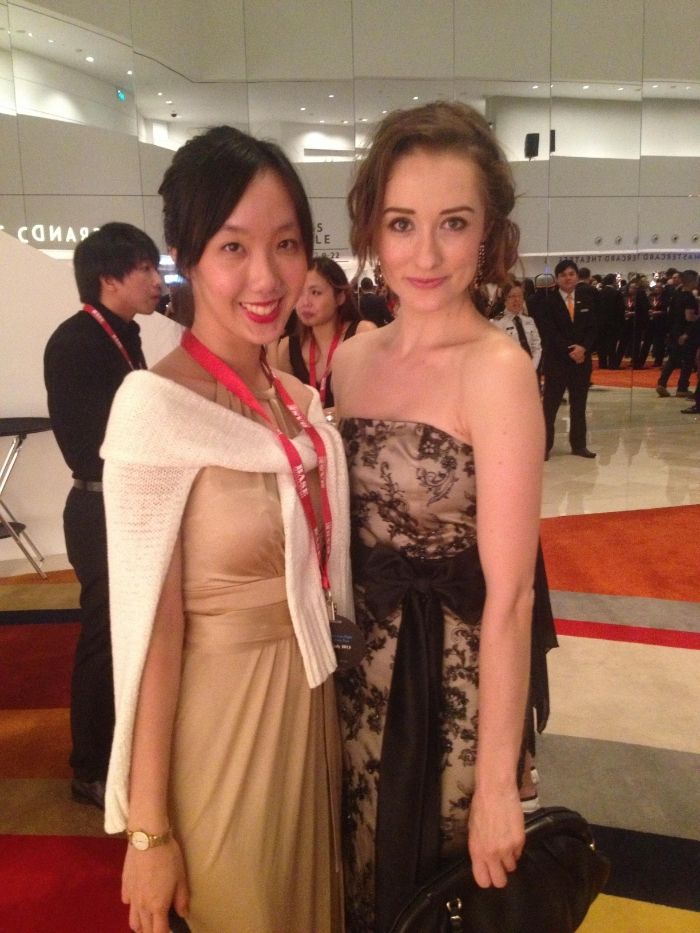 With the oh-so-beautiful Claire Lyon as Christine Daaé.
Anthony Downing as Raoul. He's too handsome,I was literally squealing to take a photo with him. In the interview,I asked him if he would be interested to play the Phantom in future and he said definitely. Someone asked a similar question to Brad,if he could choose to play another character,who would he choose? A bit daft of a question isn't it? Brad laughed and said,no one! Being the Phantom is really the epitome!
Photo taken by Sistic.
I invited Joel,my fellow friend from ballet class whom watched this at Broadway itself. Thank you,Joel! He really made an effort to dress up for the black-tie after party!
Another one of my own:
Throughout different period in my life,I have quoted different quotes from phantom of the opera sound track.
When I'm in love,I love to sing/hum and quote these few phrases:
Think of me, think of me fondly,
when we've said goodbye.
Remember me once in a while -
please promise me you'll try.
-Think of Me
Say you love me every waking moment,
turn my head with talk of summertime...
Say you need me with you now and always...
Promise me that all you say is true
that's all I ask of you.

Say you'll share with me one love, one lifetime...
say the word and I will follow you...
-All I Ask of You
When I was upset,I would hum these few verses:

Wishing you were somehow here again
Wishing you were somehow near
Sometimes it seemed if I just dreamed
Somehow you would be here.

Wishing I could hear your voice again
Knowing that I never would
Dreaming of you won't help me to do
All that you dreamed I could
-Wishing You Were Somehow Here Again
How apt! I absolutely adore The Phantom of the Opera. So much so that I am going to watch it for the second time with my secondary school friends! Don't forget to get your tickets now!