I rummaged through my closet,hoping to find something that I can miraculously transform it to imitate the fashion from the 60s. Heck,I even googled and surf blogs for ideas. But they didn't reveal much except the fashion trend in the 60s were mostly the A-go-go.
Bump pits for the hair to make it stand,and bright colourful prints with mismatch coloured stockings.
I thought I wasn't going to make it wearing the 60s outfit when I realised that my mom would probably would have some. So I went over to her room and opened her closet. A whole bunch of clothes from the 60s greeted me like how a treasure box greets the eyes of a treasure hunter. Whoopee! I finally have something to wear for Singapore Blog Awards! I have never seen her wear those before,which isn't really surprising. I decided to go for bright prints,despite some of her other clothes that would have looked more similar to the 60s fashion. I don't want to look too dull or grandma-ish y'know.
Making my way to Shanghai Dolly.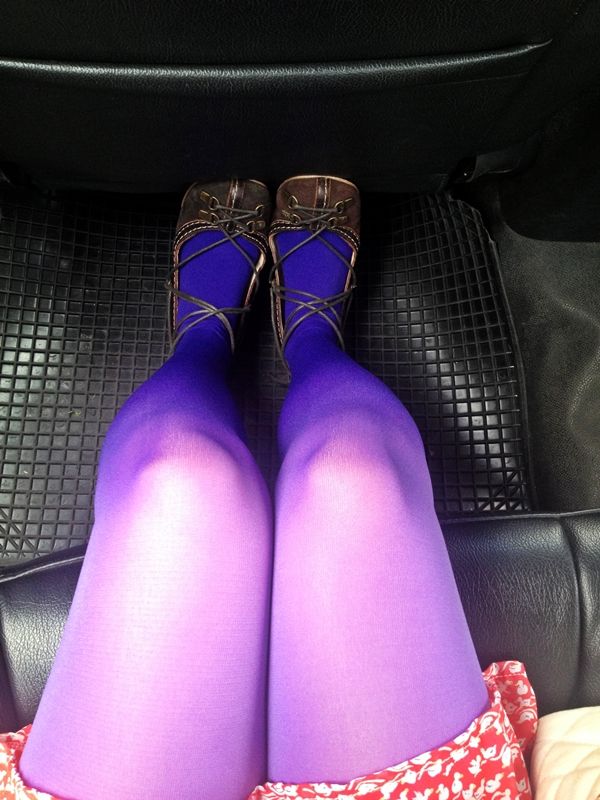 Purple stockings which NO ONE saw. Sad much,cause I thought they were rather nice and hell,I was bold enough to wear it out that day! It has this nice gradient change from light purple to dark purple. I had it a long time ago and didn't take it out until now. It's my very first time wearing it out!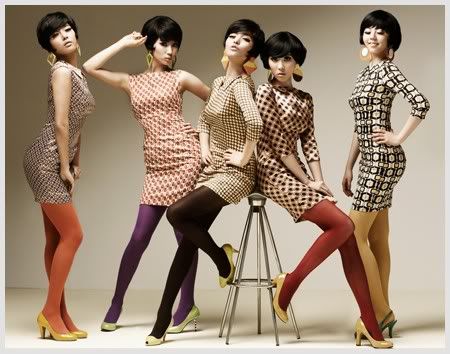 I tried my best to imitate their fashion and...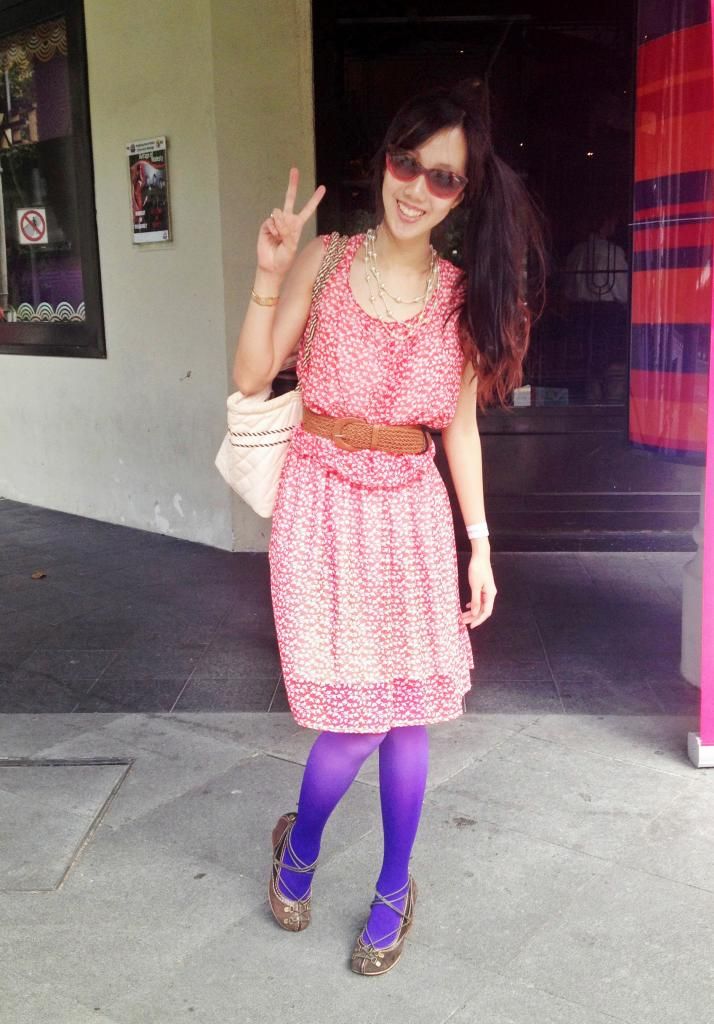 "Hello!"
I am NOWHERE near.
The guest of honour for this year's Singapore Blog Awards 2013 is Mr Lawrence Wong. He is the Acting Minister for Culture, Community and Youth and Senior Minister of State, Ministry of Communications and Information. With a good sense of humour,he handed out the awards to our winners of the respective categories.
MAIN CATEGORY WINNERS
Panasonic Best Photography Blog
Christina Gao
travelgraphy.wordpress.com
Exabytes Best Individual Blog
Grace Tan
workingwithgrace.wordpress.com
Levi's Best Fashion Blog
Jaslin Tan
www.justjaslin.com
Nanyang Optical Best Lifestyle Blog
Jasmine Koh
www.scissorspaperstoneblog.com
Best Family Blog
Ai Sakura
www.sakuraharuka.com
Best Food Blog
Tony Johor Kaki
johorkaki.blogspot.sg
Best Travel Blog
Sock Peng
www.mylovelybluesky.com
Best What-the-hell Blog
俊凭 Willy
www.lonelyclass.com
Best V-log
Ninja Girls
www.youtube.com/ninjagirlsSG
Best Microblog
Spin or Bin Music
www.twitter.com/spinorbinmusic
SPECIAL CATEGORY WINNERS
Panasonic Best Beauty Blog
(3 grand winners not in order of merit)
Elrica
pink-buble.blogspot.sg
Elaine
www.elaine73.blogspot.sg
Karen aka Renzze
www.renzze.com
Panasonic Best Cooking Blog
Celes
www.celestialdelish.com
Panasonic Best Eco-Challenge Blog
Ivan Kwan
lazy-lizard-tales.blogspot.com
Glossi Best Modelling Blog
Karen aka Renzze
www.renzze.com
JBL Best Pop/Music Blog
Mint Leong
www.mintleong.sg
Leo
www.spinorbinmusic.com
Levi's Best 501 Interpretation Blog
Claire
www.claires-flair.com
Qoo10 Best Online Shopping Blog - 1ST
mitsueki
mitsueki.wordpress.com
ANdyStorm
www.imandystorm.com
Regina Chow
reginachow.blogspot.sg
Luke Phang
www.lukeyishandsome.com
jeez-jia
faithjoyhope.blogspot.sg
CELEBRITY CATEGORY WINNERS
Panasonic Most Popular Overseas Celebrity Blog/Microblog
Alien Huang 黄鸿升(小鬼)
www.facebook.com/aes.alien
Panasonic Most Popular Local Celebrity Blog/Microblog
Jeanette Aw 欧萱
Congratulations to all winners! I am so happy for them and I believe the finalists feel the same way too. Super happy to see all the familiar faces at the blog awards and there is a competition for the best outfit that represents the 60s.
Colin was so creative to wearing a hawker's 'outfit'! Everyone took one look at him and started yelling out orders for char kway tiao. He brought 4 packets of what we thought was char kuay tiao,but it's actually the Good Morning towels. How retro!
"Char kuay tiao mai hum!"
Smith was quite funky with his Afro hairstyle. I love his confidence!
But no one could beat the
mata
(police) who stood in the corner on the right. That one is the best. Who would have thought of that?!
Together with William
With my sweetest Mint mint. Congratulations for winning the music blog category! She is super passionate about music and even enrolled herself into a music class! I certainly hope that I will one day be able to attend her concert in future. She wore a pretty floral dress with big earrings and her bangs totally rocked the 60s fashion.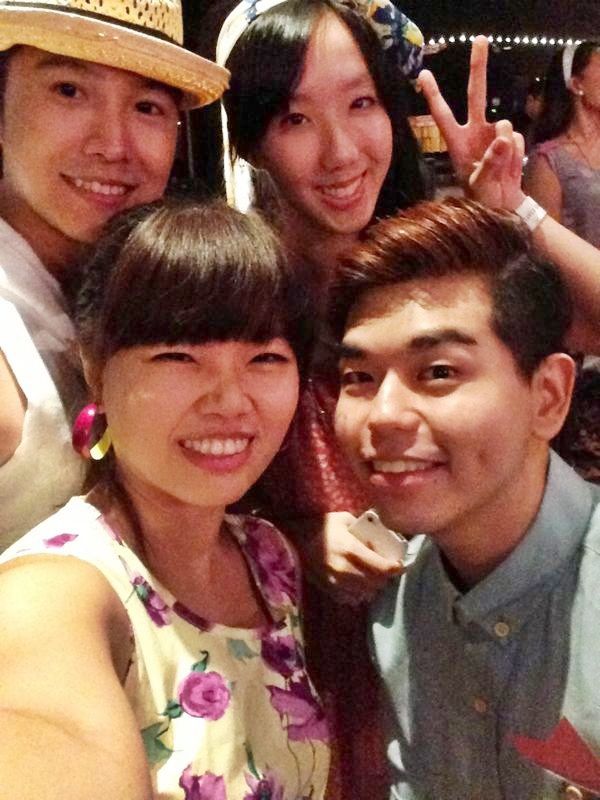 Colin,Darren,Mint and myself
With dear Joanne-Marie. I haven't seen her in such a long long while!!! I was quite keen to hear about her filming in Taiwan where she traveled around on a Vespa. A friggin Vespa,super adventurous lah!!! I wish I had a chance to do that! Watch all the videos about her adventures in Taiwan here:
Heels2Wheels
With an old friend. Haven't seen her for such a long time and I really miss her a lot,thinking about her from time to time. What a pleasant surprise when I saw her here at the Blog Awards,so so so happy!!!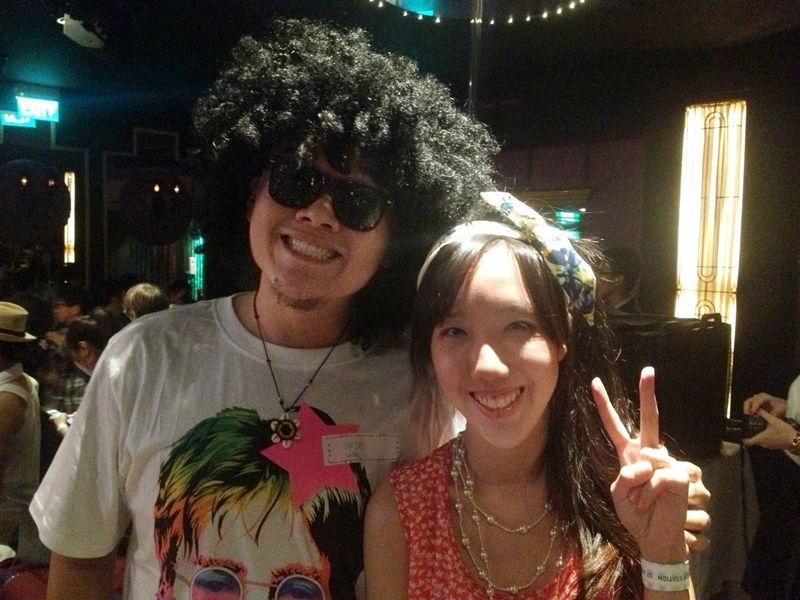 Smith korkor~ Rocking his Afro hair. I kept asking him to condition his hair cause it's too frizzy liao. HAHAHA!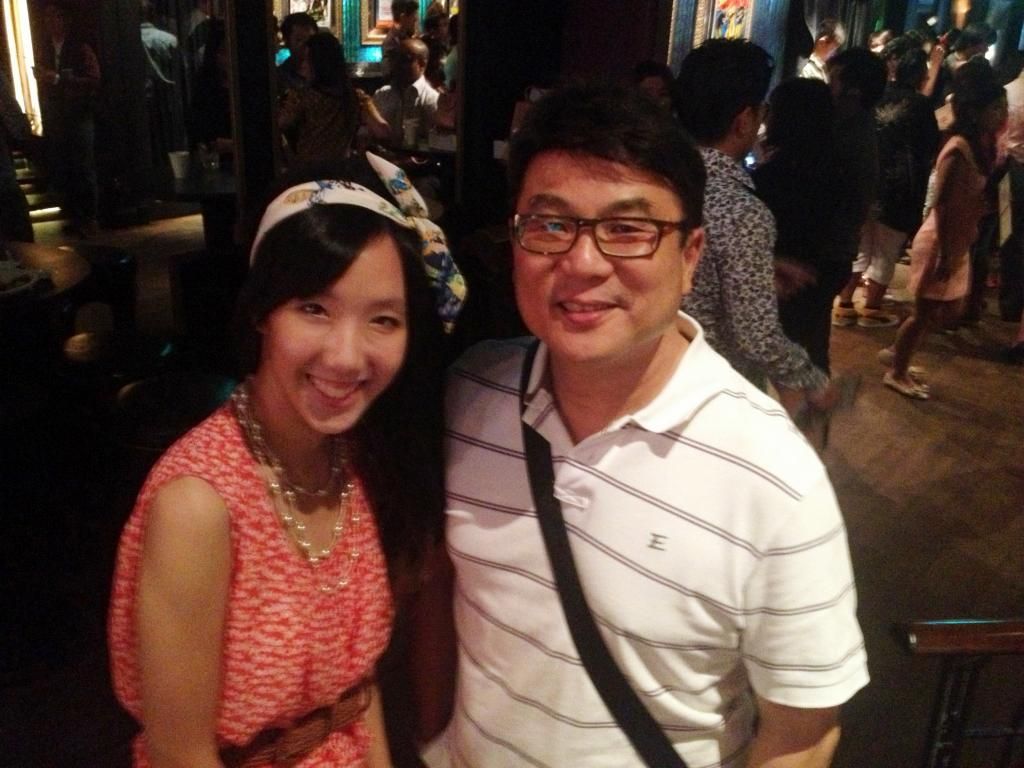 With Jack Neo.
It's also Colin's birthday that day and we all surprised him with a cake! Click here to see Claire and myself prepare the candles:
http://instagram.com/p/bapirnRZLc/#
No words can express the joy when I see my friends coming to the blog awards and some as finalists. To me,they are already winners! I look forward to next year's Singapore Blog Awards 2014!!!
Photo credits to Sze Ping and William