With its first performance in 1995,Singapore's Dance Theatre's (SDT) Ballet Under The Stars became an annual affair where many gathered to appreciate the beauty in ballet. Forget your plush velvet seat and stiff suit because here at Fort Canning Park,you get to sit back and relax on a picnic mat while enjoying the performance.
Singapore Dance Theatre is set to wow the audience by featuring a collaboration with Australia's Expressions Dance Company,headed by artistic director Natalie Weir.
Twenty dancers – six from the Brisbane-based company and 14 from Singapore's flagship dance company – will premiere Weir's 4 Seasons, which is set to Vivaldi's concertos of the same name. Despite having performed her works in the past,this is the first time 46-year-old Natalie Weir has choreographed this 25-minute dance specifically to SDT. Noting the differences between a classical ballet dancer and a contemporary dancer,she set about creating a breathtaking performance within a period of 8 days just earlier this month. Three pieces of dance performance will be choreographed Japanese choreographer Toru Shimazaki,whom will be showcasing Absence Of Story; Carmen Suite by Natalie Weir; as well as Fives by the late local dance doyen Goh Choo San – the first time in more than a decade that the ballet will be performed in its entirety.
Where:
Fort Canning Green
When:
Friday to Sunday, 7.30pm (An Evening Of Contemporary Dance); July 26 to 28, 7.30pm (Giselle)
Admission:
$25, $20 (concession) from Sistic (go to
www.sistic.com.sg
or call 6348-5555)
Fear that you might not make it for the contemporary dance this weekend? Fret not,for Singapore Dance Theatre will be presenting the iconic classical ballet Giselle next weekend. This contemporary dance however,is still not to be missed for its marvelous performance is bound to take your breath away!
Today,I have decided to head down to Fort Canning Park with fellow ballerinas for
An Evening Of Contemporary Dance
, featuring
Carmen Suite
and
Absence Of Story
.
Being really
kiasu
like a typical Singaporean,we were there early and started queuing at 4.30pm. We had booked about 50 tickets for everyone while mine was given by the courtesy of Singapore Dance Theatre (SDT).
If you were wondering about the baskets and plastic bag seen in the picture above,well,now you see. We have all brought food along to contribute to this picnic!Everyone you see in this photo is one of us. Almost everyone from Ms Joni's class decided to go for this performance,including the kids from the children's class!
We really could not wait for the performance to begin and started to lay out the food that we brought.
Cheese sausages.
I'm gonna slice the cheese for you.......
Cheese cubes,sausages and egg mayo were brought by Ms Joni and her husband. Super luxurious. The rest of us brought chips,curry chicken (by Jacqueline!),drinks,wine,ice and the food list goes on. I bought peanut butter and bread!
William bought a set of sushi from Sakae sushi and we all happily tucked in. It's a super
atas
picnic lor,but I'm really enjoying myself while watching the pre-performance performed by NAFA, Nanyang Girls High,Laselle and NUS Synergy dance group.
I am most amazed by the choreography performed by the ballerinas from SDT and Expressions Dance Company. The leaps,twirls and pirouettes constantly swept the ballerinas off their feet by the muscular male ballerinas who seemed lift them up so effortlessly. You don't say,we ourselves watched with mouth agape and marveled at the dance's sophistication. I have never seen a contemporary dance that move so gracefully and at the same time bring out the expression in dance. Perhaps this is the difference between classical ballet dancers and contemporary dancers.
First shot. I love my picnic basket that Blisshouse gave!!!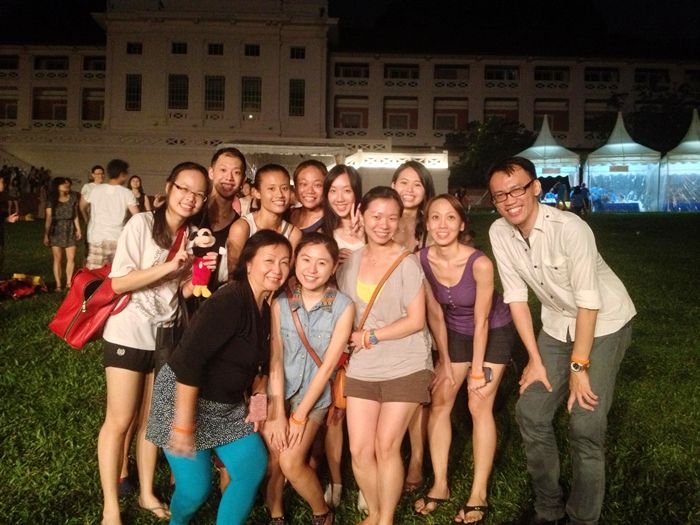 Second shot! Most of the crowd had cleared by then =)
The person who help us took this shot was being cheeky by not telling us that he's already done,continuously taking it until we asked if he's done. Haha,that's so funny! We all fell back laughing. Nice people are around all the time and I'm so thankful to meet such people. I thoroughly enjoyed 4 Seasons and Carmen Suite. I really can't wait to see Giselle's performance next week!