Today is the first day of school after term break! After receiving good news about my math results,I decided to watch Pee Mak so as treat for myself. But it was a long and tiring day because I had to adjust my body clock once again to suit the school term,cause I begun to sleep later and later over the holidays! So while going home,the conversation went something like that:
D: 피곤안해? (Not tired? pee-gon-an-hae)
Me: 해... (Do. hae)(spouting nonsense)
D: Orh.
Then he blinked for awhile and said:
무슨?! (What nonsense?! moo-soon) Creating your own language is it? Or you ate up the '피곤'('tired' pee-gon)?
I could only laughed gleefully at his expression!
That was how tired I am. And so I decided to watch 'Peemak' after it has been out in the theaters for some time. I am not a horror move fan but I was impressed by the number of people who praised the movie,some of them even said that they wouldn't mind watching it twice!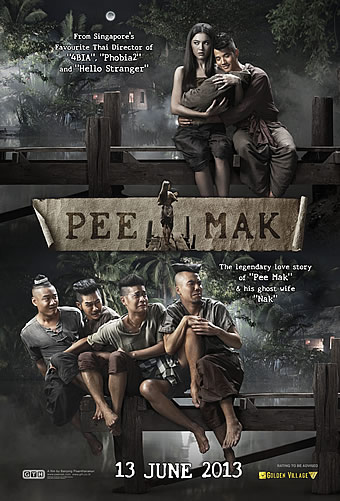 This movie tugs the heart-strings with romance,comedy and horror.
Based on the Thai legend of Mae Nak, a woman who died during childbirth but lingers in this world to stay with her still-living husband, and kills those who try to reveal her secret. The movie revolves around
Pee Mak
(Mario Maurer), who had to leave for a war,leaving his pregnant wife
Nak
who gave birth alone back at home in Phra Khanong. He returned to his village with his war buddies
Ter
(Nuttapong Chartpong),
Puak
(Pongsatorn Jongwilas),
Shin
(Attharut Kongrasri) and
Aey
(Kantapat Permpoonpatcharasuk),but only to find that his wife is a little short of her usual self and himself unwelcome at the village.
Check out the trailer below:
I had faith in the movie director because I watched 4bia,and it was a pretty good movie that was tastefully done. This one,was no exception. At one point in time,I was nearly moved to tears. Personally,I would rate this movie
3.5 stars out of 5
. I like Nak in this movie. They chose a pretty good actress for the role. Davika have this smile and expression on her face that makes seemed rather mysterious,making the audience guess if she really is a ghost. But I felt that the cinematography could be better,as well as the make up. I am a little puzzled at the black teeth shown throughout the entire movie but I suppose they wanted to show the poverty it was like back then. Without proper hygiene and stuff. I did not really like the ending even though the revelation shed light on how the entire movie was shot.
Here's the cast:
I really like how Mak portray his character,naive and loved to his wife to bits. He would constantly ask her if she still loves him and it's very sweet to watch those scene. She loved him very much of course,to continue staying in the land of the living despite it's oddity for living and dead to be together.
Actress Davika Hoorne, from the film Pee Mak Phra Khanong, fulfills a pledge to perform a traditional dance at the shrine of Mae Nak in Wat Mhabautr if the movie made more than 300-million baht. The film has surged past the 500-million baht figure, to become the highest grossing motion picture in Thailand. Photo by Apichart Jinakul.
- Bangkok Post
I found some videos that showed behind-the-scenes shot. I would advise you not to watch these videos until you've watched it!