I seldom spend on skincare but today,I went on what I think many beauty bloggers call: a spree/loot from
Kiehl's
. Not literally loot of course,but I bought quite a number of facial products to take care of my skin,especially when I'm a night owl. My heart aches to see the amount of money spent on the products but I have heard raving reviews about
Kiehl's
and D brought home a couple of samples which I really like.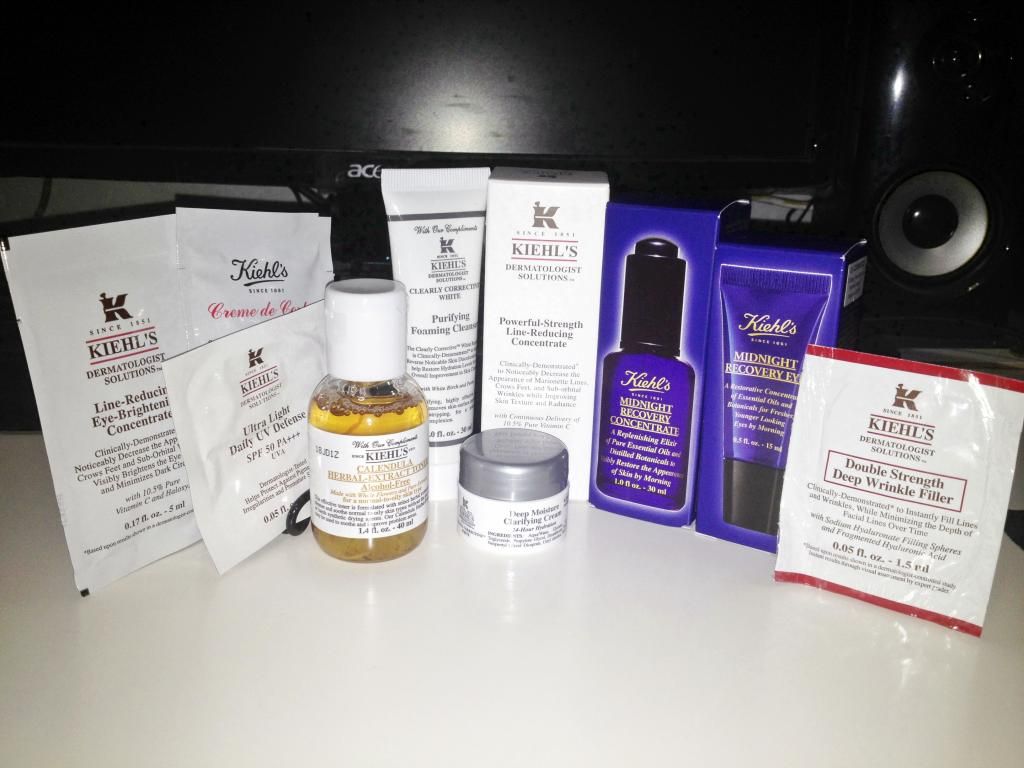 Midnight Recovery Concentrate (30ml)

SGD$80.00

Midnight Recovery Eye (15ml)

SGD$60.00

Powerful-Strength Line-Reducing Concentrate (50ml)

SGD$98.00
I spent over $200 on all those products,gosh. I think this is probably the most that I will ever spend on facial products,though it's a different story for clothes. Heh! How silly,I only intend to buy the Midnight Recovery products because I really like the sample I tried but the sales girl told me that I was $10 short of getting the travel size kit so I thought,why not? Then I just went for the most expensive product that I did not intend to buy. Pfft,talk about temptations. Let's hope that it works will for me,coupled with sleep-early routine!
I had my eyes checked with an aesthetic doctor and he said that my dark eye circles are hereditary and I can only at most try to lighten the area with serum. So I decided to buy this to help!
Midnight Recovery Eye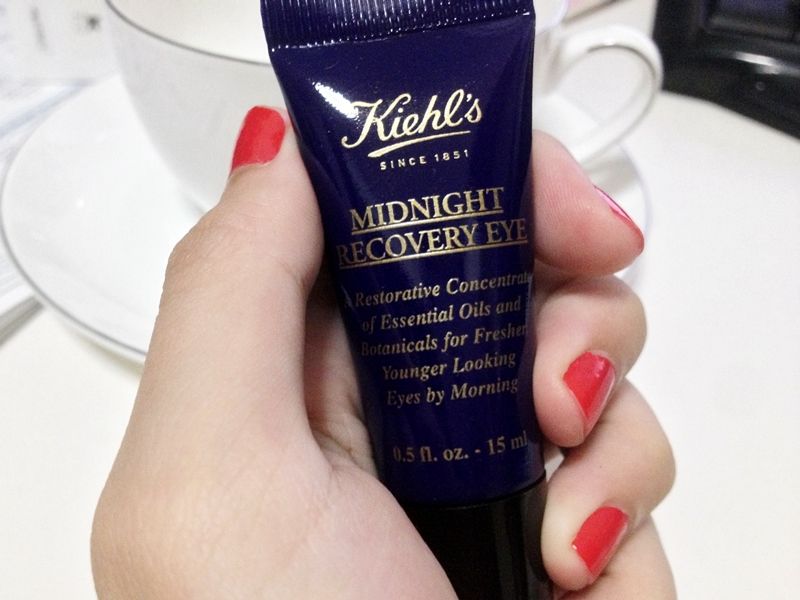 This restorative night treatment,infused with Butcher's Broom Extract as well as a blend of natural oils,visibly reduces puffiness and diminishes the appearance of fine lines. With under-eye skin feeling strengthened and replenished,awaken to younger-looking eyes by morning.
-Kiehl's
My take on this is that I love it! Okok,I applied the serum about an hour ago so I can't really prove that it works with the puffiness because generally,I don't have puffy eyes in the morning. I do however,enjoy the rich texture. A warm sensation spread as soon as I applied it onto my eyes,and the scent is lovely! Note that they have multiple oils inside,such as Sunflower Seed oil,Apricot Kernel oil,Rosemary oil and Rose Flower oil to name. It's really lovely and soothing,I can smell it as soon as I applied it. Very fitting,for a night-time skincare item.
Next up:
Powerful-Strength Line-Reducing Concentrate
This concentrate is formulated with a high concentration of 10.5% pure vitamin C. Vitamin C is actually very helpful with skin restoration and definitely a good product to slowdown the appearance of skin aging. See it as vitamin C serum,best applied over the entire face twice a day. This is my 4th step to use,hence you see a no.4 written over there. I apply this after using the cleanser,toner and the Midnight Recovery Eye. Again,a warming sensation is felt when the formula blends into my skin. There is no scent for this product and I sure hope that any wrinkles will disappear! It will take awhile for me to see the results :)
Midnight Recovery Concentrate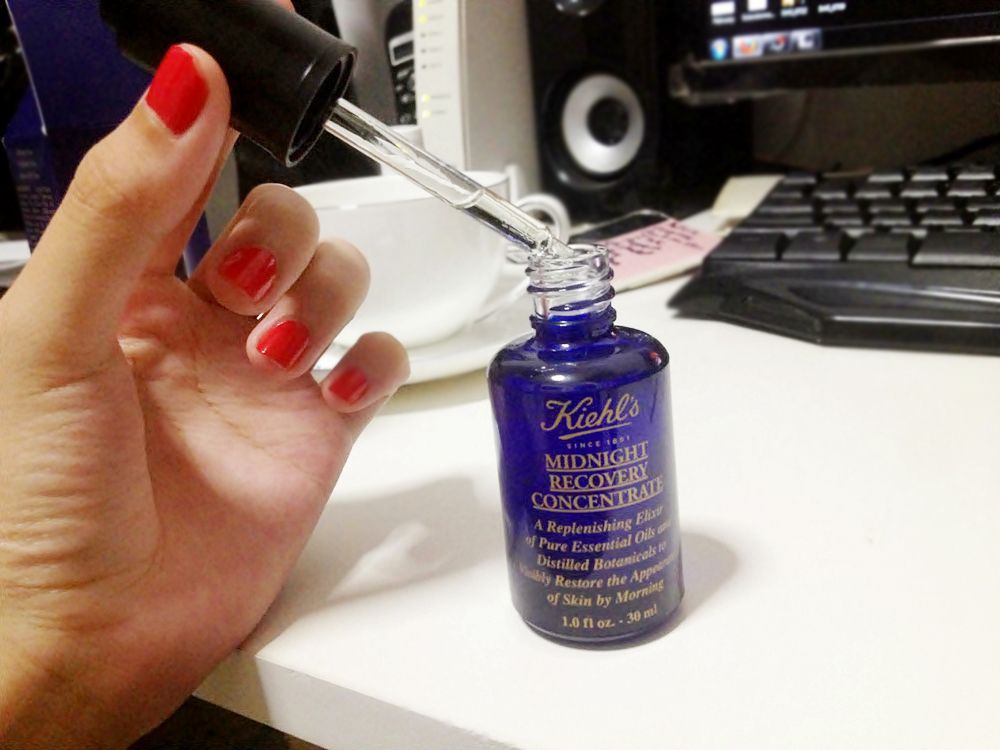 Hailed as an elixir that effectively restores skin radiance,I am thrilled to own one of these now. I tried a sample of 1ml before. The silly me poured 0.5ml onto my face and I found it way too greasy. When I told D,he chuckled and exclaimed that I am suppose to use only
2-3 drops
for the entire face! Concocted to mimic our natural oil,it contains Evening Primrose Oil, Lavender Oil, Rosemary Leaf Oil, Coriander Seed Oil,Sunflower Seed Oil, Jasmine Extract, Turmeric Extract,just to name a few. It is light-weighted and easily absorbed by the skin in just 2-3 drops,having a non-greasy texture. The sales girl told me to rub in my palm,inhale before spreading on my face. I found that the lavender scent have a very calming and soothing effect,which works well just before you go to sleep. The dropper is a good measure though some people may not like it cause it might be leaky thus expensive with leaking droplets.
I certainly,I would make this purchase again if it works well for me. I love the scent! But no more,no more purchase of any skincare products for the next 6 months. And in order not to spend on impulse,I really cannot walk around alone while waiting for people! Let's hope that I keep up the skincare routine every day and night.
Do drink lots of water to hydrate yourself,sleep well and think positive for the best effect of any facial products to work!
xoxo