Grown up with Délifrance and their authentic french bakery fare? Well,they have just hit their 30th anniversary in Singapore after having first begin their operations in 1983! To commemorate this anniversary,they are launching their first-ever Michelin sandwich – the "Le Paris-Singapore" – created by renowned 1-star Michelin chefs Jacques and Laurent Pourcel from France.
The twins ran the famous restaurant le Jardin des Sens in Montpellier, France, as well as restaurants in other countries such as Bangkok, Tokyo, Shanghai, Geneva, Marrakech, Casablanca and Paris. They are both recognized to be the two best ambassadors of French gastronomy, having been chosen to represent the French cuisine at the France Pavilion during the World Expo 2010 in Shanghai, with their 6Sens restaurant. And guess what? They chose to use Délifrance's bread!
I was very happy to be invited to the launch of the all-new sandwich! Just that very afternoon,I was hoping to eat at Délifrance but didn't have the time to. And voila,I get to taste it for dinner. Yum-yum!
Le Paris-Singapore sandwich
was made on the spot by chef Jacques Pourcel, who spoke in french with his English translator.
There were so many questions about creating a unique Singapore flavor! He opted to use some really Asian ingredients such as Japanese Wakami,Thai chilli sauce (which is sweet instead of spicy),baby spinach,also remember China with oyster and mayonnaise sauce, black pepper chicken and pineapples.
He went on to show us how he did it,spreading the sauce on the bread,setting the spinach, chicken,drizzle with thai chilli sauce and finally touch up with some pineapples. He also mentioned that the bread takes 10 hours to make and so fresh that when you hold the bread,you can the crispiness of it. When you take the tray of loaves out of the oven,you can hear the sizzling bit. He said that the french call it:
Le Singing Bread
. Haha! I'm serious,that's what he said!
There you go,Le Paris-Singapore Sandwich.
I was pleasantly surprised to be given a hands-on session,personally guided by the 1-star Michelin chef! How delightful! I followed his instructions while he gave us step-by-step instructions to making the sandwich.
"No more pineapples! No more pineapples for you!"
He waved his arms at me and exclaimed with his heavily-accented french. Everyone laughed while he explained that having too much pineapples would simply mask the taste of other ingredients inside.
We were given a sample size of the pre-made sandwich so that we can bring home the one we made for our family members to enjoy.
Feeling a little under the weather? How about trying this out: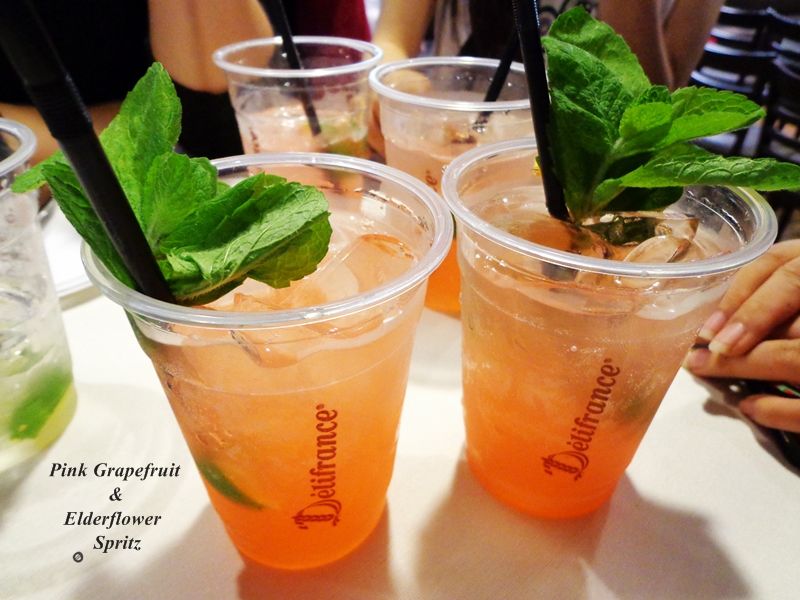 Pink Grapefruit & Elderflower Spritz
MONIN Pink Grapefruit
MONIN Elderflower
Lime Wedges
Sprite
I personally prefer the pink grapefruit because it's sweet and does not leave a spicy aftertaste like
Le Spicy Mangue Collins
. It's so refreshing and bubbly!
The other choice would be
Le Spicy Mangue Collins
MONIN Spicy Mango
Lime Wedges
Sprite
Their signature mouthwatering tarts were also dished out at the event and I thoroughly enjoy all of them!
Enjoy the "Le Paris-Singapore" a la carte at just SGD$10.80, or with any sparkling soda at just SGD$12.80. The sparkling drinks are also available a la carte at just SGD$5.00 each.
Met
Malcolm
,
Terrence
,
Jessie
,
Jas Jas
and
Shuqing
here. We are like,super happy to try out their food. Hehe!
As a part of their 30th anniversary,Délifrance's customers get a chance to win a

"

French Art of Living

"

experience that consists of a pair of economy class return tickets to Paris, 3 nights accomodation and a one-day French baking class at The Paris Baker and Patisserie School by Grands Moulins de Paris,parent company of Delifrance Group. Here is where you learn the secrets behind the stone-rustic breads and other bakery ingredients that France is famous for. Simply spend a minimum of $10 at any Delifrance outlet between

1 June and 31 August 2013

to be eligible for the SMS lucky draw.

Many thanks to CROWD and Cindy for inviting me! I hope to see them again soon!
All picture credits to Malcolm