Somersby cider has made its way to Singapore! Available in 35 countries around the world,it has not only gain notoriety as a popular alternative to beer and wine but also making its first culinary appearance with Bliss House themed restaurant. The lack of artificial sweeteners and preservatives made it possible for Chef Dennis Ong to devise a menu that diversifies its usage from salads,to succulent meats and desserts, leaving no stones unturned. With an invitation to Bliss House restaurant at Clarke Quay,I could not wait to try out the apple-cider infused dishes!
Bliss House restaurant has its white roses,faux grass,white tables with large windows that lit up the entire room. It feels like an indoor garden with a dining option!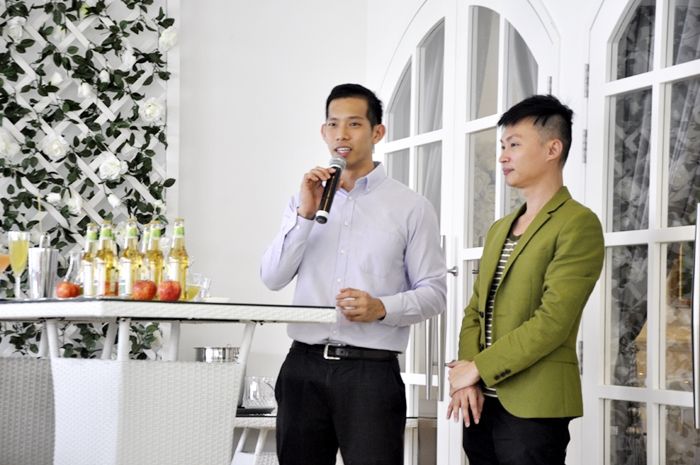 Long Yishu,the manager of the restaurant explained that they have concocted three cocktails fused with Somersby Apple Cider which will complement the food served in the restaurant.
"Somersby is the perfect complement to gin; mixed together they form the perfect balance of flavours. The new drinks we have created are unique and perfect for recreating at home." Learning the tricks of the trade from Akihiro Eguchi, the Diageo World Class Singapore's Champion, Long Yishu created three blissful cocktails for the restaurant.
Chef Dennis Ong W.K is a self-trained chef with a passion for cooking. Learning the fundamentals of Italian cuisine from the Italian chefs that he had worked with,he went on to work for Saint Pierre, Senso, Michealangelo and Le Amis Group. With a picnic setting,he went on to create light-hearted dish with the fruity apple cider.
Somersby Refreshing Ploughman Salad
Fresh mesclun salad with cheddar cheese,cherry tomatoes,olive and Japanese cucumbers tossed lightly in Somersby Apple Cider Vinaigrette.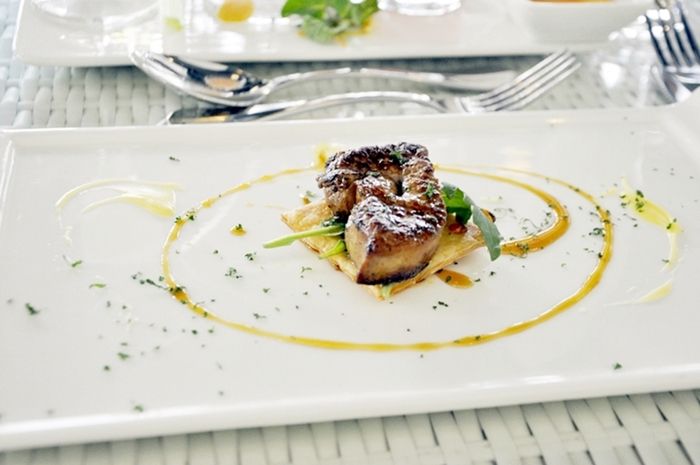 Somersby Decadent Foie Gras
A gastronomical indulgence,this pan-seared foie gras is drizzled with Somersby Apple Cider reduction and lemon butter,served with puff pastry and arugula (rocket salad). The puff pastry however,broke off too easily. Words cannot describe how delicious this is and together with the setting,I feel as though I am in the Garden of Eden.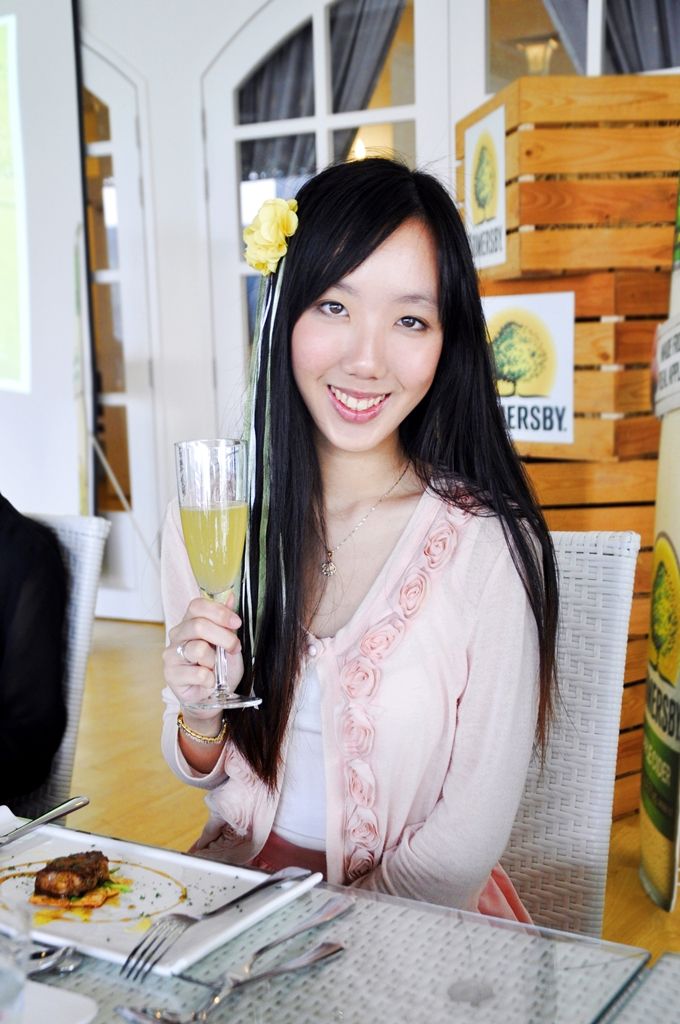 No,this blog post will not go on without a picture of me. HAHA! Well,what I am holding on to is Somersby Apple cider,celery puree and gin. Also known as Bubbly Bliss,the bubbly fizz of the apple cider and grapefruit helps to open up my appetite for the next dish.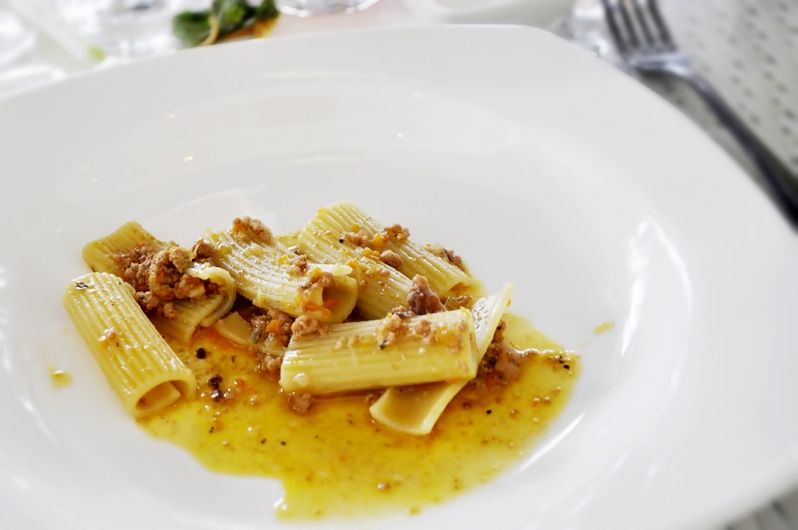 Somersby Pasta-Fantastica
Rigatoni pasta with assorted greens and minced pork infused with Somersby Apple Cider. Personally,I feel that this is an average dish. Nothing special about the pasta of course,but I do surprisingly enjoy the greens and minced pork.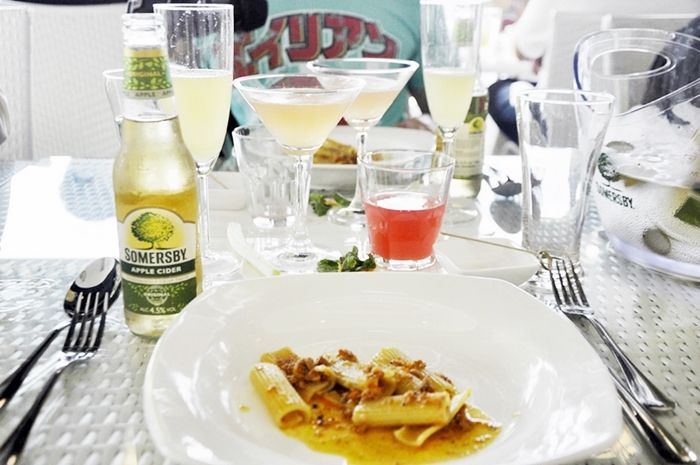 Can't miss out the Somersby Apple Cider. The three cocktails are presented right in front of us. The pink one is also known as
Sweet Ruby Bliss
,pomegranate and gin with a poached apple garnish.
Somersby Pasta-Fantastica
Somersby Apple cider,gin and grapefruit. This is perhaps my favourite among the rest. Very refreshing for the afternoon.
Somersby Three Little Pigs
What a comical name for this dish. When HP first said that he cannot wait to try this dish,I leaned over and asked him what pig is he talking about. He took out the menu and pointed to it. I looked at it and laughed out loud. So this is our 'three little pigs':
The trio pan roasted pork tenderloin with roasted capscum, onion confit and prosciutto blanket asparagus with Somersby Apple Cider sauce. Learning the art of cooking and its theories from my old school,I love to observe the complements of a dish. This dish has perfect complement of sweet,savoury and salty.
I do very much enjoy the sweetness of the toasted capsicum (top). How strange,for someone a carnivore like me to enjoy capsicum! I did enjoy its sweetness before sinking me teeth into the pork tenderloin. A delicious combination indeed. Next would be the prosciutto blanket asparagus (centre) and onion confit at the bottom. I did not really like them two though.
To wrap up the lunch,we were served with a Blissful Somersby Finish. Poached pear in Somersby Apple Cider topped with a scoop of vanilla ice cream to sweeten our taste buds. I love the sesame cracker because it's flavorful with (goes without saying) sesame! It is so deliciously sweet with apple cider with and vanilla ice cream. But I'm not a fan of vanilla ice cream so as soon as my sesame cracker finished,I stop eating the dessert.
Bubbly blissful,bubble delightful! Somersby Apple Cider,made with real apples. No preservatives or artificial flavouring!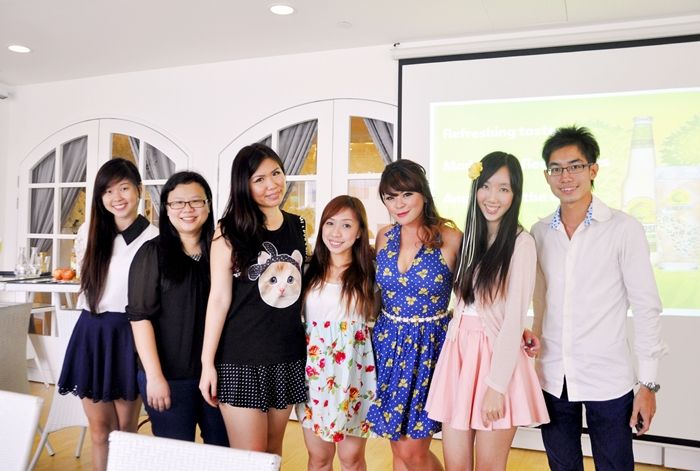 Happy to see everyone again and I'm so happy that Nadnut still remember me! =D I had a lovely time at Bliss House restaurant would definitely be back to visit,be it for birthday or a date!
I'm gonna wrap this post up with a picture of ME!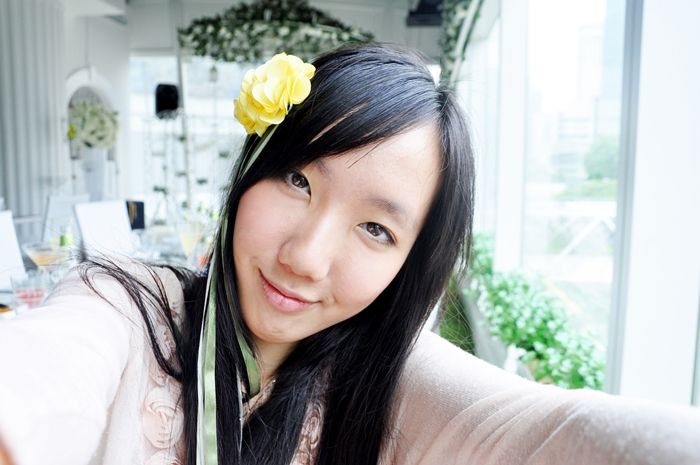 Everyone asked why I kept smiling throughout the event. Well,I'm happy of course! Very happy because... They gave everyone a picnic basket of apples and apple cider! How perfect,for I was going to a picnic after lunch. A very unique experience with a great memorabilia from Bliss House Restaurant!
Bliss House Theme Restaurant
#03-21
The Central
6 Eu Tong Sen Street
Singapore 059817
Website :
http://www.blisshouse.com.sg/