It has been some time since I last updated this space but I have been really busy with ballet and school. And I am also preparing for guzheng competition that is coming up in August! Though I have yet to my preparations,I am really excited about going to Hong Kong! Yes,it is held in Hong Kong! Anyways,I am going to blog about my family trip to Bangkok last month.
We last minutely book a flight with Scoot,it cost us about $350 per pax. It's a to and fro flight,but I guess it's costly because we book less than a week before departure. Nevertheless...
Bangkok,here we go!
Flight ticket. It's holidays,and my guess is that there are a lot of people flying to Bangkok too because there's a long queue at the immigration counter!
In my humble opinion,I do not think anyone should take this offer unless you're taking a 24 hours flight. However,much to my surprise,Scoot has got very comfortable seats for a budget airline. The seat is not stiff and upright,and I have plenty of leg room. It does really live up to its name with Singapore Airlines as its parent company! It is an airline that I would consider taking to nearby countries.
After the 3 hours flight,we finally arrived at the Suvarnabhumi Airport (Bangkok) and took a MRT to our hotel. It is pretty fast but it is not located right at the door step of our hotel. We had to lug our luggage and walk a short distance.
My brother walking around the room and packing stuff before we go out for dinner.
I stayed at
P2 Boutique Hotel
because it's located near Platinum Fashion Mall and I trust them for its cleanliness,spacious rooms and king size bed! Muahahaha,I LOVE rolling in the bed.
Having been here before,I know that there are some street food nearby but I never knew exactly what do they sell. After taking a walk around,I come to a conclusion: the Thais must love veggies a lot,something that I don't like! Gosh,so many stall sells food that includes a lot of veggies. My mom on the other hand love veg so there's no problem at all.
We finally settled for this. A very.. Authentic thai-ish taste. It's not spicy nor oily and the pork is very chewy. Yums!
Had light breakfast too. Not very nice. As expected. Their breakfast isn't very nice and the other food you can trust is their cereal and milk. That can't go wrong.
We made our way to Chatuchak. It's a weekend market and I am glad to make it there because there's plenty to buy. We took a taxi there and it cost us about 150Baht. Unfortunately,I feel like I'm in an oven while I'm at Chatuchak. You have no choice but crave for a soda for such a warm day.
My mom,brother and I. We shopped from morning till mid-afternoon. Though the stuff there is somewhat repetitive,you can't finish walking the whole Chatuchak because it's simply too big! Plus it's so friggin hot inside. I can't help walking into some shops with air-con even though there's nothing to buy from them.
Heck,there's even a section that caters to animals. There are many puppies there for sale,and it's very cheap I think. I did not ask about the price though. The very unfortunate thing is that most of them looked very tired and hot,they just lie there snoozing away. The stall owners would keep picking them up to get them moving in order to attract customers. You see the squirrels above,I do feel sad for them somehow because it's really very hot,about 33 degree Celsius.
HARROW! Hehe,it was way too hot and tiring so I tied up my hair. We took a cab back to MBK,shopped at Naraya and lugged some stuff for Li Ling. I know that there's a manicure shop somewhere upstairs and it's cheap! A pretty set of nails will cost about SGD$10-$20,way lesser than Singapore.
I wanted to do this owl manicure in orange for 350Baht( but when I asked how long they would take,they said one hour! The weather is too hot and I don't want my family to wait too long,so I opt to go for the ribbon design I did last time. Partially because it's cute,and they only take half an hour. Walked upstairs and I repaired my iPhone 4S screen for only SGD$50!
We also went nearby to Erawan Shrine (four-face Buddha) to pray. Quite crowded but I guess everyone just wants to pray for their own peace. Said to be very powerful and answers all wishes,I do hope that He grant my wishes too :) At first it very confusing how to pray,but I saw how people did it and followed them. Very smoky too,and hot.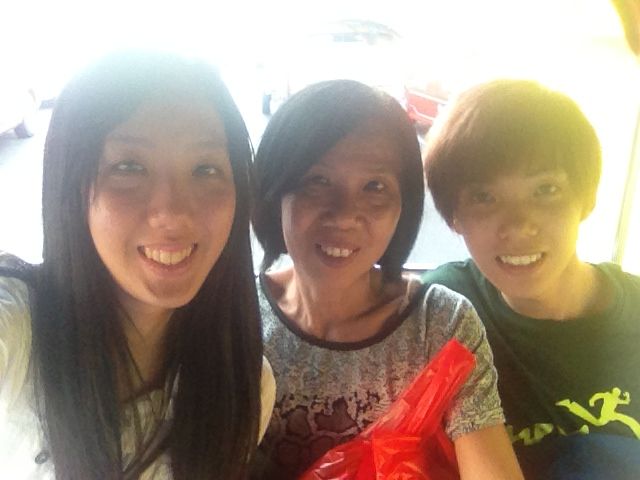 It was in the evening when we wanted to go back to our hotel,so decided to take a tuktuk from MBK to our hotel even though it's a walkable distance. My mom and brother wanted the authentic tuktuk experience but I know I wouldn't like it cause they always try to rip us off. Heck,while waiting at the traffic light,the two tuktuks with tourists behind us were still haggling about the price! It is usually agreed upon before taking the Tuktuk,otherwise you will get get ripped off.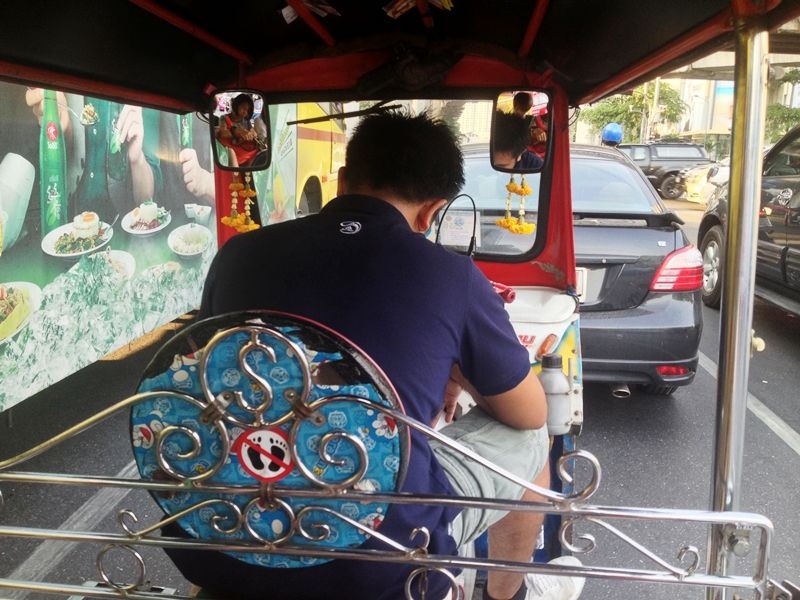 But it doesn't mean the tuktuk wouldn't take you elsewhere and blackmail you for more money. Like this one we were on,we agreed on the price and boarded his tuk tuk. But while waiting for the traffic,he suddenly asked for more money. None of my family members replied and I'm just glad that he didn't bring us anywhere else. After we arrived at our hotel,I just paid him the amount we agreed on and walked away without turning back. He didn't pursue anyway,he knew. What an experience.
We then decide to go for Thai massage before dinner and it's about 200Baht each for a full body massage. Heck,there's wifi too! Super shiok to use the internet while someone is pressing your back. I wouldn't say I thoroughly enjoyed it because they kept cracking my back. Maybe because I'm just a bag of bones with no muscles to massage,there's why it's a painful experience for me.
We saw this beauty pageant that's held near the massage place. I wondered if it's a mix of tranny and women contest because there were many contestants that's very feminine! And of course,the extreme left contestants are guys. If it's really a mix,then oops! I hope I didn't offend the ladies by asking if they are men.
BOO! Super relaxed after massage,dinner and now posing with my cute nails!
Let me introduce you to the roadside food that I bought. They were yummy!
There's chicken for 60 baht,about SGD$1.50. Super cheap and big and crispy!
Chicken skin for 40Baht,about $1. Don't go ewww,it's very very crispy!
Last but not least,my favourite: Mango Sticky Rice! It's 60Baht as well and the mango is super sweet!
I was in Bangkok for 3 days and 2 nights,and I had have to these every. Single. Night. So much so that I fell sick for one week after coming back from Bangkok :( After the weekend in Bangkok,it's time to fly home.
Awesome orangey sunset that lit up the whole MRT station.
Hello! I'm batwoman! Hahahahaha!
Head home and spent almost SGD$1,000 at DFS. I can't help it,everyone is trying to max out their alcohol limit purchase at DFS! One of the coolest would be the Johnny Walker XR,which I shall reserve it for a special occasion to open it. The bottle is so cool! Of course,my purchase includes cosmetic products for my mom as well. I think in total my family spent about SGD$1,000/$24,000Baht in Bangkok. I guess the amount simply multiplies when you are with your family. So much more to consider than traveling where you only worry about your expenses and accommodation. I was shocked when my friend said she is changing SGD$10,000 for her family trip to Taiwan but when she calculated for me,it does sounds reasonable,because there's 6 people in the family. I am looking forward to Hong Kong trip in August!