BOO! How have you all been? I'm having holidays now and been really busy running around,I hardly have time to update this space! But nevertheless,I wanna update my blog about my recent trip to Malacca.
It was a short 2D1N trip,J and I took a coach down to Malacca early in the morning. We arrived at Malacca Central Bus Station in the afternoon and bought some bread from the bakery. Why did I mention this seemingly mundane detail of the trip? Hehe,cause the cheese bread is TOO AWESOME to not talk about it! A bit of sugar and the whole bread was coated with cheese,for just RM 2.40! Where can you find such bread in Singapore? Singapore bakery always give very little cheese de lor :(
Anyways! We took Bus 17 from the central station and it costs us only RM 1.40 to reach the tourist district in Malacca. Beats taking a cab for RM 20 and it's such a short journey. So remember,bus 17 to the tourist attraction! J and I walked along the river and the fort replica to reach our hotel.
Happy to be in Malacca! And I was munching on my bread when J took this. The weather was horribly hot that afternoon. Heck. Here,give you one more that looks more act chio,typical tourist shot lah.
Again hor,I'm eating bread.
We checked into Hattan Hotel and the suite we got is simply marvelous! Pretty big and way better than expected. Till now I still miss the shower in the room. Le sigh,bliss from Singapore.
The view from the hotel room
Nua in bed because the weather really very hot in the afternoon,plus the bed seduced me to stay. So around dinner time then we go out to Jonker Street. We walked past the river once again to Jonker Street.
Reminds me of Clarke Quay actually.
TADAH! This is
Jonker Street night market
. I have never been here before,except that long long time ago with my family and that was in the afternoon where there's nothing much. I think it's pretty fascinating to see the entire street so bustling with tourists checking out tourist-y stuff.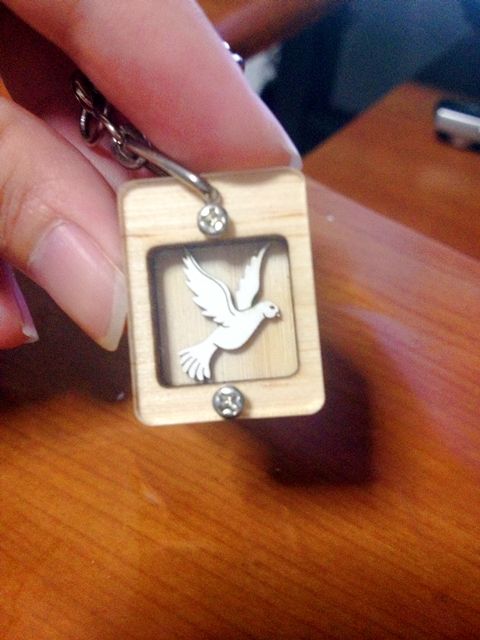 It took me a long time to choose this because there are many pretty ones around! Like Hello Kitty,Garfield and other super heroes. But finally,I picked this because it caught my eye first and the word that immediately came to my mind was:
Peace
J and I had Nonya Laksa and we both thought it was delicious! We didn't try other food but next time perhaps. So many people kept telling me to try the chendol and chicken rice ball but I didn't see any chendol! I decided to leave chicken rice ball for my next visit. But I had quail eggs with ham. It was okay,tastes like normal egg but less dense. I bought some tau sar pia and wife's biscuit,that sort of thing back home for my mom. Quite satisfied with the shopping there because everything is quite affordable and I only spent $30 throughout the entire trip. I still got about RM 15 leftover! Or maybe I just didn't spend much. Haha! We then went back to the hotel and tried to find beer along the way. HA. HA. HA. What a joke,trying to find beer at 7-11. Of course we didn't manage to buy any,just settled for coke and then bed time! There are many nice bars along the way and we saw Hard Rock Cafe. Being the weekend,it was pretty crowded,so we didn't join in.
Company makes a big difference. I would definitely love to come back here again and try out other food!