Sponsored Advertorial
I have been wanting to dye my hair ever since the school holidays but could not make up my mind on what colour to get. Well,thanks to Elfaine,I got my hands on the Jewel Pink color from Liese Bubble Hair Wash!
Liese Hair Bubble
Wheeeee! Happy to receive it! Most of the people I know are concern with hair damage after dyeing their hair,but not to worry. The dye itself includes honey that moisturizes your hair and hydrolyzed silk that protects your hair,making your hair smoother.
An example of how your hair colour will turn out,a before and after pic.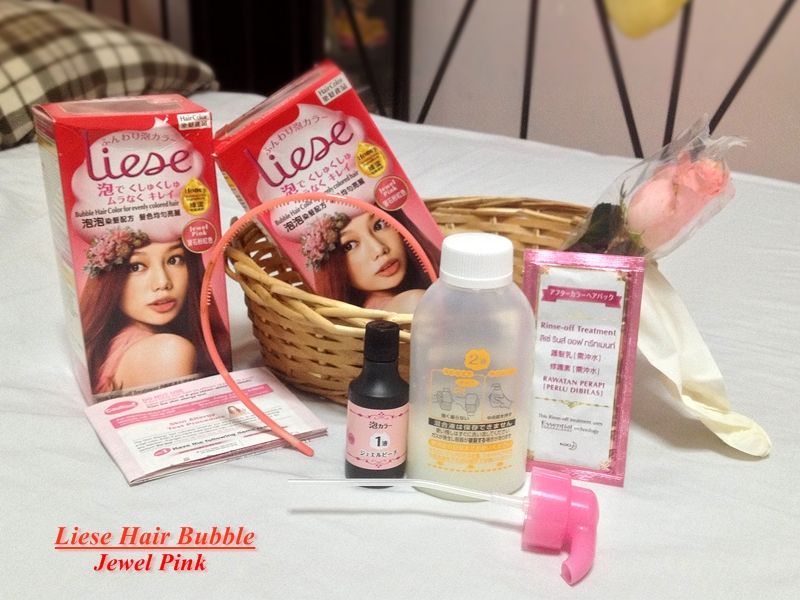 They gave me two packets and a rose!
Proceeding with the dyeing process,I followed the instructions and mixed bottle 1 into bottle 2. Everything is provided in the box so you don't have to get anything else. As the packet suggests,it's bubble wash. So when you squeeze the bottle out,the liquid is turned into bubble foam for easy application. While I have seen many other bloggers successfully apply onto their hair like how they shampoo their hair,I could not get mine to do the same. It looked more like conditioning my hair. I think perhaps it's because my hair is too thick.
Using only one packet,here's the result! I think the colour does show. Perhaps I should dye my hair twice!