When the feeling comes,I can be quite housewife-ish at times. I would tie up my hair and start scrubbing the kitchen,hanging out the laundry and cook meals for my family! The only reason why I seldom do it is due to the lack of time. Given the rate of technological advancement,I am very glad that many companies are coming up with home appliances that help to save time and allow us to get work done more quickly.
Just last week,I was invited to Asian Food Channel Cooking Studio (located at Orchard Centre, level 7) to try out LG's home appliances.
To begin with,we were invited to a hands-on session of pastry making! Oh boy,I was so excited!
We have Wendy from
Asian Food Channel (AFC)
to guide us along for this session. So what are we going to do today?
Mango mousse parfait! Yay! I love all kinds of mousse actually,and mango is my favourite flavour!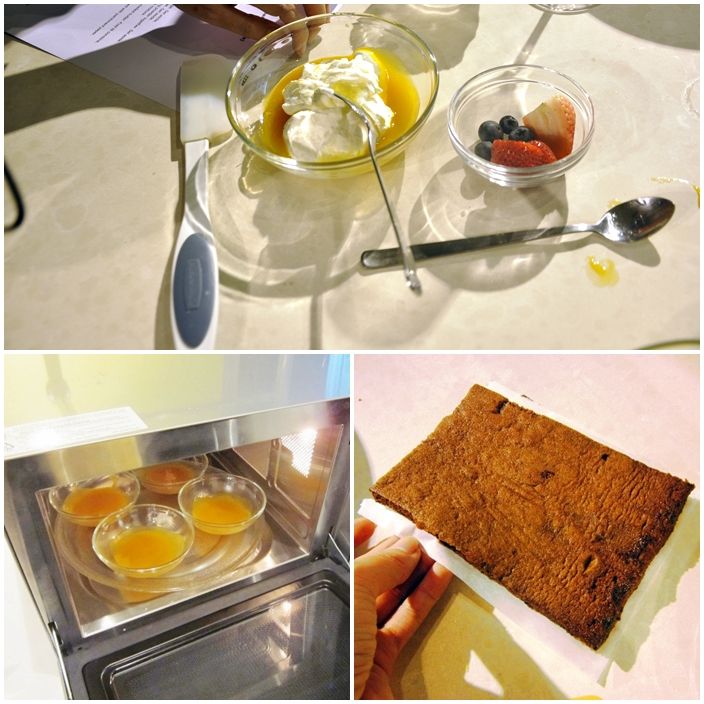 Soak the gelatine in ice water to soften it.
Then heat both the mango puree and gelatine separately before adding them both together.
Stir it quickly before the gelatine hardens.
Mix the whip cream in and it should give you a nice fluffy texture. There should not be any lumps forming,it means that your gelatine hardened already and it spoils the mousse.
Start decorating wine glass with the sponge cake and mango mousse!
Wheeee! I don't think mine is very pretty but it's okay,I learned how to make Mango Mousse Parfait! It's worth a try at home. After all,there's no fire involve so
NO WAY
anyone can say that I am going to set my kitchen on fire. WAHAHAHAHA!
As we set the mousse in the fridge to chill,we proceed on with Bibim Naengmyeon. I feel that it's like Bimbimbap,except that it's noodles instead of rice.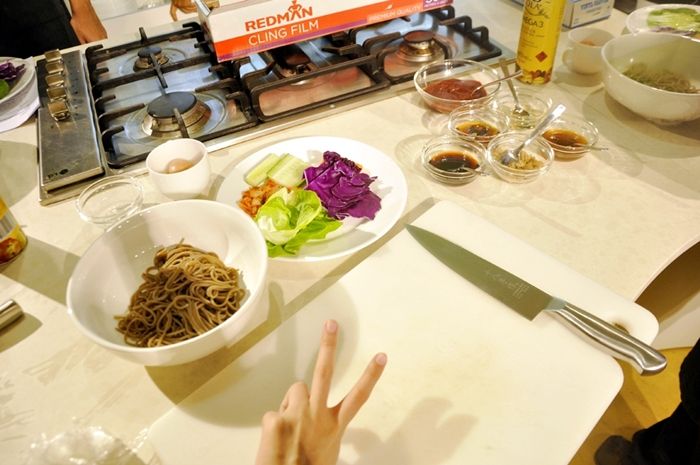 I put my finger there in case you think I took the photos off the internet. HAHA! Buckwheat noodles,assortment of vegetables to be included into the dish. The knife is REALLY sharp and I was so scared of slicing off my fingers like my accident with canned food two years ago...
Here we have chilli paste,sesame oil,soy sauce and brown sugar. The red paste on top is called Gochujang. Gochujang is the main ingredient for the sauce. It is fermented chilli paste that tastes spicy with a tinge of sweetness. Wendy taught us how to make the sauce and whichever taste that we prefer,we can modify it to our liking.
Cooking the egg with LG microwave oven. So interesting! I was thinking that we set the right amount of time for the egg,we might very well be doing eggs benedict!
Add the sauce onto the noodles and put the vegetables around it. Then put the dish into the fridge to chill it for a short while.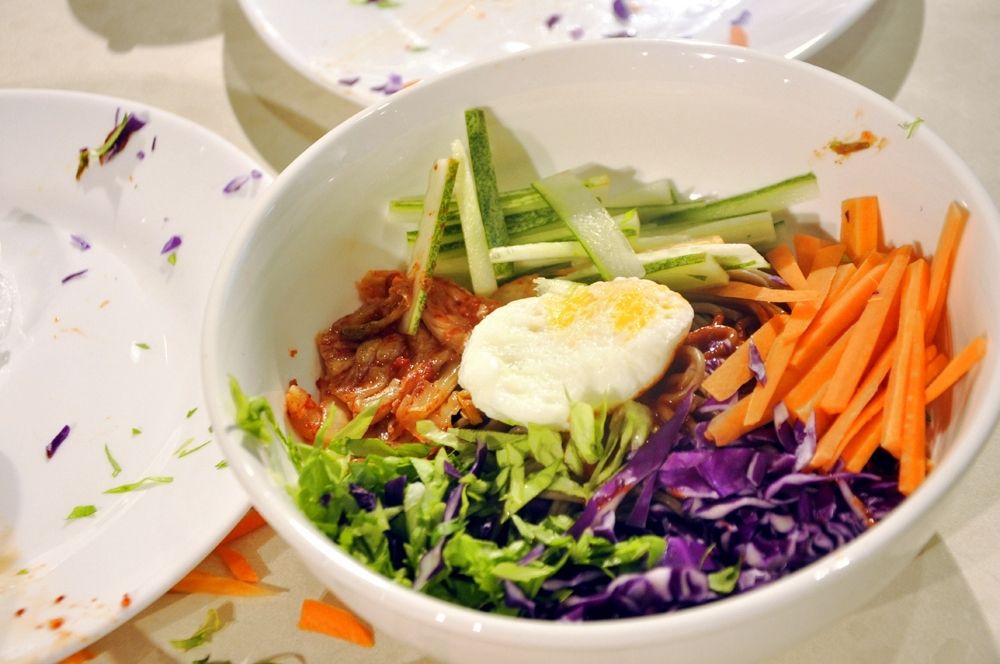 TADAH! Looks nice right?! I make one okay. But I think any chef would tell you that I didn't slice the vegetables evenly. Some of the bloggers were really smart,they diced them up so that it will be easier to chew later. Sheesh,I wish I had done that!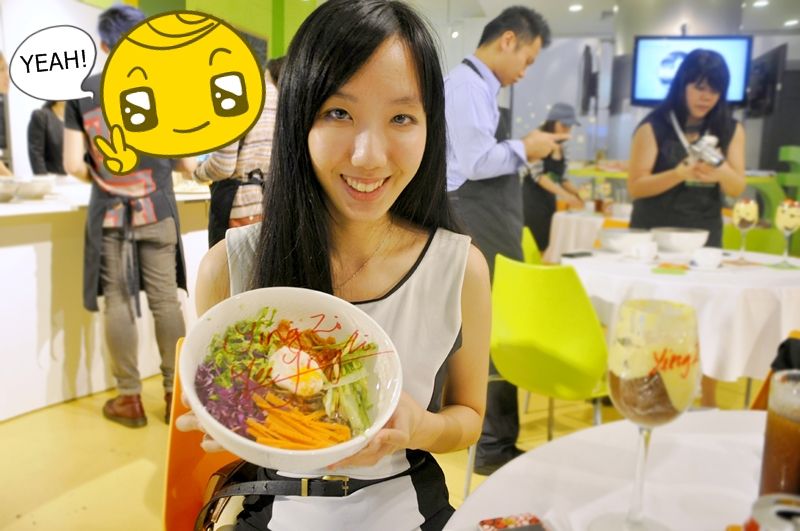 Signed my name on it and put it into the refrigerator. Wahahaha!
A short introduction was given and we could see how LG home appliances work. This is the very same refrigerator that holds our mango mousse and naengmyeon.
A model of the machine to show how it really runs. Technology is really advancing rapidly. Now LG just came up with this technology called steam washing! Less water used but kills more allergens,quickly removing stains and allows us to wear the clothes that we needed urgently on the very same day.
A front-load washing machine that can carry up to 17kg load. Hmmm.. I think it should be able to put my queen-sized quilt in without any problem right?
LG also have one of the most efficient dish washer around,using the least amount of water and generates less noise than other dish washer in the market. Also,they removes stubborn stain quickly with the technology called TrueSteam. The smart rack allows you adjust the width of the plates that you are putting in to wash.
And this,we just used this oven to cook our egg! Plenty of microwave options for you to select from.
I had a great time trying out their kitchen appliances! I feel so suaku not knowing that there are so many methods of cooking my food with the microwave! For more information,head over to LG's website:
www.lg.com/sg/appliances
.
Many thanks to Jessie for sharing some of her pictures