It has been raining heavily these days and it is probably what the Chinese calls it: Spring rain,to signify that spring is coming and lovely flowers are blooming.
I slept till late on Valentine's day because there's no school on that day. It rained so heavily that day! I wish I didn't have to get up from bed but no,D came to my place and fetch me out for a dinner reservation at Robertson Quay. We went to this place called Boomerang. Looking at the menu,I sniggered. Because it's a so-called Aussie restaurant but they don't have any restaurants in Australia itself,only in Singapore and Ho Minh Chi. But they do have kangeroo loin,which I'm not really gamed to try. There were many couples around trying out their Valentine's Day course menu,which we didn't try either. Just some salad and pumpkin soup,don't feel that it's really all that buck-worthy so we ordered directly off the main menu instead.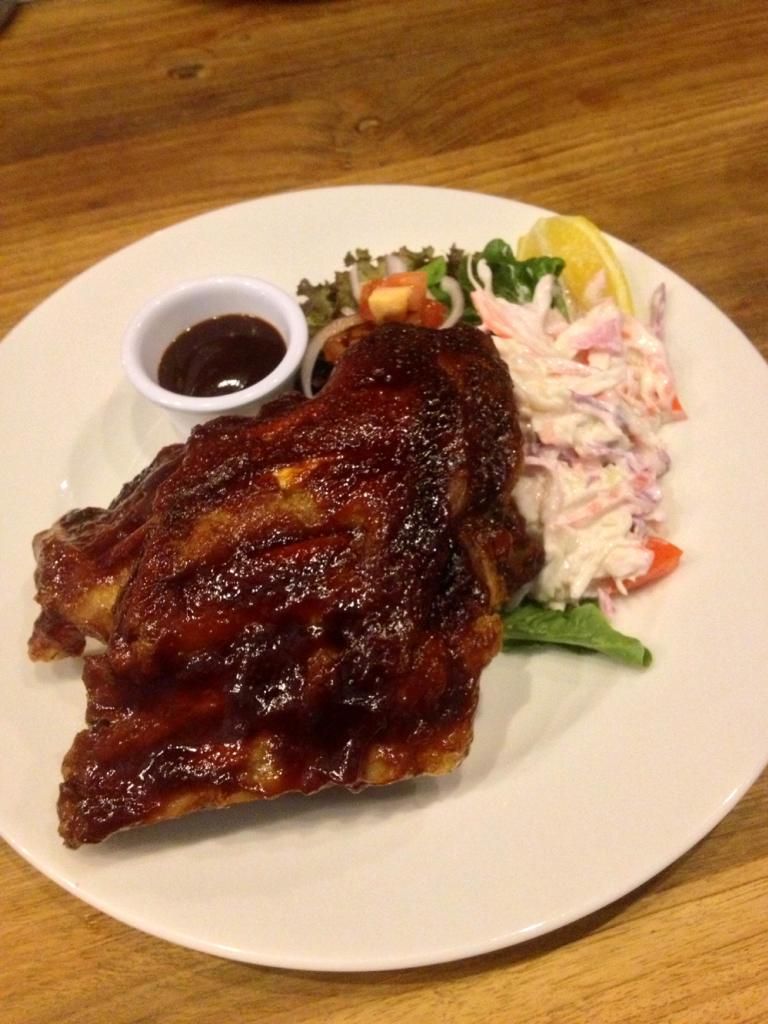 Pork ribs with mash potato and salad
I like the ribs,the meat is rather tender but the mash potato is not quite nice. Salad is okay,no dressing so I ate it plain.
It was raining heavily and I wondered why hadn't we change to a place that's more convenient. It turned out that D had flowers delivered to the restaurant :) Well,it certainly beats being given a broccoli for Valentine's Day. I have been given one before,last year. Mehhhh. What a joke seriously.
Calamari Rings for SGD $20,quite nice! I love it because there's a bite to it,not the kind of chewy-tough. It's not crispy though,I don't think they deep-fry it. Sorry for the yellowish-orange lighting in the photo. I tried to save it but the restaurant haven't got a good lighting to take proper photos.
Happy Valentine's Day!
We went off to Orchard to catch 'Upside Down' after dinner. Along the way,he taught me Korean and I used it to scold him back. All that crude words coming out. Haha!
As for
Upside Down
,I would say it's a
3 stars against 5 stars
film. It's a 1 hr 45 min long,French-Canadian romantic science fiction film written and directed by Juan Diego Solanas,starring Jim Sturgess and Kirsten Dunst. Jim Sturgess is SO CUTE! But the movie itself has three laws for gravity in their universe:

1. All matter is pulled by the gravity of the world that it comes from, and not the other.
2. An object's weight can be offset by matter from the opposite world (inverse matter).
3. After some time in contact, matter in contact with inverse matter burns.
"Ever since Adam (Jim Sturgess) and Eden (Kirsten Dunst) fell in love as teens, their bond has faced astronomical odds. The pair are separated not just by social class and a political system bent on keeping them apart, but also by a freak planetary condition: they live on twinned worlds with gravities that pull in opposite directions-he on the poverty-stricken planet below, she on the wealthy, exploitative world above. Their budding but illicit romance screeches to a tragic halt when interplanetary-border patrol agents catch them and Eden suffers an apparently fatal fall. But when, ten years later, Adam learns she is alive and working at a vast corporation whose towering headquarters connects their planets, he sets out on a dangerous quest to infiltrate the company and the upper world to reconnect with her. UPSIDE DOWN is a visually stunning romantic adventure that poses the question: what if love was stronger than gravity?" -Millenium
It's one film that can easily get criticised if not crafted carefully but well,I would say it's an interesting plot.

It was still raining by the time we came out,but I think the rain hasn't dampen anyone's mood.
I still see many couples smiling away :)