The world premier theatrical ice skating company is now coming back to Singapore with a brand new production of The Nutcracker on ice! Having performed to an audience of 3.8 million across four continents,this performance is bound to take your breath away!
Yesterday afternoon,I was very much delighted to be given an opportunity to attend the media preview in the afternoon that includes short 20 minutes of the performance as well as interviewing of the cast members. Learning from Tony Mercer,this performance has yet to be shown in the UK but had already begun in Australia. He was surprised to know that The Nutcracker, isn't very famous in Singapore as compared to the rest of the world. So he's rather eager to be the first to present this Christmas tale to Singapore!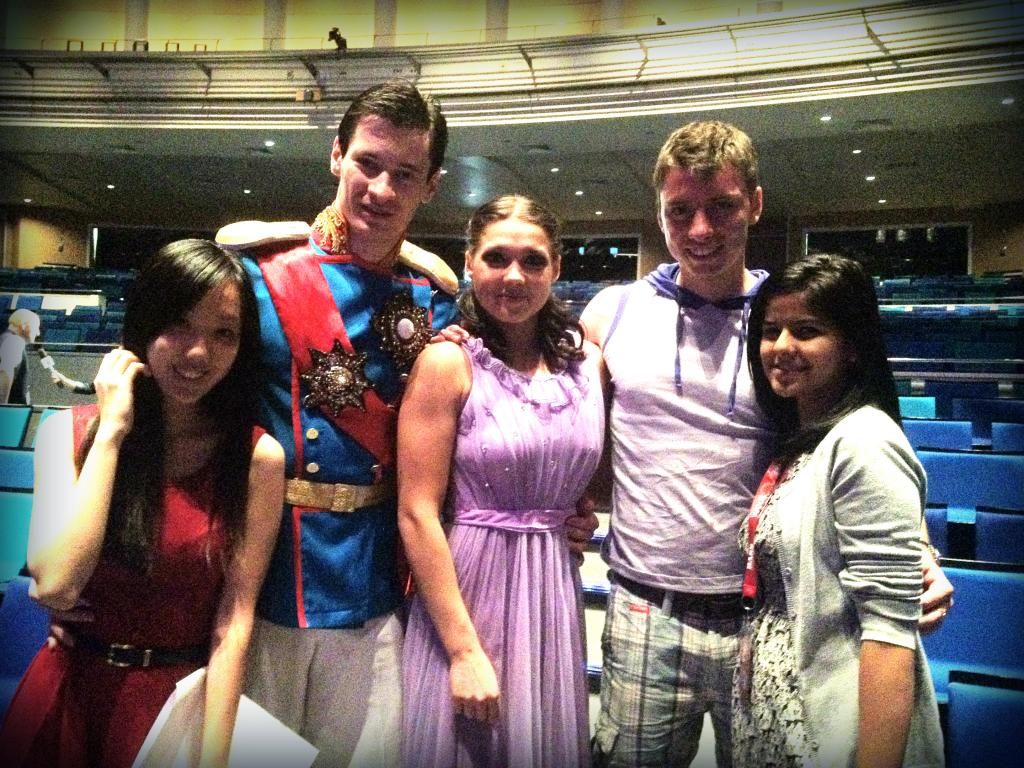 Together with Radhika,we interviewed the male and female lead of the performance. You would be surprise that Anastasia Ignatyeva, playing Maria in the performance, loves football and Asian food,especially kimchi! And Bogdan Berezenko,the good looking young ice skater who plays the Nutcracker, has never sustained any major injuries so far in his years at The Imperial Ice Stars company. What an amazing and talented team!
At the very same night,I attended the opening of The Nutcracker on ice with Ben.
Sitting at the A Reserve seats,the vibrant costumes and wondrous music stole my breath away. Gape-mouth and an occasional oh-my-god at the high-speed leaps,throws and uncountable number of spins. I do wonder how they can still manage to stand up straight while we probably just fall off the swings at playgrounds!
This is the tale about Maria,set in the 1900s of St Petersburg where her chrished Nutcracker doll given by her eccentric uncle,came to life at Christmas. After the bustling part scene where the family invites guests to their place,the family went to sleep and here is where the mice came out at night to play! Be sure to look out for the Arabian duo in Act II,where they swing from suspension, limbs entwining, disentwining. Their sync is simply amazing and definitely no child's play!
There is simply too much for me to describe in a single post. Want to find out more? Go watch it yourself,I shall not spoil the surprise for you! I am very very glad to catch the performance on the opening night. Thank you so much for the tickets,Shu Ping! Having watched Swan Lake on ice last year played by the very same company,I'm looking forward to more exhilarating performances to come in future!
The Nutcracker On Ice
23 – 28 October 2012
Grand Theater Marina Bay Sands
Tuesday - Friday:
7.30pm
Saturday and Sunday:
1.30pm and 7.30pm
Evening Shows:
Premium - S$175
A Reserve - S$145
B Reserve - S$115
C Reserve - S$95
VIP BOX (4 Seats) - S$700
Box Seats (4 Seats) - S$580
Matinee Shows:
Premium - S$175
A Reserve - S$145
B Reserve - S$95
C Reserve - S$75
VIP BOX (4 Seats) - S$700
Box Seats (4 Seats) - S$580