Sponsored Advertorial
Being a student,I absolutely
adore
good quality paper with a good cover. I will not think twice about purchasing one when I set my eyes on it,regardless whether I have anything to write in it. The combination is difficult to find and only few companies out there are able to cater for 'paper' suckers like me(I suppose)!
So boy,am I glad when Moleskin Singapore contacted me with their latest product:
The Evernote Smart Notebook by Moleskine
Integrating with technology,this is one step that will make the whiny nerds shut up about not being able to transfer their handwritten notes onto the computer.
Just a quick history lesson about Moleskine and all it's hype:
"Notebooks with features similar to the present Moleskine notebooks were a popular standard in 19th and 20th century Europe, handmade by small French bookbinders who supplied the stationery shops of Paris. As documented by many art collections and museums, in the late 19th to early 20th centuries, these nameless notebooks became a prominent creative tool for avant-garde artists who enjoyed drawing and writing outdoors; putting down impressions on paper; painting from life in the streets and cafés; and capturing extemporary scenes, ideas, and emotions. Among artists who used similar black notebooks were Oscar Wilde, Vincent van Gogh, Pablo Picasso, Ernest Hemingway and Henri Matisse.
The present Moleskine notebook is specifically fashioned after Bruce Chatwin's descriptions of the notebooks he used in his travels. The name itself, "Moleskine", is a nickname that Chatwin uses in one of his most celebrated writings, The Songlines (1986). In this book, Chatwin tells the story of his original supplier of notebooks, a Paris stationer who in 1986 informed him that the last notebook manufacturer, a small family-run firm in Tours, had discontinued production that year, after the death of the owner. "Le vrai Moleskine n'est plus" ("The real Moleskine is no more") are the words Chatwin puts in the mouth of the owner of the stationery shop in Rue de l'Ancienne Comédie." -
Moleskine Wikipedia
Having a beautiful illustrated design and a 0.7mm roller pen,it comes in 2 types:
Lined
or
Squared
.
How to use it?
Since I received the squared one,I decided to have a little fun with it! Remember the old school game 'Building blocks'?
Tadah! Draw,write or sketch anything in the book!
Use the smart stickers in the notebook that will help you to organize your content
Use the Evernote Page Camera available for the iPhone or iPad iOS to snap & digitise. Evernote Smart Notebooks unique "Evernote ruled" & "Evernote squared" page styles with dotted lines are designed to ensure a clean image capture.
Visit Evernote to retrieve content anytime by simply searching by keywords, tag, browse or share anywhere with easy access!
Here's a video on it:
I don't have much of a drawing talent in me so here's just a little something that I drew :)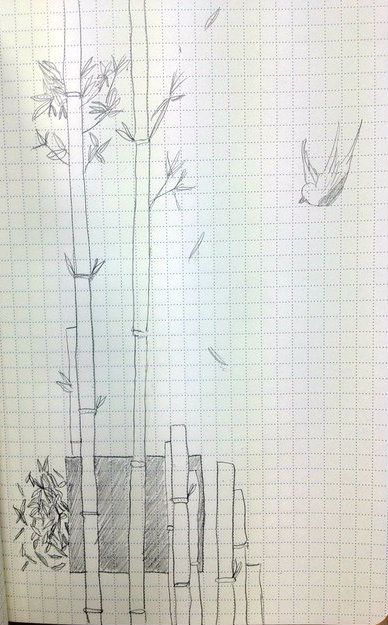 Over all,I think the squared ones would be more suitable architecture wannabe or math/science students,easier to draw with a grid! Whereas for me,I much preferred the lined ones as I do a lot of writing. Nevertheless,I love Moleskine and their quality notebooks! I am so glad to have my very own Moleskine. Thank you so much Moleskine Singapore!
These beautiful notebooks will be available in two sizes, pocket (S$30) and large (S$41. My preferred size would actually be the pocket one as it is Get yours today!