I grew up eating home-cooked food. Even in my primary school days,I would have breakfast or lunch before going to school! Oatmeal,sandwiches and milk. I remembered that my dad used to cook porridge and some side dishes for lunch,and they were delicious. But as we grow up,we stop the habit of having breakfast or lunch at home because we were all too busy to.
Whenever people say I can't cook,I would always retort with:
I am a Food & Nutrition student okay!
Okay lah,I fail my theory. But that doesn't mean that I cannot cook! I'm just too lazy to cook. These days,my family had been too busy to cook and thanks to
@DanielFoodDiary
of
DanielFoodDiary.com
,I decided to cook for my family today. YES,TODAY! The dishes you are about to see later is cooked half an hour ago! He started this:
"The #CookForFamily Initiative
The #CookForFamily is a Singapore food bloggers initiative – there is no competition, sponsors, or hidden agenda involved. It is created with a simple objective of getting more bloggers, and hopefully their fans and followers, to start cooking and bonding with their families.
The bloggers have picked a day in July to cook a meal for their family or loved ones, and will blog, tweet and instagram about their cooking, experience and thoughts all on the same day – 6th August 2012 (Monday), with the hashtag #CookForFamily." -Daniel
I realise the important of having family dinner,where all members of the family sit down together and eat. No matter how busy we are,it is something we ought to do as a family. I knew the importance of family dinner from an old friend and now also,from Daniel.
Some back bacon.
I haven't really got a clue how to cook this,but I decided to do it the simple way: Stir-frying it.
With the help of the sauces below,it can do miracles to dishes and make them more flavourful.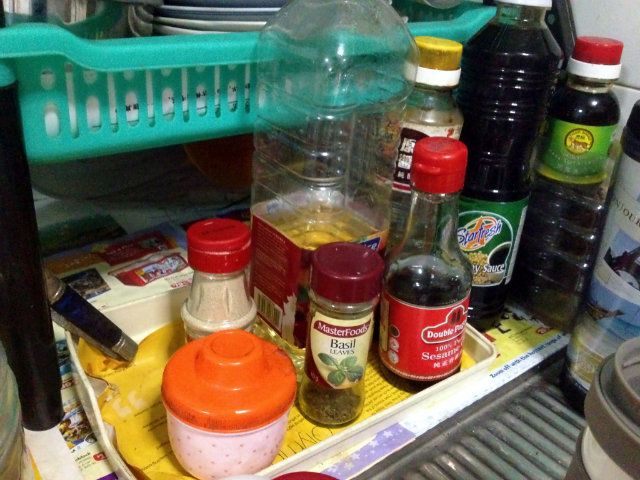 First of,a boring looking but very flavourful dish:
Minced pork with egg
I wish I have milk to make this better,but I ran out of it. The ingredients are:
2 blocks of minced pork
2 eggs
3 sprinkle of pepper
3 tablespoon of sesame oil
2.5 tablespoon of light soy sauce
Yes,it will be a little salty for many but I like my dish a little more salty.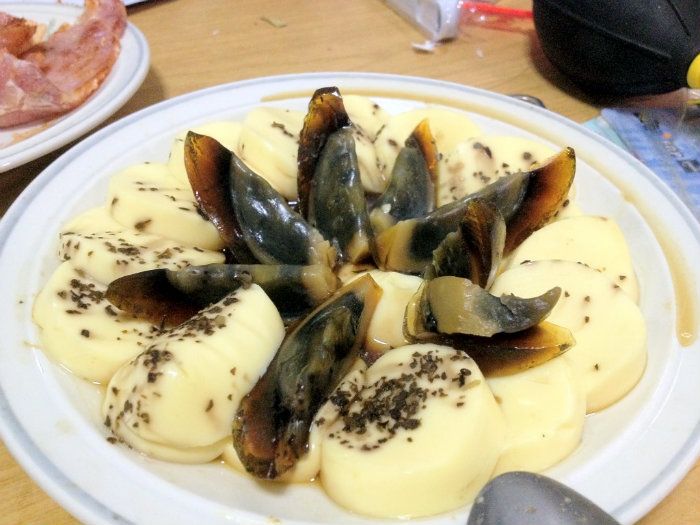 Century Egg with egg tofu
This is easy. Steam it together with the rice. Decorating the dish is important to make it appetizing! Ingredients:
1 egg tofu (or 2,depending on the no. of people)
1 Century egg
Sprinkles of Basil leaves
3 tablespoon of light soy sauce

Last but not least:
Bacon with soft-boil carrots
This is easy,like I say,simple stir-frying would do the trick. Ingredients:
3 strips of bacon
A few slices of carrot
Unsalted butter to replace oil
Honey for the final touch-up
ABC Soup
Is this what people call the
ABC soup
where you anyhow throw stuff inside to cook? Well.. Something that my mom taught me :) Ingredients:
Half a bittergourd
1 tomato
Half cup of wolfberries
Half of a carrot
TADAH!
We're done here.
My mom isn't someone who talk a lot to share her opinion,but when she does,she meant it. I'm heartened to hear her say that these dishes are
delicious
,and so did my brother! She advised me to cut down a little on the sesame oil,and said that the century egg with tofu dish is healthy! Simple fare for my family,on a Monday night after everyone come home from work.
Have you been cooking for your family? If not,start now!
Do share with me,I would really like to hear with you.