Sponsored Advertorial
The weather has been pretty hot lately! The sun is burning me,seriously. Whenever I take the bus to school,the smart people chose the side without the sun shining on them and what's left for me is the side with the sun. ARGH!
Not to mention that I'm about to go Bangkok for a holiday in 2 weeks' time,I cannot imagine how the weather will be like there. Hot I suppose! A bit of sun is good for the skin,but too much sun exposure cell death,collagen breakdown and premature aging! Considering that it's about time I keep my skin moisturized and supple to avoid looking older than I really am,I am in luck when
Sunplay
(part of The Mentholatum Company) decided to sponsor me a bottle of
Sunplay Sun Block SPF 130 PA+++
!
I love the packaging,reddish-peach colour with that cute dunno-what animal on it. HAHA!
I have no idea about SPF or that ++ sign. All I know is that the higher the number,the better protection it has. So I googled around and found out:
SPF 1 = 15 min of protection
SPF 10 = 150 min of protection
PA
means ProtectionUVA which is said to prevent UVA damage. The more + that appears on the bottle showed the level of effectiveness. So far,I haven't seen any beyond 3 pluses. So there:
PA
+
(effective), PA
+ +
(very effective), PA
+ + +
(super effective)
Something that I found from wiki:
"Two photographs showing the effect of applying sunscreen in visible light and in UVA. The photograph on the right was taken using ultraviolet photography shortly after application of sunscreen to half of the face."-
Wikipedia
I don't know if it's helpful for you but it looks interesting to me!
A small drop to test out it's texture on my hand.
Sunplay Sun block SPF 130+++ is said to provide superior photo stable protection against UVA & UVB rays.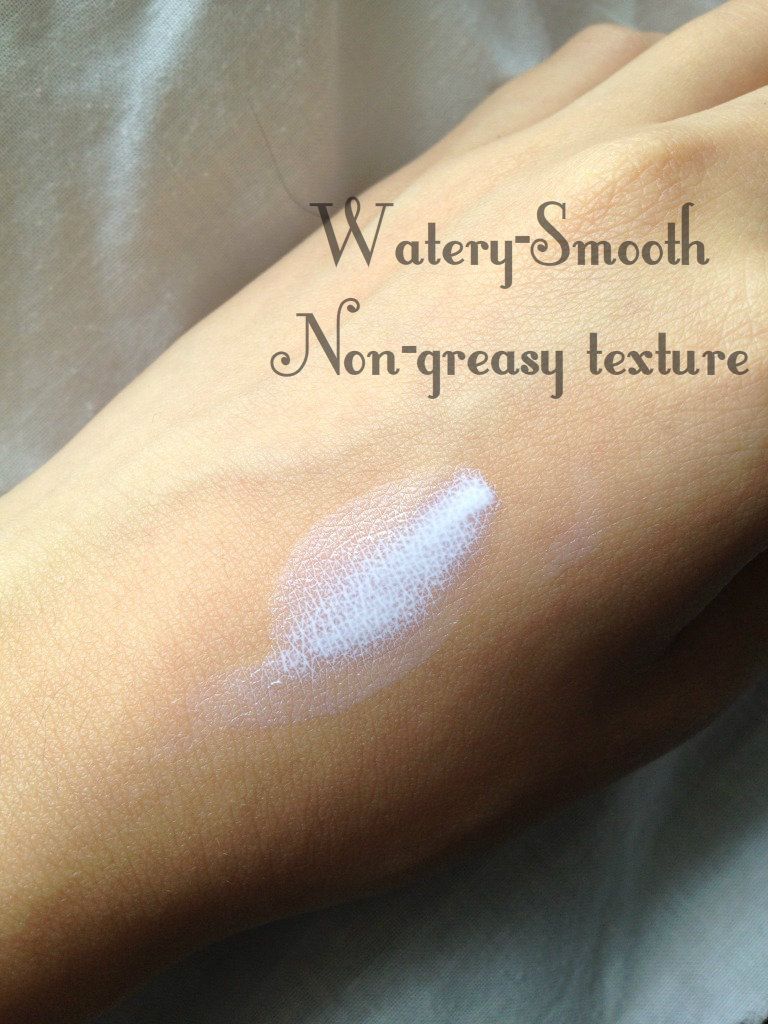 It's runny and smooth,doesn't seem to clog between the lines on my skin.
Rubbed over my hand and I'm not sure if you can tell,that it has a sheen on my hand. It's probably due to zinc incorporate inside,which I read that it somehow is able to reflect the sunrays off. There are many ingredients in some sunblock which are unstable and absorb the sun rays,which breaks down the chemicals and cause free radical damage.
Water and sweat proof too! It's suitable to be used for long hours outdoor and water activities.
These days they are quite strict about allowing companies to indicate water-resistant and water-proof. You can't use such labels unless proven with specific indications. Looks like Sunplay did it! If you are afraid of breakouts,you don't have to worry. Some people may be allergic to this content called PABA. But this sun block is PABA-free!
It can lasts the entire day!
Enjoy your activities under the sun now my darlings!
xoxo
Get your free sample of Sunplay Sun Block SPF 130 PA +++
here
or
at Watsons for $17.20.