During mid-week,I joined
Campus Magazine
and headed down to Menya Musashi for their official opening.
Menya Musashi (麺屋武蔵) has 11 restaurants opened in Tokyo,Shinjuku and now for the very first time,in Singapore at Raffles City Shopping Centre. People may not have heard and wouldn't understand the hype over it,but Menya Musashi have their own technique called Yugiri (inspired by Japanese swordfight,). Adapted to the kitchen and thus separating the noodles from the water.
The kitchen is separated by a clear glass screen,where customers can watch how the ramen is being made. The chef cooking the ramen,will yell out loud before quickly pulling the noodles out from the boiling water,fling it once and transfers them to the bowl where other servers will put in all the rest of the ingredients.
Here's a performance by the Director Chef,Jiro Yatogi.
Anyone knows what he's talking about?
Yatogi is the creator of Menya Musashi's siganture ramen: Black,White and Red Ramen.
The CEO of Japan Foods Holding Ltd,Mr Takashi Kenichi came down to address this launch as well. Drawing inspiration from the retail industry,different ramen are created during each season. Which also means that certain ramen would only be around for a certain period,ever-changing to suit each occasion. A few ramen that was launched in Japan are
Whisky Ramen,Sakura Ramen
and most importantly what I think girls would love to try:
CHOCOLATE RAMEN!
I honestly have no idea how it would taste like,but I think it would be interesting to give it a try. I do hope to see it in Singapore during the next Valentine's Day! Yes,it's only available during Valentine's Day.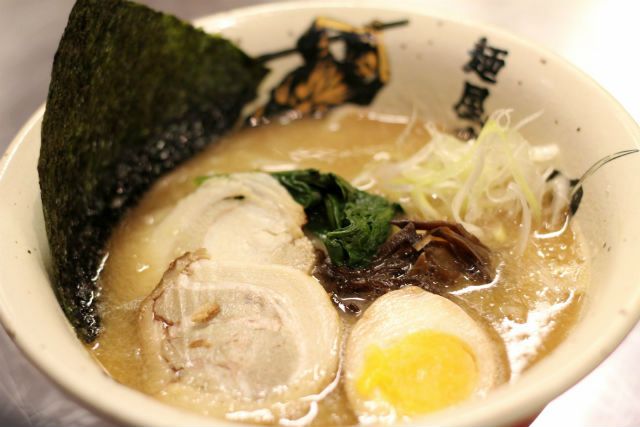 White Kakuni Ramen $14.90++
Rich in flvour and thick. It's got this creamy,smoky taste. Not to worry,the meat is DEFINITELY tender. I don't know why some places serve hardened chashu. The noodles are very Q,cooked to the right texture.
Black Kakuni Ramen $14.90++
Does black look strange to you?
It was to me initially,until they explained to me that it's actually garlic oil. Slurping up the noodles with the broth is absolutely wonderful. It's got a bit of oil taste,but I think it's really delicious and I think the best time to eat this would probably be on a rainy day.
SHIOK!
I'm definitely coming back for more!
Location:
Menya Musashi
#01-16 Raffles City Shopping Centre
252 North Bridge Rd
Operating hours:
Everday 11:30am-10pm
Picture credits to Clara Lock from Campus