It's a wet Saturday morning! But nevertheless,as agreed to meet up for breakfast,Don,Fenny and I arrived early to Cineleisure. But alas! We didn't realise that most shops do not open until 11am. Having no choice,we hung around
Burger King
and decided to give their breakfast menu a try.
Fish burger,hash brown and milo. All which a healthier choice than the rest on the menu. We sat there,discussing about what we should do for the food review. As the day went by,noon soon came. It's time for lunch! Many food outlets at Cineleisure are generally affordable for many teenagers.
Since there are many food outlets at Cineleisure,the most important thing to ask yourself is:
What cuisine do you prefer?
Having a picky tongue,it's important that all 3 of us agree on the same outlet! Many suggestions were thrown in for the lucky pick:
Graffit Cafe? Pasta Mania? Shokudo? Nihon Mura? Xin Wang Cafe?

A.Venue Bistro?
Old Town Cafe?
Javier's Rotisserie?
Here's a short video on the journey to finding the best catered choice for us:
Finally,we all decided to try
A.Venue Bistro
:
8 Grange Road
#03-06A/B Cathay Cineleisure Orchard
Tel: +65 6733 2270
Operating Hours:
Sunday - Thursday : 11am - 11pm
Friday & Saturday : 11am - 2am
There are desserts and a wide variety of western cuisine to try out. I guess we are more a fan of western cuisine!
The price range for this place is between $5.90 to $14.90 and their deals are:
Lunch Special ($13.90)
- Soup of the day OR Salad,British Fish & Chips or Spaghetti Bolognaise or Sandwich
Sweet Tooth Special ($9.90)
- Assorted cakes + Coffee/Tea
Dinner Special (add $5.90 to any main course)
- Soup of the day + home made Iced Lemon Tea
Cheese sticks!
Fenny and I absolutely love cheese. It's mozzarella cheese by the way. As you bite and pull,it totally stretches! Not the usual bite and break-off kind of cheese. The mouth feel is perfect,not too dry or soggy.
Having a sweet tooth,anything for a good macaron or Tiramisu,I jumped on the dessert as soon as I saw the menu. I'm not sure which cake is good but '
Melting Moments
'($8.90++) caught my eye.
Sweet name,sweet cake,strawberries and a scoop of vanilla ice cream!
Everything that's good for a girl. Hohoho!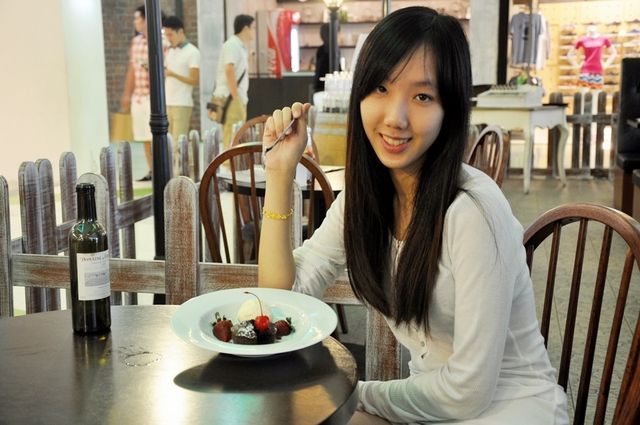 Tucking in to give you a review for this cake!
Alright,
Melting Moments
. I think the idea of it is to get as close to molten chocolate as possible,but it's a little dry on the inside. Maybe it's because we took a bit of time to take pictures instead of tucking in immediately,but it's not as gooey as expected but the sweetness is perfect. I however personally do not like strawberries,plus this one don't really look all that in a
right
colour. I love the taste of cake in fact! The vanilla ice cream goes well with every spoonful of goodness into the mouth.
And here's Fenny with her pasta:
Baked Cheesy Penne
($11.00++)
Haha,she looked so happy with her pasta! Read Fenny's review
here
.
The pasta is warm and creamy,and Penne choice of pasta with hollow insides,you are able to get the full burst of creamy-ness! Yums! A sprinkle of herbs to balance off,it contains chicken sausage,mozzarella and parmesan. That explains the savoury cream sauce! This main course is very filling and no doubt,you can get pretty full from this dish.
OmnomnomnZ
!
Don's dish would be:
Breaded Black Pepper Chicken with Teriyaki sauce,served with mixed salad and fries.
($13.90++)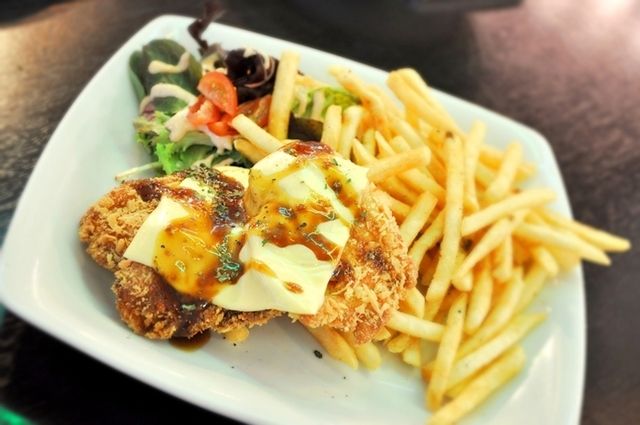 I think it looks crunchily delicious! No wonder Don chose this,with a thumbs up!
"Fabulous yea!" Read Don's review
here
.
Don's dish. He says that the
fries

would be a bit too salty
for others but perfect for him cause he takes a lot of sodium. Perhaps the others can ask for less salt,but there are no worries about the salt being soggy,
the mouth feel is just right
! And especially for people who loves
warm,crunchy
food,the
chicken
would be perfect. Fried to a firm crispyness,each crunch is simply mouth-savouring with the cheese and teriyaki sauce on top. Yummy! The salad was surprisingly
fresh
as well,hardly you find other restaurant serving such fresh and crunchy vegetables. Overall,this dish is a good mixture of meat and vegetables. It promises to be a filling one indeed!
View from our table,every girl's dream! I love gazing at such open shops cause I can slowly eat and look at the bags. It's like a visual pleasure from those,and mouth pleasure from the food I'm eating. Talk about a good combination!
Here's my take on A.Venue Bistro:
I feel that this is a good place to dine at.
Ambience/area
The ambience is good too,with dark-wood coloured tables and chairs,it feels like you're Europe. With the small lamp posts in front of the shop for lighting,I must say this feels very swedish! Like up in the cold mountain with a warm mug of cafe kind of feel. It's a very spacious,open area. The cushioned seats are however,very cosy and feels great to spend your lunch/dinner at this place with a bunch of friends. It's a good place to talk and laugh over good food! They also have a good view over the different floors below,right down to the basement. You can see the happenings and people walking,eating and shopping.
Food
It's a good place to dine at,the main courses are quite filling. I don't like my dessert very much,perhaps other cakes would make a better choice. But Don and Fenny's dishes were done pretty well. The crunch and the mouth feel,right mixture with the right temperature.
Service
I am an advocate of consumer rights. People find me annoyingly fussy or critical,but sometimes or most of the time,I don't believe in paying for service charge when they don't provide much service at all. This time round,while we were here on a Saturday afternoon,they only have one staff on the floor and one cashier. Kinda short handed on a Saturday afternoon though there are not many people around at the time when we were there. Though they may have their reasons for not putting more staff on schedule,I feel that their staff could have been more attentive when there are customers around. We waited for quite awhile and kept waving for them to take orders/pay the bill,but however,to no avail. At one point in time for a new order,I had to walk over to the cashier and found him fiddling around with his phone.
Still,everything else is fine. It is kinda annoying to keep us waiting
(as they say,a hungry man is an angry man! But a man full doesn't mean he's not annoyed being kept waiting!)
,I do feel that the staff could have done better by being more attentive.
Apart from that,we do enjoy our meal.
I hope this is helpful and contains good amount of details in helping you to choose the right place to dine at @ Cineleisure!
Bon Apetit!