A day spent at Cineleisure
And so here we are,at Cineleisure. It's gonna get SENSATIONAL! Come on,take a walk around cineleisure now. Read on!
Just before we head off for movie premiere,all of us decided to have lunch and walk around cinleisure. A quiet weekday spent with friends,it's just awesome of how much we all have to talk about with each other!
First stop on the first level:
Sticky sweets!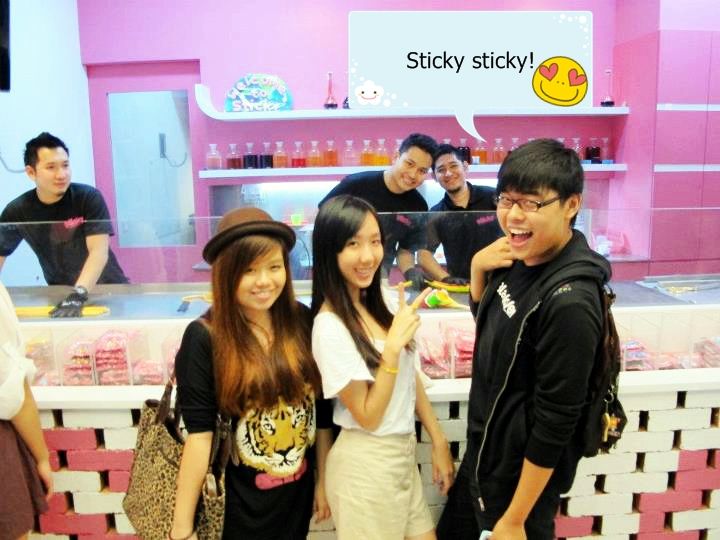 The candy guys were so obliging to take a photo with us! I don't know why but there's something cute about this photo. You know,guys making candy and giving you their million-dollar smile. Oooh,why am I talking like that?! I think I must have eaten one of their best-selling candies... And that is:
.
.
.
.
.
.
.
.
.
.
.
.
.
.
.
Love

potion

!
That must be it. I'm swooning over those guys who made this candy! I suppose this is guaranteed to work. Guys,do buy this for your eye candy or the girl you like. Bound to work,haha!
TADAH! Don has decided to make a purchase of a packet of sweets. Went off to the second level and there's Fenny shopping for iPhone button stickers. We also nom-ed cheese stick,which is damn yummy. How can anyone not
LOVE
cheese?!
Shoppah shoppah shoppah!
I bought my long-awaited hello kitty cover for my iPhone. Yes,in case you didn't know,I have already made my super-difficult decision to switch over from Blackberry to iPhone (pssst,I'm still trying to get use to the buttonless function). Anyways,the bumper is so chio and it's only$2! Cheap,just buy only. HAHAHA!
And it's my turn. Keeping a lookout for shoes,we saw
HURS,shoe loft
. And there's discount! OMG!
Picking out a couple of shoes and clutch to see how the outfit goes...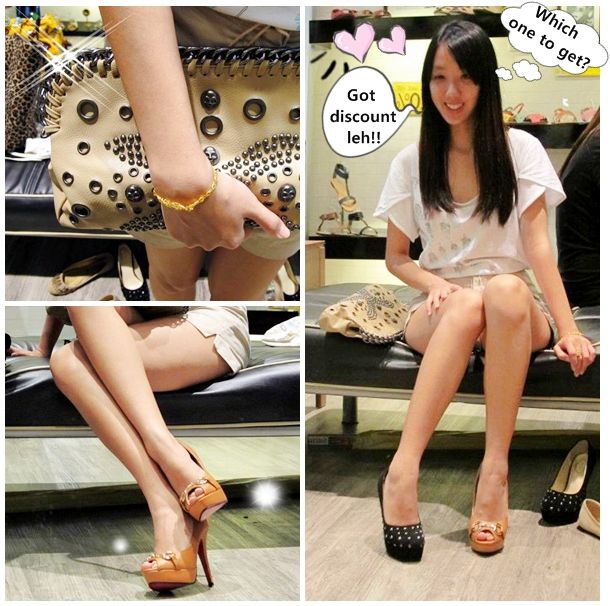 Black or brown? Brown or black?
Hmmm...
And finally:
.
.
.
.
.
.
.
.
.
.
.
.
.
.
.
.
.
.
.
.
.
.
.
.
.
Tadah! How does it look?
Nearing 5.50pm,we all decided to go for our movies. Don't wanna be late for the movies you know,DAMN KANCHEONG cause we're all really excited to catch 'The Hunger Games'. Feel really happy to be one of the first few to even catch the preview before anyone else!
Haha!
Mega excited
because of all the hype about The Hunger Games. Even for myself,I saw the trailer too and can't wait to watch the movie! I have no idea what the game was about but I thought it was something related to food,like killing in order to get food. Sound like some gore film. But no,it's not gore. But killing for food,not too far away from that. They need to compete to be the 1 out of 24 survivors in the competition. Afterwards,they needn't worry about food for the rest of their lives.
The film is about this 24 Tributes that was supposed to be sent to the Capitol where there will only be one survivor in the game where everyone have to kill each other. Weapons and training were provided. Since the age range is 12-18,you can expect young girls like 12. Freshie,untrained. You can expect what will happen to them,killed by older kids in the competition.
It's a bit sadistic,like a game for the rich to play. In the capitol,you will see people in quirky outfit. Imagine Nicki Minaj. However,it's not impossible to imagine a future like that where everyone wears false eyelashes and quirky outfit,even guys wear funny eyeshadow! Superficial and tedious,if you ask me. But it's not impossible. So these people are actually sponsors for the Tributes and are allowed to send them food,medicine (very important for survivor!) and other essentials to aid them in the game. Of course you don't expect them to send a knife or something la. Haha!
I think it's a very good show,I would rate this
4 against 5 stars
. The only downside is the
shaky camera(poor cinematography),whiny characters such as Primrose and too many sudden changes
. It's unlike Harry Potter where you can clearly see rules and people follow them. This however,is like a toybox that suddenly pop up this rule: Surprise! The rest however,keeps you tense and wonder how the next Tribute would be killed. And a budding love story in it,it all changes the game.

Thanks to Nuffnang and Cathay for the movie tickets,we have very much enjoyed ourselves! Last but not least,we made a very short video for our very own team. Check it out below,it's damn chio. I totally love the wind in my hair. Ahhhh! *flicks*
Photo credits to my team mates,Don and Fenny for the photos provided