Hello Darlings!
Remember that I told you how excited I am to go to the Singapore Airshow? Indeed,I went and it was simply MARVELOUS!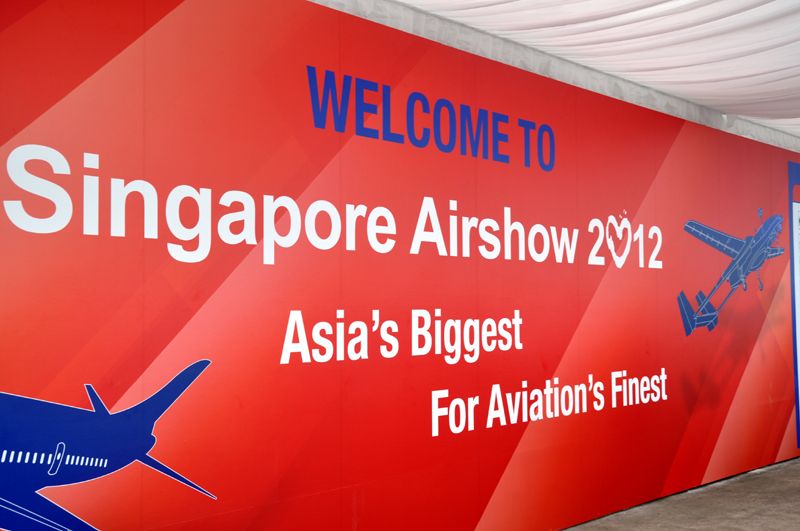 It was early in the morning,there were many people due to the airshow opening up for the public to enter. On previous days,it was only opened for schools and traders to enter. But hey,this does not mean you lose out. The public actually gained more because there's the air-showwwww. Ya la,performance la. On previous occasions,people who went in only got a preview of the performance. Now,I'm sure you know the difference between a preview and a performance right?
So anyway,let's go in!
SEEEEEE!
Didn't I tell you that there's a lot of people? Luckily,the place is HUGE. Like super big,a lot of space for people to walk. There were a lot of people crowding at the far front.
Brought my brother along. He's in Aerospace Engineering anyway so I thought I'd bring him along. I think he pretty much enjoyed himself anyway. OH YA. And see that sea of people behind? Told ya! Thank goodness for
one9ninety
for inviting me here,I was able to go up to the gallery. Better view,less crowded and free drinks!
I arrived just about time for the show to begin. So here's a few photos. The sky was like,blank. Lots of photos that I took can't contrast the planes really well but I tried my best.
"Look,I can go upside down!"
Anyway,they did a lot of stunts like this picture above. And a lot of near-miss,like two planes going against each other and flying upwards at the last minute. You know,those that were always shown in the movies!
This one's from the US air force. It's slow and gentle,purring like a kitty. Unlike the previous ones that roared the sky,flying by really fast. It's one magnificent big plane. Said to be 5 storeys tall,unbelievable!
After that,the sky began to clear up. Can see more of the blue sky now!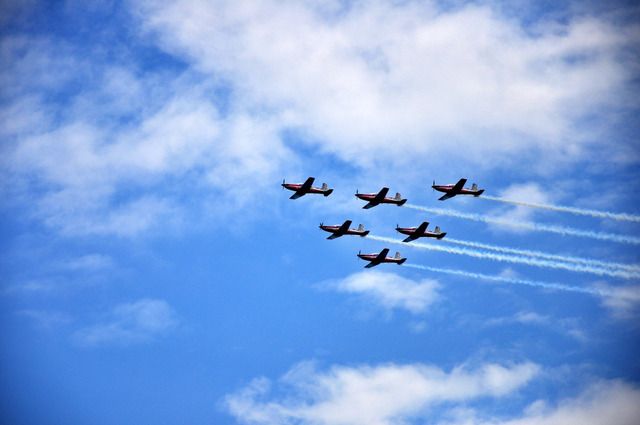 These are really quite too! And they are like... Few dots in the sky as compared to the previous planes. Love their formation and they're pretty cool. Here's a gif on another set of planes that flew by. Not very smooth but still!
As the show ended,I went in to see the design and technology of planes. Crowded max but at least the aircon was still cold enough.
See? Singapore Airline's model is the biggest amongst all other models. Without a doubt,
I LOVE planes
. Would love to have these in my house next time :)
Many private jets were on display. Heard that Jackie Chan's private jet was there too,but it wasn't there anymore when the weekend came.
ALL the tours for Singapore airline was fully booked. Regardless of the timing,people queued and waited for their turn to go in! I'm amazed. Would love to go in though. Sad,I guess I will have to pay a few thousand for a ticket to experience it!
And there are US soldiers walking around,be it from Navy or Airforce. Hey,we don't often see them walking around okay. Or rather,NONE AT ALL! There's no chance other than now,to take a picture with them. Quick quick!
Tadah!
This is the one from Navy,and I like her smile. Their uniform is duh,different from the airforce ones. And I like her smile! I think we seldom see women in the army,so I can't wait to take a picture with them when I see one. There's another one which I feel that her smile seemed so forced,that I don't feel like putting her photo here. See liao also sian. OPPS!
I THINK this guy is probably just some technician or something. But nevertheless,from the army! So...
*ka-chak! ka-chak!*
Somehow,the wind seemed to blow all the clouds here to the Singapore Airshow. Clouds were gathering and turning grey by the minute. So slightly after noon,I decided to to leave. I did very much enjoy my trip here. Quite an eye-opener,if you ask me. So without much further ado,I shall leave you with a more photo.
I LOVE PLANES!