Sponsored Advertorial
Lights and decorations hung up,weather's getting colder. This may be not be Europe or America,but I sure know that it's a sign that Christmas is approaching!
Just last week,I was invited to New York Dessert Cafe (NYDC) for their Christmas menu tasting. To welcome Christmas,NYDC has prepared a Christmas drink and launching 3 Christmas platters!
First of all,the
Hearty Christmas Roast Platter for 4
($98):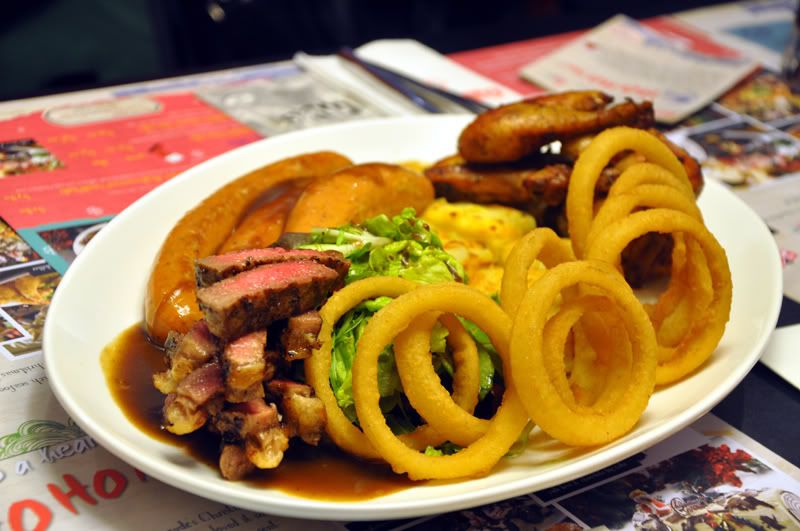 Containing meat of all sorts,such as beef/chicken/pork as well as some sides like onion rings and salad,it is a MUST-TRY for all! A hearty meal indeed,for a mainly carnivore like me who doesn't eat any greens,I absolutely enjoy this meal. And for all the other meat-lovers out there,you are bound to love this as well. This platter is a package including desserts and drinks
Beef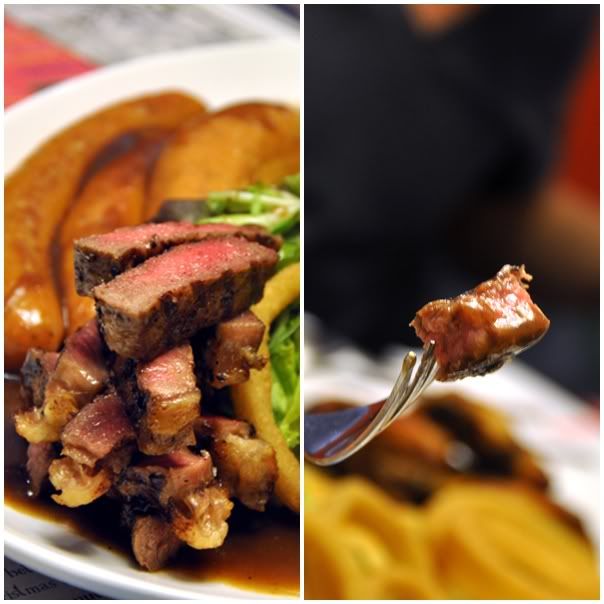 Instead of your usual wagyu beef that can be found anywhere else,they have decided to use the succulent
Australian beef
instead. Grilled to perfection,my fellow diners complimented its tenderness and how good it tastes.
Chicken
Spring Chicken
! Anyone would love this. Tender meat,marinated overnight with their in-house recipe and slowly roasted with herbs. No herbs tasted but definitely aromatic and DELICIOUS!
Pork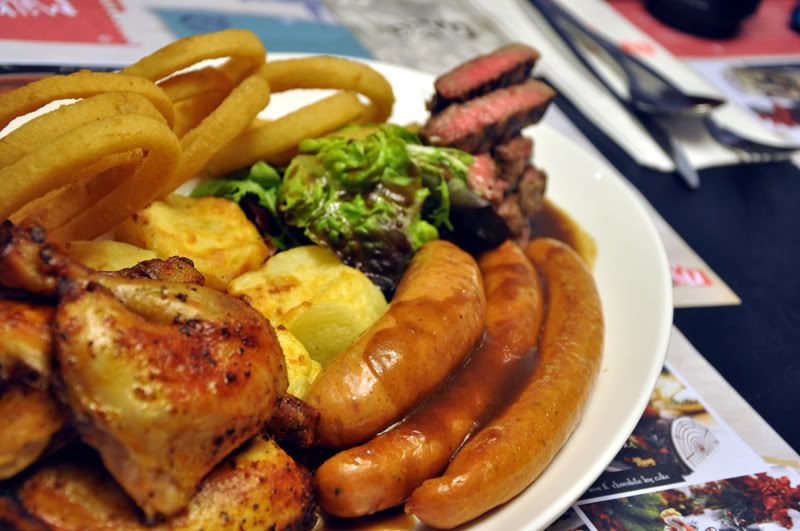 Luscious Pork Cheese Cracker
and
Spicy Bratswurst
with traditional sauerkraut
Spicy Bratswurst
isn't all that spicy,it is tasted to be more flavourful. And
Luscious Pork Cheese
? Oh my,you cannot imagine. You have to taste it to know. All I can say is,the bite is explosive. The cheese simply melts into your mouth the minute you sink your teeth into it.
*Ommmmmm.....*
Sides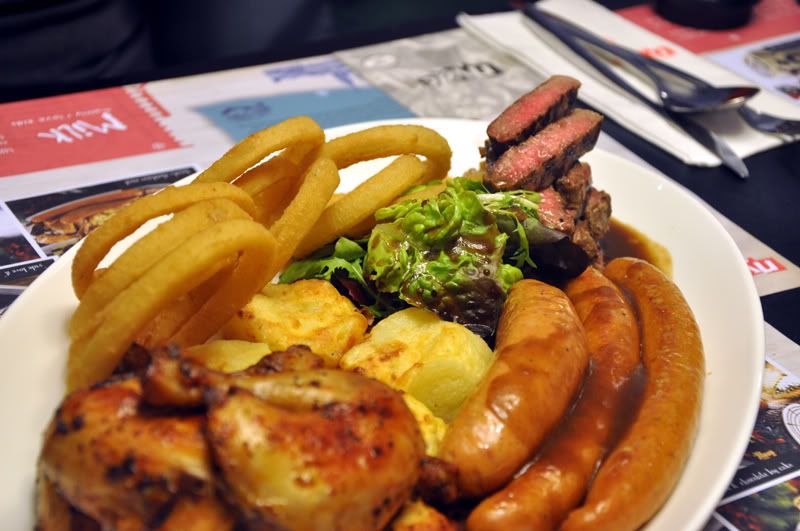 The
onion rings
comes with a BBQ sauce which complements each other. Nothing special,I would say. But the
Creamy Cheese Baked Idaho Potato Gratin
that is lying in the centre,is a whole different thing. It's like rosti,except mixed with cheese. Not something that makes you sick after eating for a long time but definitely something worth ordering on the menu. Salad's super fresh and you can totally hear the crunch!
This platter for 4 comes with a drink for each:
Passionately Fizzy Drink
Bubbly,fizzing with goodness of
cranberry
at the bottom and
Orange
ice shavings on the top. Not sour-ish at all,sweet in fact!
Last but not least,the promised dessert along with this platter: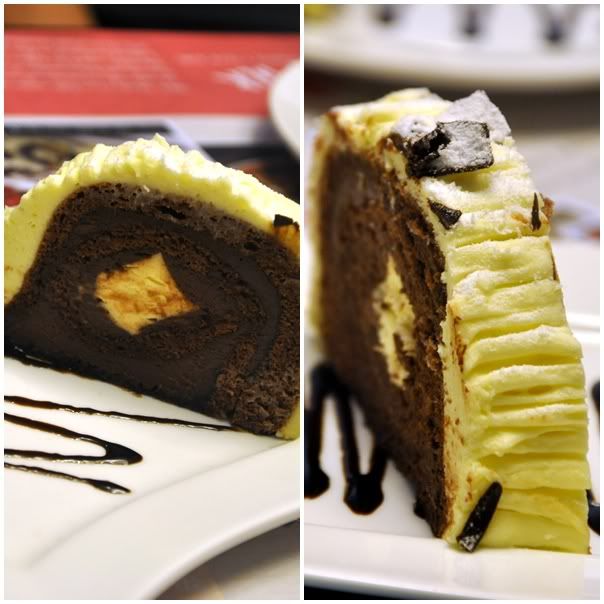 Divine White Chocolate Cheese
As mentioned,the whole top is coated with white chocolate while the center contains a chunk of Philadelphia cream cheese! Sinful to the max. It tastes so buttery! The alternate to go for would be the
"yule love it" chocolate log cake
. People who prefers dark chocolate can go for this as they contain chocolate mousse,covered with Belgian couverture dark chocolate.
For an intimate session of two,whether is it for couples or best friends,
you guys can opt for
Hearty Christmas Roast for two
or the
Captain's Catch Seafood Platter for two
at $56 each. The
roast
platter have an option of roasted chicken or sirloin steak while the rest of the options remained the same. For seafood lovers,the
seafood
platter contains Seared Halibut fillet,baked potota gratin and a salad mix. All these platters comes with a Christmas drink and a slice of log cake.
Doesn't it all sound yummy?!
Their outlets can be found in
6 different places
:
Bedok Point
Bugis Junction
Holland Village
Tampines 1
Velocity @Novena Square
Wheelocks Place

Should you decide to buy a Christmas Log Cake from NYDC,famed for their desserts,will be donating 50 cents to the children of M.I.L.K and for every platter, $1 will be donated.
Many thanks to Calvin for the invitation,as well as Terrence and Vivien for this opportune. For more information,do check out NYDC Singapore's Facebook
page
.