Sponsored Advertorial
As people say,presentation and first impression are important. Because they can be a deciding factor whether to get to know the person better,close a deal or a promotion. So it is important to dress well,right? But do you know that the colours also plays a huge part too?
I was invited to join a workshop held by
Jill Lowe International
.
Sounds familiar? Probably,they have make up brand and in general,they are a image consultancy agency. They provide a one-stop all for people's image like facial treatment,ways to slim down and choosing the right colour for you.
Well,first of all,here's Gwen:
Our speaker of the day. Confident and poised.
Here,she is showing us the kind of colours we belong to. Meaning that it match our skintone.
Spring

(attractive)

Summer

(romantic)

Autumn

(sophisticated)
Winter
(dramatic)
Most of us belong to 2 seasons. And maybe if we're lucky,3 seasons.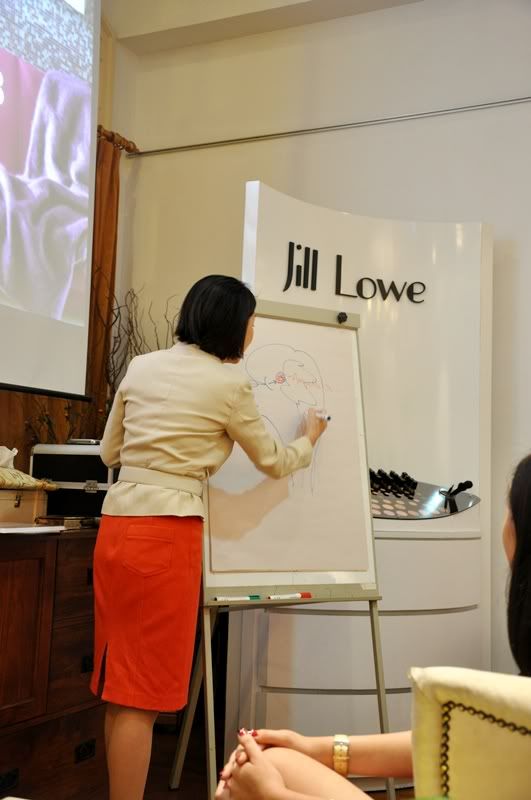 She goes on to explain how our brain works with what we see. All of us are dependent on:
55% visual (body language & style)

7% verbal (knowledge)

38% vocab (way we speak)

Because we depend so much on visual senses,it is important that we dress well and not send the wrong signal to people about who we really are. For a start,we were told to compare and see which one we like more.
Like room A or room B,apple A or apple B etc. All about presentation yea?
Colours are often associated with jobs,we form an impression when the job's nature is mentioned. Such as doctors goes with white,lawyers goes with black. You never heard of a doctor or lawyer wearing red to work,do you? Not that they can't,but it just feels... Wrong.
Many different colours of fabric to explain to us. Don't understand the importance of it? Let's see:
This guy ask if white tie suits him. Different colours of fabric acts as the tie colour to show their difference. So apparently,white tie doesn't suit him after all.. Good that he found out before he actually wore them. I wonder what's he going to do with the tie now. Hmmm..
Here's Cheryl:
Gwen is explaining what kind of colour suit her. Apparently winter colours suit her better.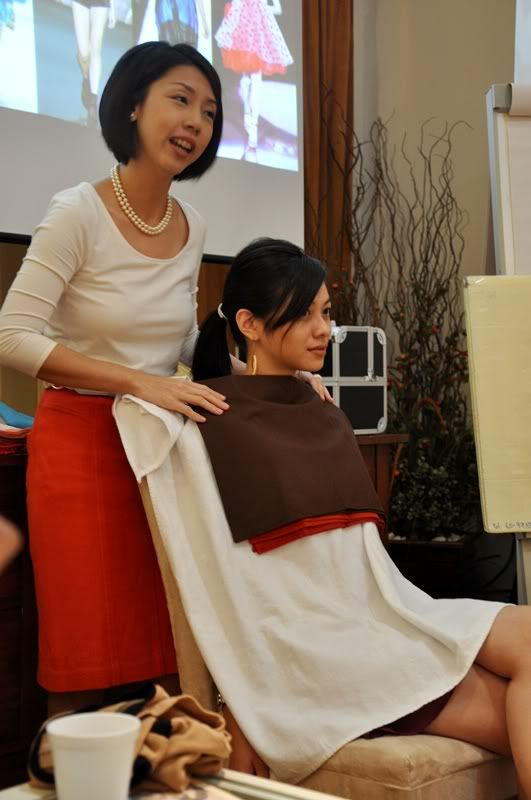 Another blogger getting to know her colour.
As for me? I'm quite glad that I have been wearing the right colour all along. White in general,its my favorite colour. I belong to the Spring/Autumn group. What do you belong to?
There are some tips which ladies can consider. For example,if you would like to project yourself taller,don't just focus on high heels. Try matching your heels colour with your skirt! If you wanna look shorter,match your heels colour with your top instead.
Try pink for dates and family bonding,it gives people a sense of feminism. More light-hearted than any colour ;)

And this is
Marion Neubronner
who taught us about people at the peak of their performance and staying there. How did they do it? She explains to us the little changes or things they do in their life. Take the leap,make the change and let your inner beauty shine!
Jill Lowe came in for awhile,explaining to us how she begin this agency. A marvellous young entrepreneur who manage to keep it going for 25 years of being in the business of Image. For more information,do visit their
website
.
Last but not least,here's a picture of mint and I!
Haven't seen her in a long while already,even her hair's grown long!
Thank you so much,
Jill Lowe International
for this insightful experience. And also many thanks to
James Soh
for the invitation and some photos in this post.
Interested to attend this Colours Dynamic to know more? I'm giving away
7 seats
to this course! Do email me at
drifted_faraway@hotmail.com
and you can let me know if you would like to bring your friends along! It doesn't hurt to know what colour suits you best,for more knowledge about presentation!