Sponsored Advertorial
Good morning my darlings!
How was your weekend? As I have always stressed on the importance of having fun and relaxing yourself,I enjoyed myself thoroughly over the weekend! I began fun time on Friday. For a start,it's swimming. YIPEEEEEEE!
Hi hi hi hi hi hi hi hi hi hi!
I decided to go swimming and give my lovely
Baby G
watch
(sponsored by Omy and Casio)
a try in the swimming pool! Hehe,since they say its
water proof
anyway. Oh,you haven't seen the watch,have you? Imma flaunt it right now,IN YOUR FACE! Hahahaha!
Baby-G
Shock Resistant
100m water resistant
Blacklight LED
World time

The most prominent feature would be their
shock-resistant
function.
Casio Baby-G
was created from
G-Shock
,catering for ladies with a
feminine
touch since G-Shock was more macho,more for guys. With
scratch resistance mineral glass
,you needn't worry about banging on table corners! With a
quartz
movement,the accuracy is ±30 seconds per month.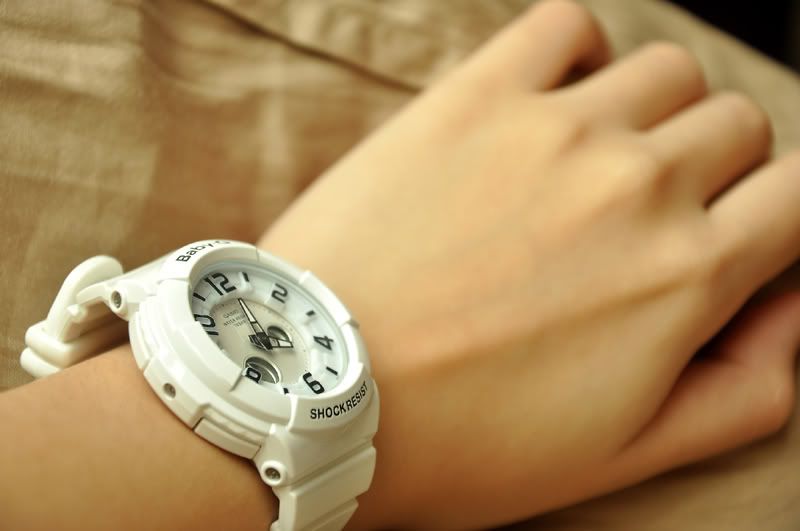 There,it fits my hand well! I love the white contrast against my skin tone. Very
teenage-ish
. My friends and followers on twitter has been saying how
Baby-G
reminds them of their primary school. YEAH! Shows that its a success among teenagers and primary school kids!
Okey doke,let's bring Baby-G to go swimming:
Stareeeeeeeeee.
Shall we go into the pool now? Let's do that!
Half submerge on the pool steps.
Seems to be workin well still. The seconds watch is still flashing numbers away.
Fully submerged in water.
Working well still. I love a watch where you can SO mistreat it yet work well still!
B

a

n

g

b

a

n

g
,
wash wash
and tadah:
IT'S STILL WORKING!
Just gonna show off a bit more: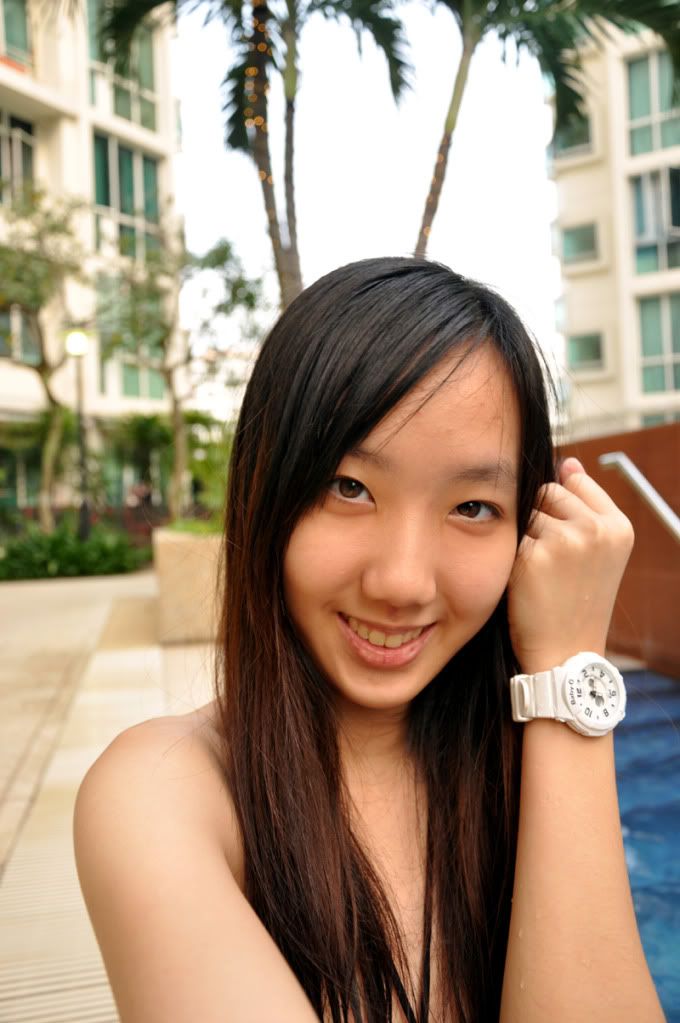 There we go. Who doesn't love a good watch?
I DO.
Baby-G
goes swimming?
NO PROBLEM!
Swam for an hour or so,got up to change and go for dinner. Yummy! Food always taste so delicious after a swim. Seems like this suits me well with bikini for swimming. Next up,what would you like to see me trying to do with the watch? Let me know!
Have a good day ahead,remember to keep track of time and maximize it efficiently!
All quality photos brought to you by my trusty
Nikon D90
___________________________________________________