Sponsored Advertorial
Good news girls,Ginvera has launched a new series of products!
This time round,this series is named
Amethystory
.
"
Amethyst
, a semi-precious gemstone, is a violet variety of the quartz often used in
jewelry. It has a unique colour and this gemstone is often believed to be a natural
tranquilizer for dispelling intoxication, relieving stress, soothing irritation, balancing mood and inspiring the intellect. In fact, the origins of the name came from the Ancient Greek word 'amethystos' meaning 'not intoxicated', a reference to the belief that the stone protects its owner from negativity. A large number of further miraculous powers are attributed to the amethyst in all sorts of cultures, including bringing you good luck and abundance."
So this time round,in this series,these skins products includes real amethyst granules to help rejuvenate skin cells,anti-oxidation & promotion of micro blood circulation for a healthier
and more luminous skin!
Today,I'm introducing you all 3 products: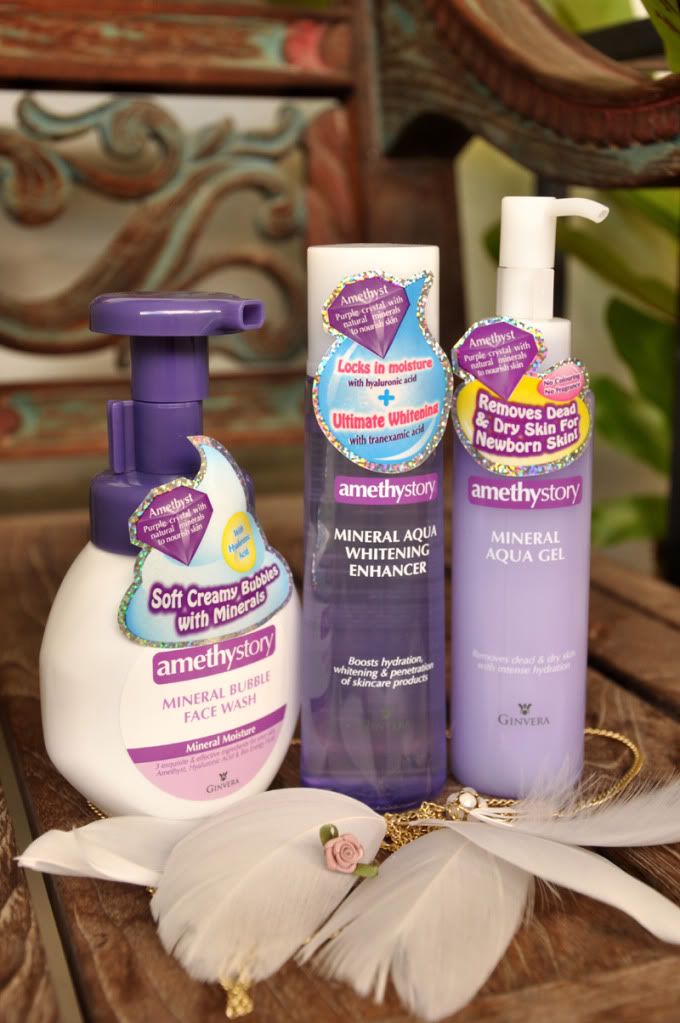 Mineral Bubble Face Wash,

Mineral Aqua Whitening Enhancer

,

Mineral Aqua Gel
(from left to right)
I'm actually very interested to try out the face wash because not only the packaging is cute,it is not the typical
squeeze-out
kind of facial wash but a
pump
! Now,facial cleansing couldn't get any more fun than this,could it?
Let's have a look now!
It contains 3 exquisite and effective ingredients for your skin - Amethyst, Hyaluronic Acid & Bio Energy Fluid. They are supposed to help your skin rejuvenate for a smoother complexion,balance oil secretion and provide ample mineral & trace for a healthier skin.
Cost in store: $14.90
*pump-pump*
Wooooo!
Look at this,all the bubbles! It's foamy,thick and creamy. Not that I have tasted it of course,but the texture isn't watery.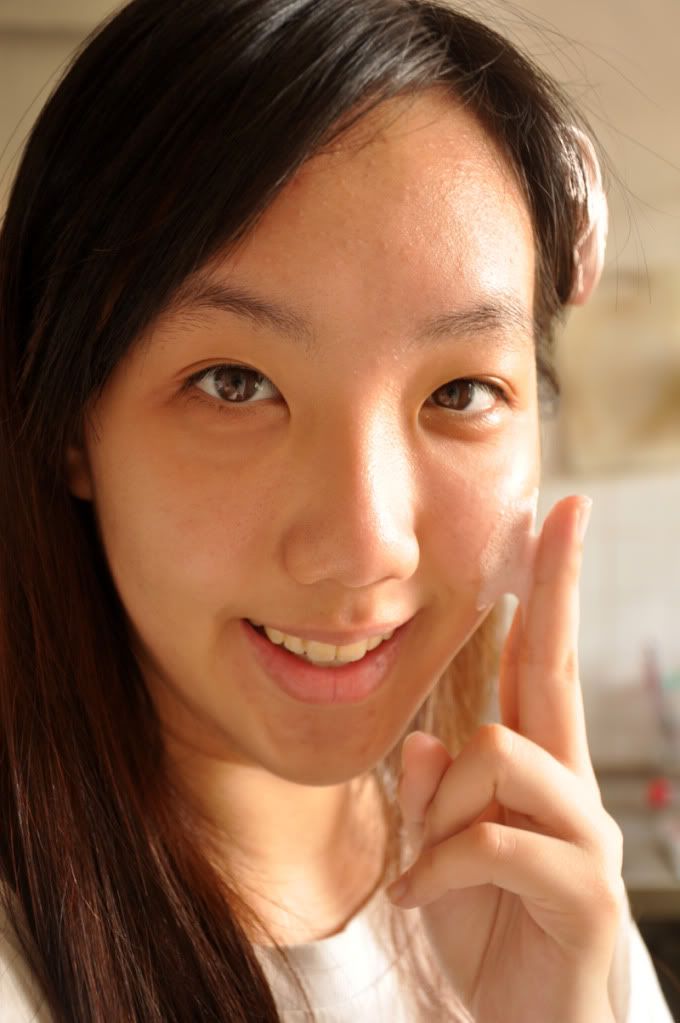 And facial cleansing begins!
I'm glad to say that despite this facial wash coming in a different form,it works exactly the same way like any other facial wash. The only difference that I feel personally is that it's more convenient. You just have to pump it onto your hands and cleanse your skin. It isn't harsh like some other products. I tried cleansing my face twice in a row and it doesn't make me face feel
tight
after cleansing.
Next up:
Aqua Whitening Enhancer
It contains Amethyst, Tranexamic Acid & Hyaluronic Acid to boost the hydration & whitening of skin & enhance the penetration of skincare products for full absorption. With regular usage,it helps to your lighten complexion evenly for a fairer, radiant and youthful glow.
Cost in store: $19.90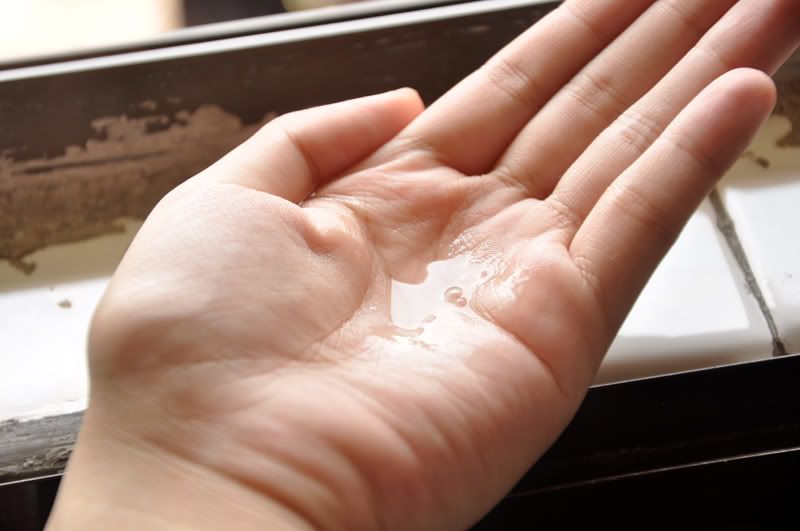 Just pour an adequate amount onto your hand and pat it onto to your face after cleansing. It doesn't give the oily or creamy feel. In fact,it feels refreshing as though you just moistured your face with water!
Last but not least,the Mineral Aqua Gel.
No colouring, no fragrance, this gentle formula is specially blended with Amethyst,
Hyaluronic Acid & Bio Energy Fluid to help enhance the removal of dead, dry & rough
skin & promote skin rejuvenation.
Cost in store: $24.90
Again...
*pump pump*
There! The texture is slightly creamy and not very watery.
Dead skin coming out. Skin feels more hydrated and fairer.
Interested? Get your free trial size sample redemption of Amethystory Mineral Aqua Gel
here
! Hope that you had enjoyed reading and found this review helpful.
Now glow away,gorgeous!
Tata
xoxo