Last Saturday was an awesome evening well-spent with people I love!
I have never really go for italian cuisine,so why not give it a try? I saw
Osteria Mozza
at MBS the other time when I was there to watch Swan Lake,decided to go for them cause I thought the ambience looked good. Gave them a call to make a reservation rather than risk walking in and being rejection on the account of a full house,but they only had a 5.45pm and 10.15pm slot. Gosh,that place must be really popular huh?
Cabbed there and reached at nearly 8pm. Being cheeky,we decided to try our luck at Osteria Mozza to see if its really full house. It doesn't matter,we have a reservation even if its full house at 8pm. And voila,they have a table! No waiting at all,we were seated immediately. Ha,to think that they gave me a 10.15pm slot over the phone. The place was 3 quarters filled lo,so many people cancel their reservation
meh
? HA!
We had a starter,which was called
Affettati Misti
:
Top left Prociutto di San Danielle, top right a salame, bottom right Copa. Right in the centre,is something like a fried dumpling called
Gnocco Frito
. Very yummy,cause its quite hot and empty inside,to be eaten together with the cold ham.
Next up,my main course would be
Leg of Lamb
:
Not superb,to be honest. I really suggest that you don't go for this. Tasted like some mutton satay which you could have easily gotten from the hawker centre. I don't like it cause its not really well-done. You can't really say the skin is crispy,the middles were not really all that tender either. Just feels like chomping and knawing on a piece of,oh well,ordinary meat.
Was a bit disappointed in this though,but I really must give it credits for its presentation. Looks good,isn't it?
Since we are here,I don't see why we shouldn't indulge. So we had a bottle of wine to go along with our main course: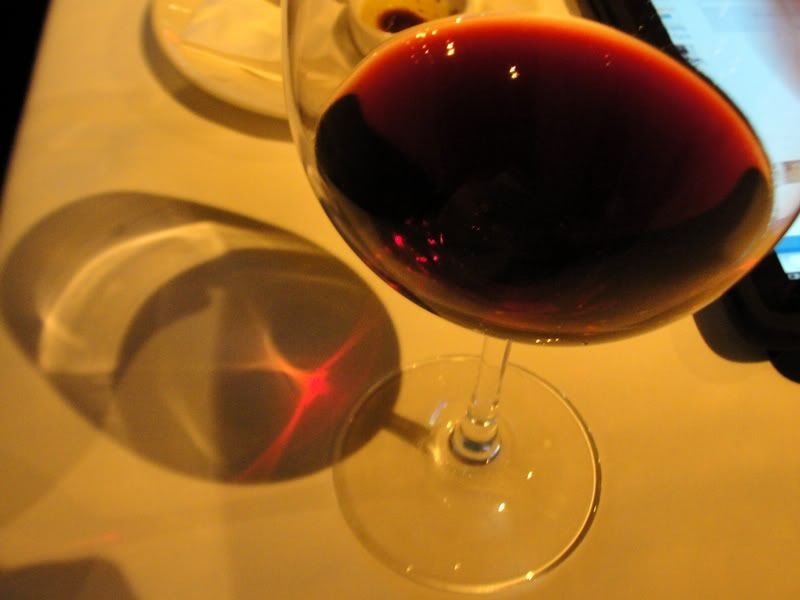 Not an expert on wine,but it goes well with the lamb meat that we're having.
They have a in-house
sommelier
,someone who can recommend you a good bottle of wine within your budget. Pretty helpful,if you couldn't decide what would be good with your main course.
The ambience just isn't all that good for conversations and the music's a little loud. Not a very good place to talk,I would say. And the menu was mainly in italian,better go with someone who's familiar with italian cuisine. The translation doesn't shed much light on what you are about to order and I don't suppose you wanna risk having a bad course in such a nice environment,would you? The service was excellent,the staff was friendly and attentive to all our needs. They were quite knowledgeable about the dishes on the menu as well.
Heh,overall,its the company and food that makes a difference to the overall experience!
Not a very cheap place if you wanna visit,the bill ran up to $260+.
Hey,I'm not complaining. It's the overall experience that makes a difference! ;)
After dinner,we went over to Louis Vuitton. Nothing much there,its really like a museum lor. Having a look inside is fine,but I don't feel that they carry as much good as ION's LV. Then head over to Longines. STILL didn't get my watch that I want badly,cause I really can't make up my mind about Quartz and automatic.
GAHHHHHHHHHHHHHHHHHHHHHHHHHH!