I can't really say I'm a big fan of ramen and sushi but I do occasionally crave for Japanese food. What I love best is Salmon Sashimi.That freshness,that Q-Q taste... YUMS! I'm sure sashimi lovers out there know what I'm talking about. When it comes to sashimi,the freshness and quality is an important factor to enjoying the dish itself.
There are only these few places that I go,Nihon Mura and Sakuraya. The rest is a big no-no. And the best sashimi I feel,comes from
Sakuraya Fish Market
. They only have two outlets,one at West Coast Plaza and the other at Parkway Parade. I frequent the one at Parkway Parade on occasional weekends (no,you cannot stalk me!) and totally love the food there!
Sushi rice! You can try their wasabi,but I don't feel that its very fresh or spicy enough. Don't have the sudden burst of flavour in your mouth.
And here's the sashimi that you have been waiting for:
.
.
.
.
.
.
.
.
.
.
.
.
.
.
.
.
.
.
.
Tadah
Scallops(left),salmon(up and down in orange), squid or octopus (right side,not I eat one) swordfish (middle) and some weird fish (top right)
They look so fat and yummy lah! So squishy that I can't wait to sink my teeth into them.
RAWR!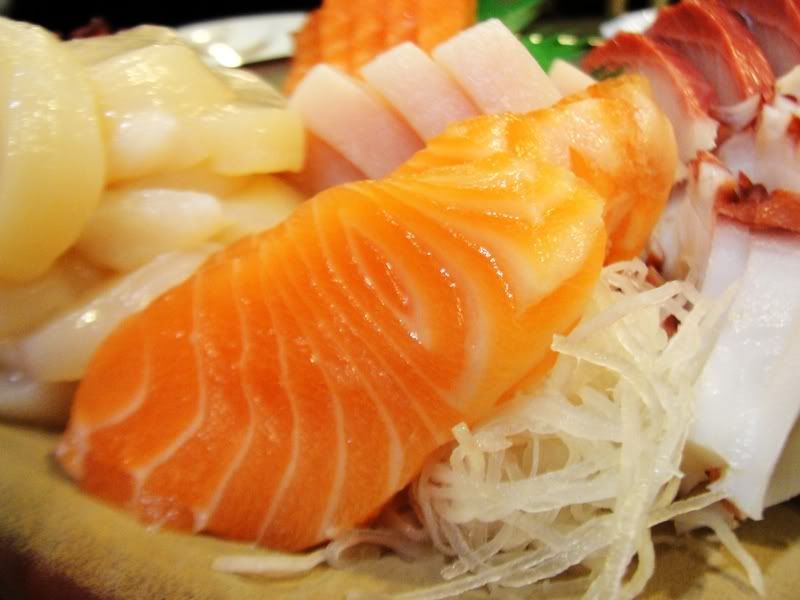 Nah,here's the close-up!
I love salmon sashimi,as mentioned before. I know that there are better fish out there,but don't spoil my taste buds. I love this salmon sashimi as it is!
Final look at the meal of the day.
They go by the weight of sashimi to determine the price. It's not very cheap,but I assure you that it's got some quality in there!
Located at :
#B1-84D,Parkway Parade
TEL 6345 4714
Business Hours
: 
Mon-Thu, Sun & P.H.
 11:00am-9:30pm 
Fri & Sat
11:00am-10:00pm
Do you have better places in mind to Japanese cuisine?
Do share with me!
xoxo