Last week,I was invited by Sebastian (thank you so much for the invitiation!) to a tea workshop held in Marina Bay Sands Hotel,in the Presidential Suite. The suite was said to overlook the front and back of the hotel,meaning the city view and sea view. Oh boy,was I so excited!
Now,I'm sure all of you have heard of Twinings,the tea brand which we often see in the cafes. They are based in Andover, Hampshire, England. Thomas Twining, as you can see from his name,is the founder of Twinings and had opened the first known tea room on the Strand in London, in 1706. Till date,it is still operating. The very same shop has been standing since back then till now,a very short in height store and can go a long way back,whether in history or literally.
Old Twinings shop on The Strand
Having 300 years of history and being one of the first companies to introduce tea drinking to the British,Queen Victoria had granted Twinings its first Royal Warrant for tea,Twinings as supplier of teas to her household.
Stephen Twinings,the 10th generation member of the famous tea family who's on his Southeast Asian tour had made a stop over in Singapore to share his passion for tea and showcase the way to perfect the art of tea blending and brewing. Along the way,he shared a brief and interesting history of tea and insights on how Twinings has evolved since 1706. Much has been done by Twinings to ensure that they continue to maintain the best of quality of tea that they provide.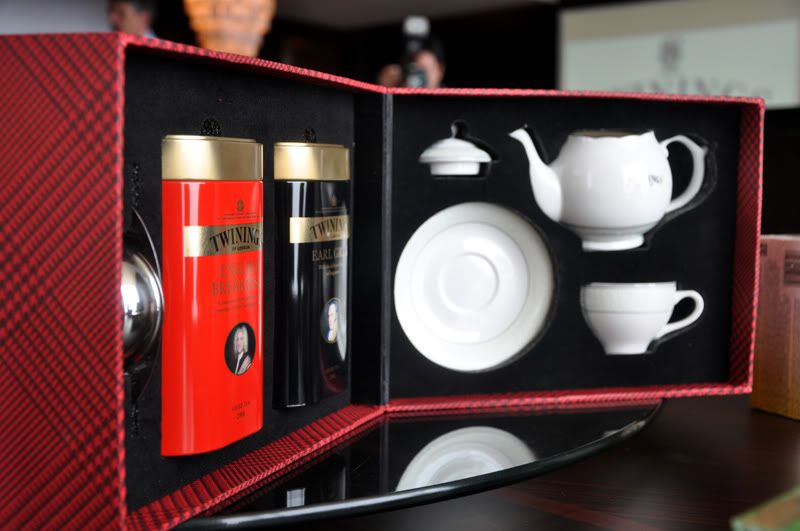 Twinings tea is now enjoyed in 115 countries globally, with nearly 250 blends to its name from contemporary fruit infusions and herbal teas to its most popular blends:
English Breakfast
and the world-famous
Earl Grey
- made specially for Charles Grey, the second Prime Minister of England.
So here we go: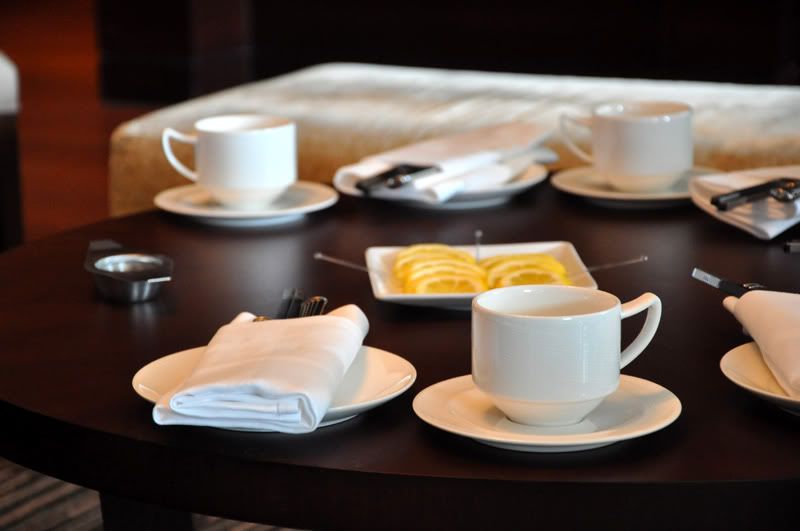 Tea setup for the place as we arrived.
Did you know?
Back in those days,porcelain imported from China to England were expensive and they thought,such fragile porcelain would surely break if they pour hot water inside. So they added a bit of milk at the bottom to cool down the temperature before pouring tea in. So this was how adding milk to tea came about!
As many would compare teas like how they compare wine,the light-flavoured ones should always go with light snacks. Whatever dessert that you enjoy eating!
Twinings Mint Cooler
Not all teas are hot. This is ice tea,made with the finest peppermint leaves. A perfect drink especially after dinner,soothes your stomach. Best if you add some honey or sugar inside,don't say I didn't warn you!
Earl Grey
,a black tea. Refreshing and a unique floral aroma which I very much enjoy. Truly,the best I liked out of the 3 teas that I have tried.
Needless to say,a tea strainer. That day,they were using loose leaves. No difference between packet or loose leaves actually,they're pretty much the same.
With a sense of humor as I asked for a photo with him,he picked up a tea pot and offered me a cuppa tea!
Fruit & Herbal Infusion.
A packet would do. Let it sit in for 3-5min of hot water to bring out the flavours,best go with a dash of honey! Alternatively for our hot weathers,serve it with ice instead.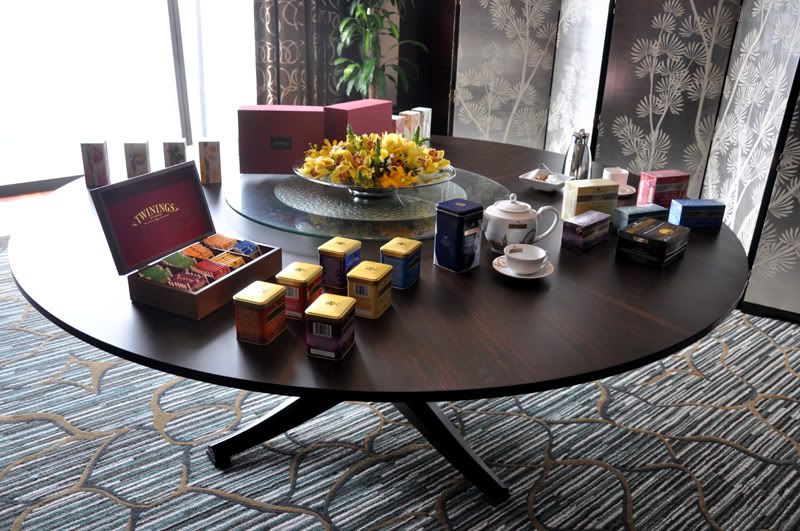 A display of tea selections from Twinings.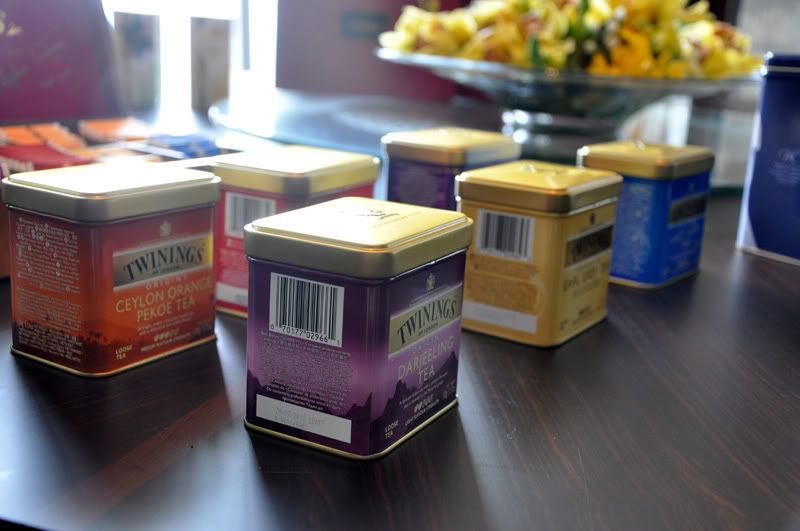 Up close,tins of tea whom I presume to be loose leaves. Clarence was telling me that their Darjeeling Tea is good,I think I shall have a go at it one of these days!
Packets of wonderful tea whom you would probably often see in cafe. I always like this kind of display!
This tea was specially blended for the Royal Wedding on the 29th of April 2011. As Pete took the time out to explain to me,if I didn't remember wrongly,this is a limited edition pack.
Well,as the workshop comes to an end,I have gained insights and more knowledge on making a good cuppa tea right from the man himself,Mr Stephen Twining. Before we left,he specially prepared a box of tea for all of us!
Hees,he autographed it himself. After the rest had left,Jermaine,Verlyn and I stayed behind to asked if he could write in our names as well. Which he
agreed
,wheeee! So that's why,this box has got my name. Happy much! With a sweet scent of aroma,ME
LOVES
! :D
Here's a picture of us to end the post:
Me,Jermaine and Verlyn
Time to brew a cuppa and enjoy the evening,toodles!
xoxo