My exams are finally over!
Or at least for now,gotta go back to school still. Collect results and continue for the next exams coming in September.
So here we go,in the blogging community,we have the Singapore Blog Awards happening last Saturday at Shanghai Dolly. Never win any awards,but I was nevertheless proud to be one of the finalists. It's good enough for me,totally love the community and all the people I meet!
On my way to Shanghai Dolly,running late.
Me and cute guy,Conan.
He's there taking photos with Jing Long. Missed out taking photo with him. Shucks,I realise that that day,I didn't take much photos.
Guest of honour for the day was Major-General Mr Chan Chun Sing.
There were close to 300 bloggers that day,many whom I know and some finally met on that day. But still,a pity that I didn't take more pictures that day.
The ceremony proceeded very fast. Soon,all the winners of the categories were announced and were on-stage for photo-taking. Congrats to all of them,and also to some of my friends who won! There was a skit done on that day,but my shitty compact camera (didn't bring my dslr out) doesn't take nice photos in dark places.
Contest for the Best Dress award to the theme of Historic Figures.
From left to right:
Pocahontas
(our dear Clara who handmade her costume!),
Cleopatra, Liang popo
(Mint ah mint...),
Cleopatra, Shepherd
and his
wife,
Alexander Mcqueen
(Eric),
Marilyn Manson
(someone's boyfriend), Wide-screen version of
Dick Lee
(thanks yongwei,thanks) and this oily fat who calls himself
Michael Jackson
. Who is actually Steven Lim in disguise.
Here's a video of the
Best Dress Award
going on:
Do watch at least
30 seconds
of the video,its DAMN funny! Poor yongwei. See lah! Who ask you to bring your beer glass up,drink some more! Shall piak a photo of you here:
Drink,drank,drunk!
With dearest Mint! -big hugs- Her Liang Popo outfit really caught me by surprise. And of course,she won one of the two Best Dress Award! :D Yongwei behind trying to photobomb. Zzz.
With Chan Chun Sing,Joyce and Clara. He was really nice,walking around and taking photos with the bloggers! I must say,it was quite an interesting experience to interact with him.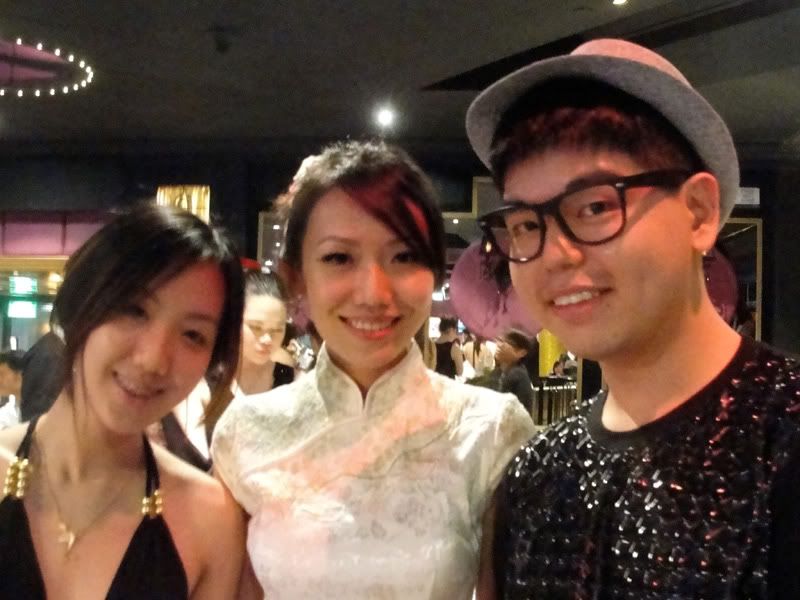 With SuperDuperUber CHIO ttm Cherie (don't play play,she is Miss Singapore International 2011 2nd Runner-Up and Miss Body Beautiful!) and Darren. Congrats Darren for winning,totally love your shirt!
Me,Joyce,Samantha,Yongwei and Cherie
As much as we enjoyed ourselves,the event must still come to an end. As most of the people left,some of us stayed behind to take pictures as a whole group. Wheeeeeeeeeee!
At the end of the day,we are just funny people enjoying ourselves!

Thank you so much,omy.sg for the invitation. I'm very much looking forward to the one next year!

Some of the photos were taken with my camera,
the rest are credits to

Conan,Samantha,Mint

and

Darren