Sponsored Advertorial
Just a couple weeks back,I was invited to the new Singapore Flyer Lounge,the home of award-winning cocktails. Excited,as I had recently turned 18 and this will be the very first time I'm sampling alcoholic drinks at a legal age! -winks- Indeed,I was not disappointed. 3rd time I came here,all to attend events. But I am never tired of going up the Flyer. Up,up we go!
The Singapore Flyer's very own Sky Bar capsule!
-Google images
And we have Luke the handsome dude to present to us,the live performance of making the famous drink named Singapore Sling!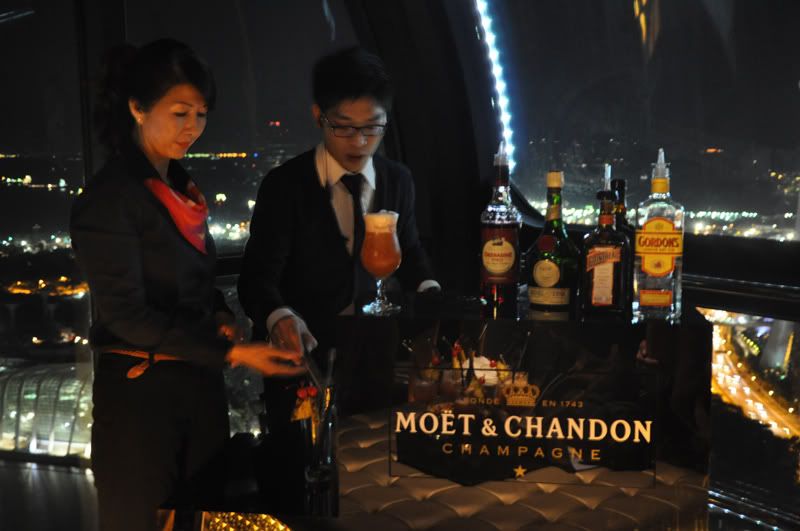 Pouring out the drink...
Presenting to you
.
.
.
.
.
.
.
.
.
.
.
.
.
.
.
.
.
.
.
.
.
.
.
.
Singapore Sling
!
They had used the authentic recipe which was first made in 1917,I think. What most other hotels had used in their recipe was the switch in the 1960s or 70s. But anyways. Enjoying a drink at the top,with a city view of Singapore in sight and good friends for company,what more can I ask for?
June and I.
I tried a different look that day,and everyone said I looked tomboy-ish instead of my usual feminine,wear-skirt sorta look. Zzz.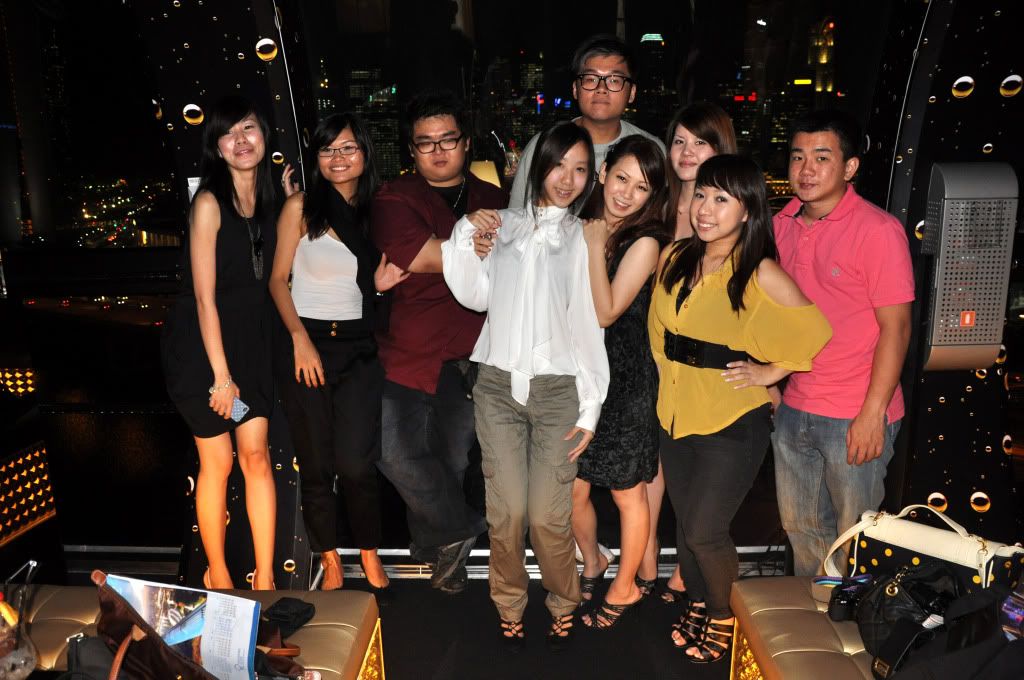 Group photo!
The bunch of us had fun sipping the drinks,savouring every bit of what Luke has made for us. Small talks,laughters and jokes engulfs the capsule.
Wait,there's more to come. It's not just enjoying a drink in the capsule. Let's have a look at the Lounge.
Yes,far in sight is the newly opened Art-Science Museum.
The lounge provides a cozy setting with warm colours and lightings to chill at. Perfecto,even the seats are so comfortable that you wouldn't wanna get your ass off it!
Even the glasses are branded with Singapore Lounge logo!
A tad distasteful,but I'm imagining that any kiasu idiots who tries to steal one of these home would really be quite an... Idiot.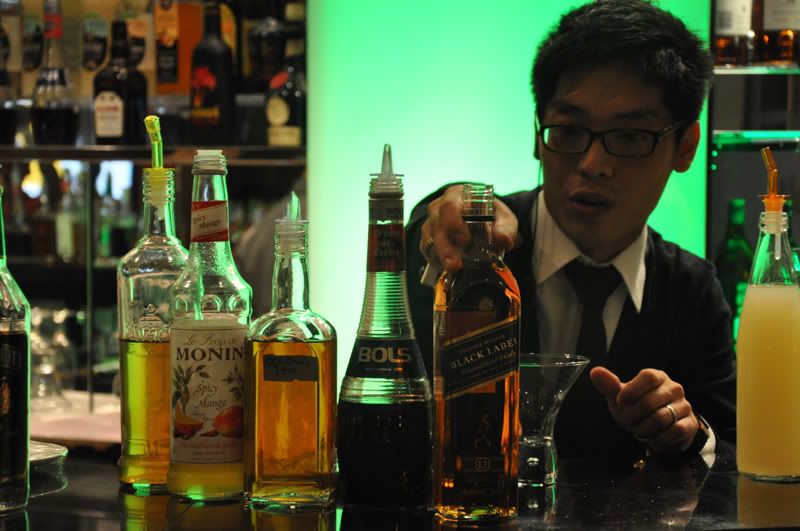 Luke showing us how he mix the drinks. He taught us to start with the cheapest alcohol first. Which I have got no idea why but he says that he's going to skip all the necessary steps and just mix everything together.
This is the award-winning drink of 2009,called the
Highland Cigar
. Note how the chocolate stick is placed on the drink like cigar? Yeah. I would say this is a bit strong. Like how the name itself,its a bit 'rough' for a lady liking. A drink beautifully done by
Mr Russel Chen
,its mixed with Johnnie Walker Black Label, Bols Crème de Casis,
Oolong Tea
, Monin Spicy Mango and Apple Juice. Yes,Oolong Tea. Surprise? Hehe. It's
$18 per glass
,but definitely worth the bucks.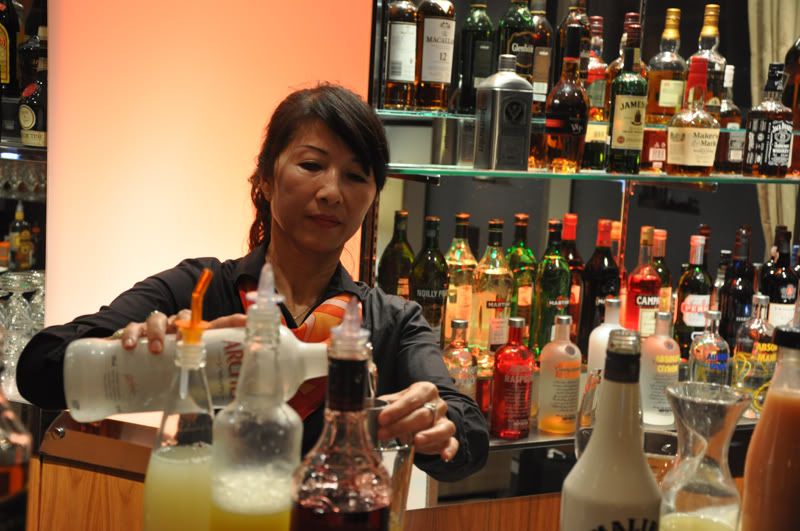 Up next,we have Miss Alice Nies mixing her very own drink which won in the year of 1992.
Here is
A Lady's Dream
. Cute,soothing. Also $18 per glass,it contains Malibu, Archers Peach Schnapps, Bols Grenadine, Grapefruit Juice, Pineapple Juice. Seeing a lady mixing the drinks with such swagger really blows my mind,changing my impression that bartending is not a job only for the males.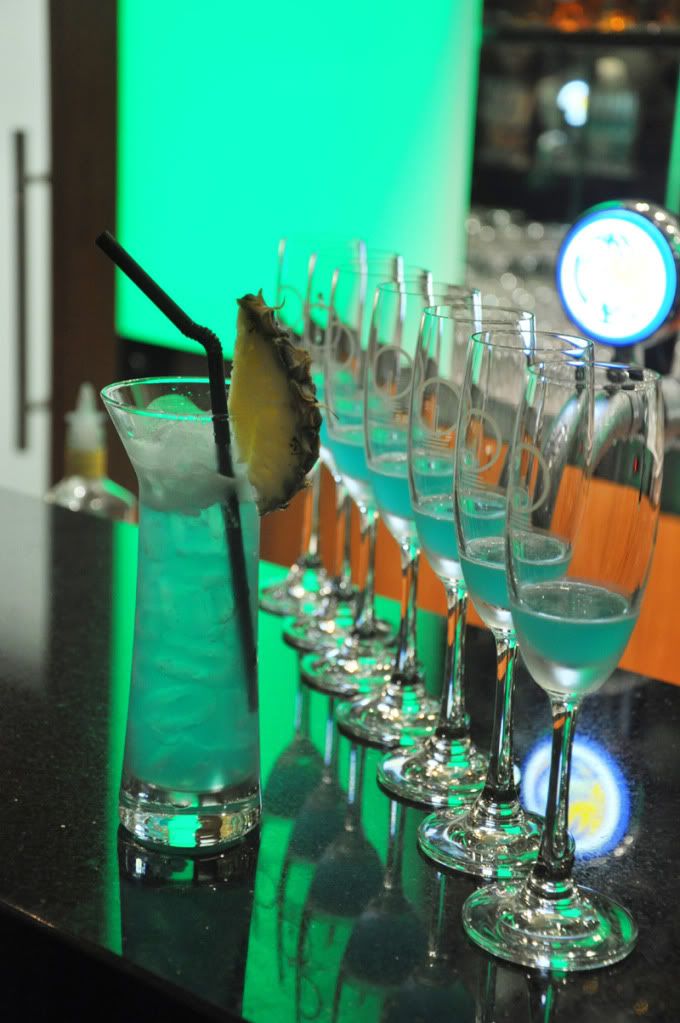 This is my favorite drink actually,so light,so smooth and refreshing from any others that I have sipped. I will definitely come back again for this one. But I forgot it's name. LOL.
Final presentation of the 5 drinks which we came for:
Highland Cigar, A Lady's Dream, Dolphine Fantasy, Purple Dream and Lovers' Bridge.
(Names not according to picture shown)
So go ahead and head down to the Lounge,enjoy a couple of drinks. Because you know what? 50% off the second drink until the end of June!