And here we are at
Day 2
!
It's time to go out and walkabout :D
My outfit for the day.
Took pics of myself while waiting for my mom and bro to get ready. Finally had a chance to wear these UGG boughts that I bought in Australia last November. They are so soft inside! Made of sheepskin and fur on the insides,awww!
Mom,bro and I at Wangfujing food street after shopping around the area.
Are we ready? Let's go in!
It's a bustling street with many tourist and local alike,most of them holding sticks and sticks of mutton! -screams- However,right after I walk through the signboard that you see,I had a shock of my life by what greeted me.
And it's MOVING!!! ZOMG. I had chills after looking at that,almost fainted.
Worse,if you realise,mutton sticks were actually sold from the same store! I dare not buy any mutton sticks to eat,cause most likely 99.9% they are fried in the same oil as these creepy crawlies! And no,I haven't seen anyone walking around eating them.
After walking the entire food street,all these below can be found everywhere in the street.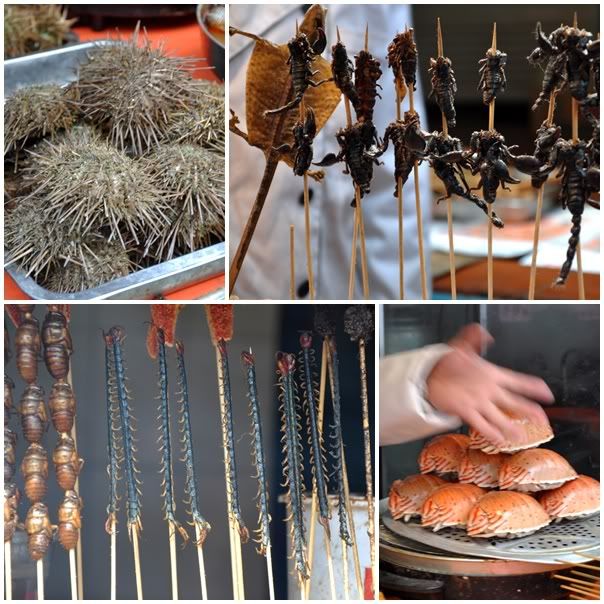 Uber huge roaches, sea urchins, centipede/millipede (whichever way!) ,crab and some sort of weird lizard. Oh,and starfish! Hungry,but definitely not going to have these for lunch. Went on further and found a small shop.
Mutton!
Cheap,but not as cheap as the one we had the night before. This is about 2x the price.
Quite cute,wanted to do one too. But on second thought,the handicraft don't look that good.
Finally,my bro and I bought this bottle to try. Cause it's sold everywhere and I'm curious as to what it is.
Suan niu nai. Sour milk is the direct translation. Actually,its yoghurt. Just that,don't they have a better name in chinese for this?! In my opinion,this taste much nicer than the yoghurt that I usually have. It's clumpy and creamy,sour and but with a hint of nectar as well :D
Kinda abrupt,but I shall end my post here on Wangfujing street. Next up would be the Imperial Palace! Or is there like a special name for it? I'm not sure. Anyway,stay tuned. It's going to be a long one!