HELLO!
Remember last year I went to OverTime for it's official opening with Lin Chi Ling as the VIP guest? If you haven't read that,go read it
here
! Thy have once again invited me to try their food. Let me do the review and tell you,how does a pub food taste like.
Here's the rest of us who are here to try the food: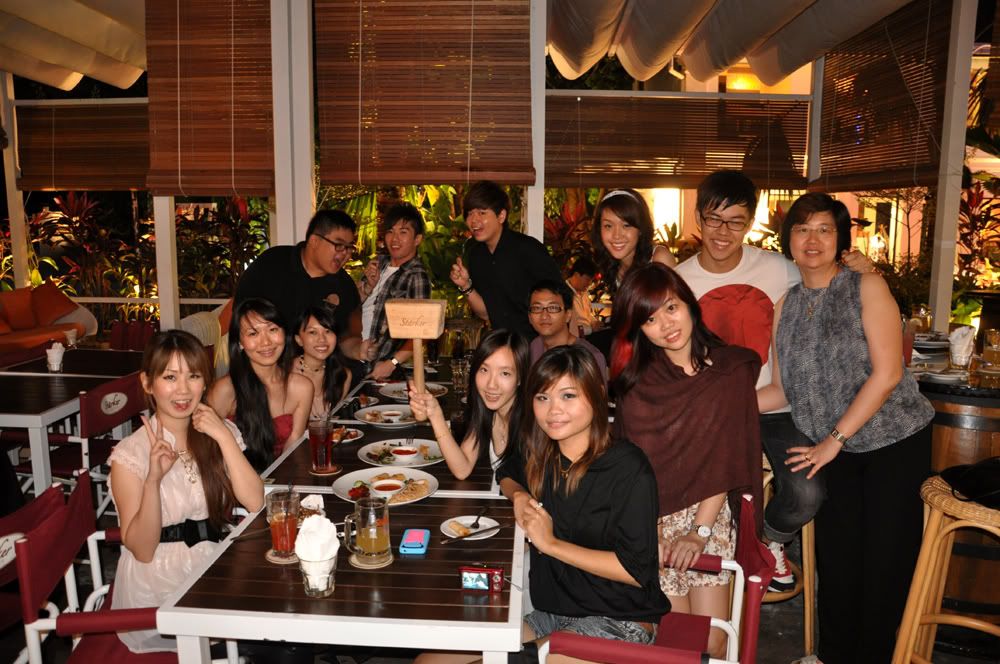 In case you're wondering what I am holding,it's the starker hammer!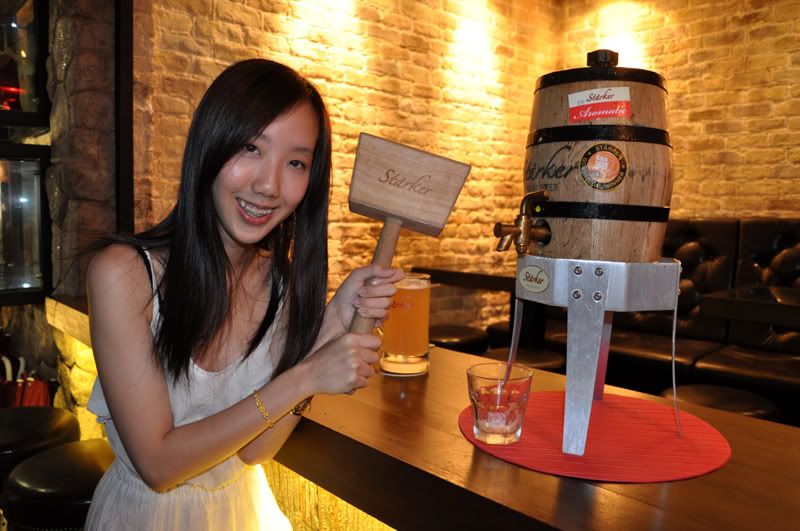 To hammer the spout into the barrel!
It's just the beginning,beer for everyone! And now,here's the food:
Deep fried pork knuckles
It's been marinated with their secret sauce and then deep fried. Doesn't it make you feel like crunching it? Om!
VEGETABLE GARDEN
Purple cabbage, red kidney beans, cherry tomatoes, celery, Japanese cucumber, onion rings and iceberg lettuce served with thousand island or mayonnaise dressing (served on the side)
Chicken Satay
10 skewers of marinated chicken served with spicy peanut sauce, accompanied by red onions, cucumber and rice. Totally love this,the meat is nice and soft. One of the the must-order dishes when you are here!
Pork Sausages
Pork sausages stir-fried with bits of vegetables and tomatoes as dressing. Worth a try,not too oily.
Char Siew(lean pork meat) with spring rolls and.. more pork! It's a combination of 3-in-1.
Fries! And another 2 pork dishes. Again,this is a 3-in-1. A must-try if you're here,I totally love it! Perhaps its because this dish isn't as tough as the rest,I just did my braces a few days ago!
OverTime is a good place to chill. It has a very homey feeling and that evening,we all had a good friday laughing and catching up with one another. Taken many photos too! And here's mint.
She's trying to...
Give me a kiss!
Awww...
And here I am:
Indeed,it's my DSLR. But it's Sze Ping's external flash. We are using the same camera model,but the pictures turned out differently! See,this is how much a external flash matters! Machiam like taken in day time,but it's actually quite dim there.