Someone or something whom I look forward to when coming home everyday.
BOBO!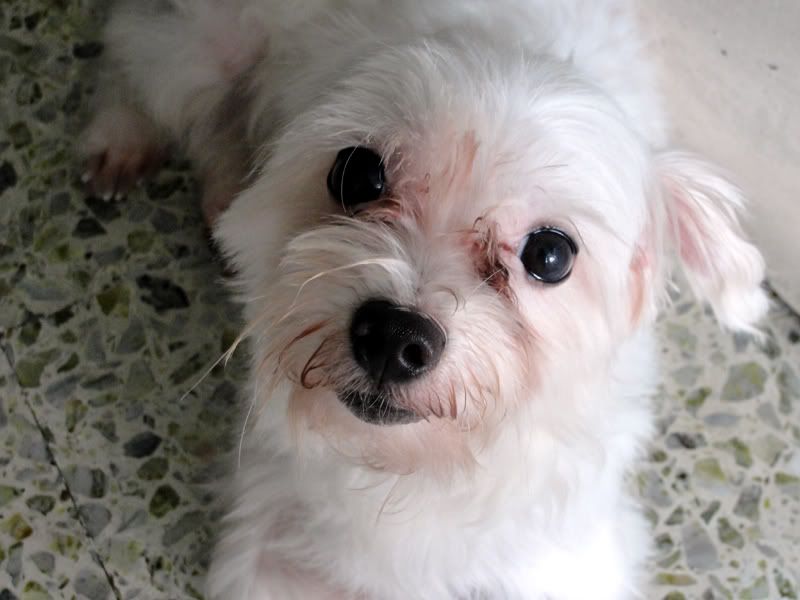 He would always always be the first to greet me,eagerly waiting for me at the gate. Stretching out his paw to reach me,welcoming me and my family home.
This little bundle of fun has been a joy (mostly irritationg to my mom cause he pees everywhere) to my family. He's so silly and ill-tempered,that we all have to watch out of him instead of him watching out of us!
Hello!
Oooh,I think I'm a seal...
.
.
.
.
.
.
.
.
.
.
.
.
.
.
Saw the resemblance?
Haha! Silly bobo,act cute only. He's so cute,but nobody could guess that he's very ill tempered. Those who came to my house before knows it,he would rush to the gate and bite whoever's leaving the house. Seems like it's a one-way road to my house,there's no leaving it. Muahahaha! One even commented that in fact I'm not keeping a dog,I'm keep a wolf!
My dog sleeps with me every night,at the end of my bed. Every morning as I woke up,turn on the lights,he would blink and look at me sleepily as I change into my uniform. Of course,in order not to disturb him,I would quickly turn off the lights again. And leaving the air con on while he lie on my quilt,knowing that my mom would come and pick him off the bed later after I have left for school.

Dog's life is sometimes far better,such enjoyment of sleeping and eating and enjoying aircon~
Cute cute? Yes,very cute. A devil in disguise!