Food Review
Opps! I guess I haven't been updating for 2 whole weeks,sorry for the hiatus. I have been so busy with school work and my mind could only do whirl doing math calculations. That means I'm smart? Nah,I just flunk my physics level test. Esk!
Anyway,I'm back here today because of what? For all of you! I want to share with you a restaurant which I have recently been to,thanks to Dennis for inviting. Just last week,I went to this restaurant located in Centrepoint. Hidden away from the crowd in basement 1,you have to make your way through a small corridoor and up the escalator right in front of Guardian.
Picture source -
omy
Being a chinese restaurant,Shanghainese restaurant to be exact,let's start off with the famed
XIAO LONG BAO BAO BAOOOOO~~
I LOVE XIAO LONG BAO! This basket of 4 costs $4. I cannot comment much because I was busy taking photos of other food that by the time I eat it,it's already cold. As I frequent Din Tai Feng's Xiaolongbao,I would say Eastern's is worth a try.
Collagen noodle soup
This bowl of noodle has got noodles that are so Q! No,not cute. I mean Q,it's like bouncy when you chew on it. So why collagen? Does it catch your attention? Yes,its filled with collagen. The soup is refreshing and light to taste. Bland if you need to describe it,not too flavourful for ladies who don't want flavours exploding in their mouth.
Prawns
Flavourful indeed! Yummy prawns that are thoroughly cooked. But that would mean that these prawns doesn't have the QQ feel to it.
Om nom nom.
No,that's not the name of this dish either. I'm just saying it because it looks so fluffy with icing on top,that you just wanna OM
(eat,my definition of saying it. COPYRIGHTED HOR!)
it!
Sour vegetable soup?
I can't remember the exact name,but I would assure you,this is not sour but salty. Mmm.. Yeap,still too salty for my liking.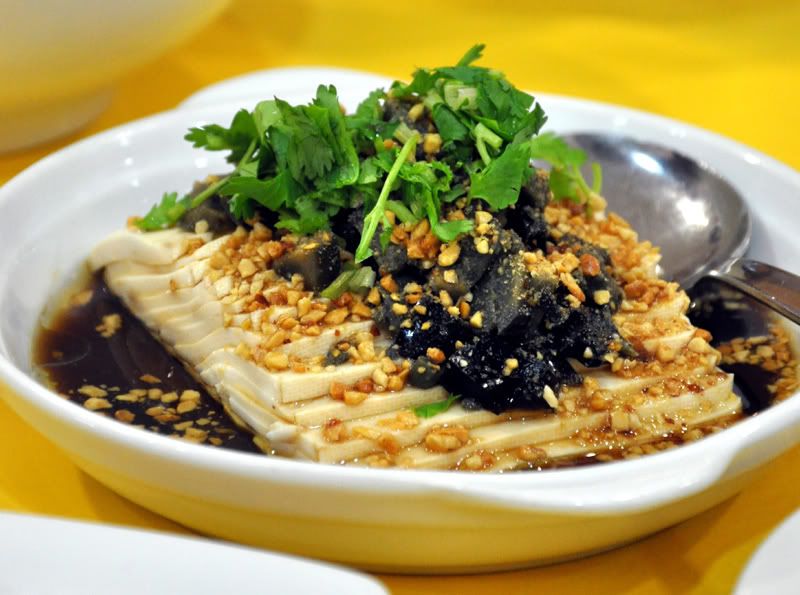 Century Egg Beancurd
Yes,this is the yummiest dish ever. I vote 5 stars for this! This is also the best dish that I like,out of all the dishes that I have tasted in Eastern restaurant. Beancurd,no matter where it's sold at (unless you are talking about smelly toufu),is always bland. You know I would be bluffing you all if I said this is flavourful. So the bland beancurd,together with the salty soy sauce and century egg topping,you can say that this dish combination's flavour just EXPLODED in your mouth!
Lastly,Yee Sang. Yu sheng. My favorite!
The bloggers and I lou-ed until the whole table is so messy. Typical,isn't it? :D
Why is this getting to know chinese food? Because you can call me a western-food person,I would choose western food than anything else. But this dinner,some dishes were surprisingly good and some were typical. Yummy! I think next time,I would be bringing my mom along to try out the food.
Psst,I have a secret for you. Quote:
Blogger's Second Wave

to get 10% off your bill
!
Now,enjoy your dinner! ;)