Every night,I edit a little bit of my travel photos in hope that I can quickly post this up. I have so many photos,not that I travel as much as others. But I became lazy and soon,posting about my trips became a chore. I have yet to post about London,Scotland and Paris! The marvels I saw there can't be compared to Singapore. But today,I'm going to post about Tasmania,Australia.
Warning: This is going to be a super long post.
Many asked me why would I want to travel alone?
Travelling with friends sounded fun,they can help you to take pictures of happy moments. But say perhaps among friends,they have different goals,level of patience,habits; Perhaps for me I would still prefer to travel alone. Besides,it gives me some time alone to think. Because of the obstacles that I saw,and all the possibility of losing my life up there,I think I had quite an experience.
Words aside,let the pictures talk.
Welcome to Cradle Mountain!
Isn't it beautiful?
Top of Cradle Mountain and yes,that white patch is called snow.
Freaking 9 degrees celsius!
I didn't know that it's that cold until I saw the news the next day. To think I actually packed for spring/summer and even left all the clothes that I needed in the airport!
Harrow! Let's begin our trail walk!
Here's how our trail looked like,bigger and more stones start to appear. No longer that smooth.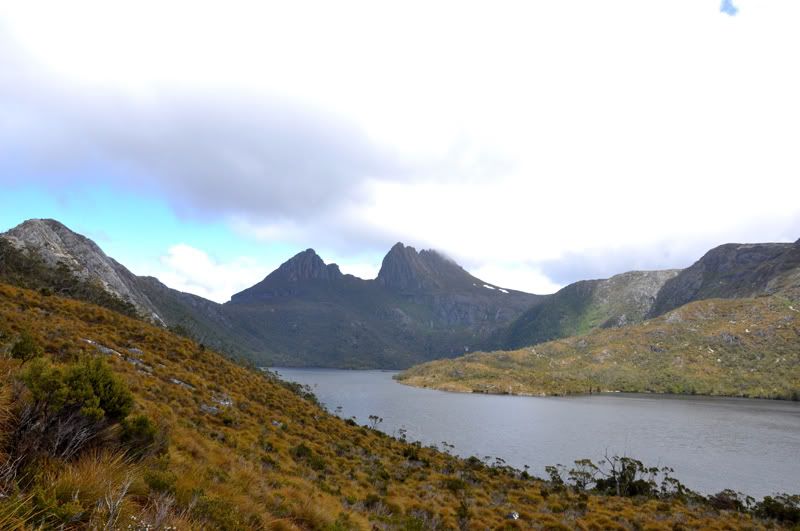 This is the view that I see along the trail that we walked along.
Posing for the camera with absolutely NO FRIGGING idea of what's coming ahead. The steps that I'm sitting on is the very road that we are
walking
climbing. Sometimes,it gets impossible to walk and we have to use our hands to lift ourselves up. The road just gets narrower and narrower,steeper and steeper. And I just can't help wondering if we're going in the wrong way.
I would describe the road as:
Multiply those little rocks in Macritchie Reservoir by 10 times,and divide the width of your corridoor by 2. That's about it.
A point where we stopped. Look beyond,click to enlarge. The mountains seemed endless,just like the sea.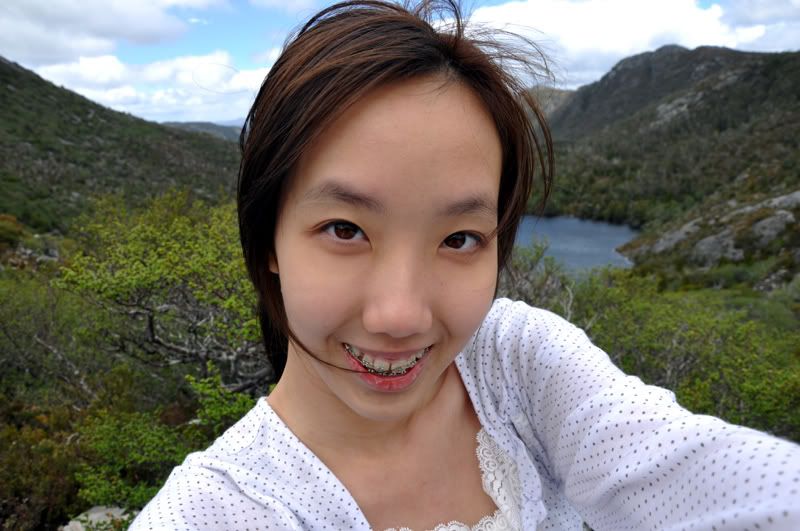 A photo to remember that I climbed this frigging mountain. Seriously,my skin peel,I'm freaking cold. But I managed a smile,teehee!
Hello Cradle Mountain,I'm climbing youuuuuuuuu!
Actually,you can say that it's my first time climbing a mountain. No,I'm not expecting to climb a mountain. Those rocks that you see? I thought it's going to be like a nice little wooden plank,smooth and nice to walk for tourists. BUT NO.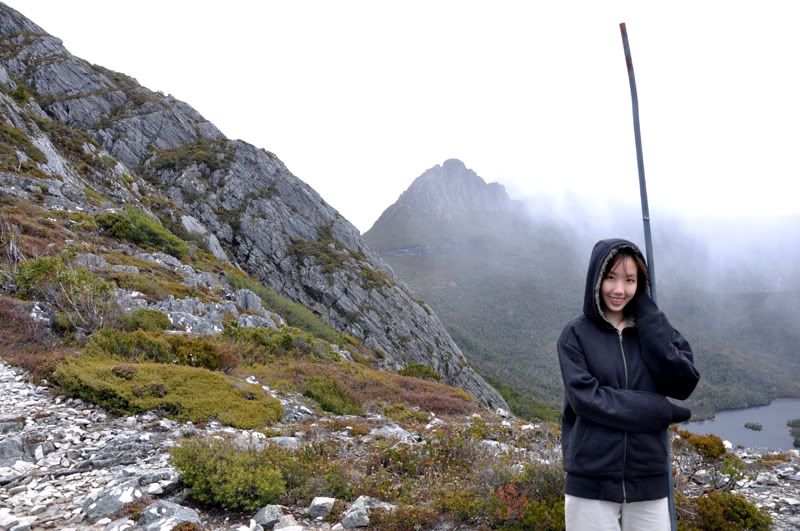 One of the many poles indicating the path that we're suppose to climb. I'm super cold,and is actually
clinging
on for my life because the wind is really big. Several times did I feel that I'm swaying with the wind. So you guys should stop saying that I'm so skinny that I'm going to get blown away. Later what you all say come
true
how? I don't wanna die up there.
Choy ah choy!
-touch wood-
So continuing the walk,we arrive here.
You could click to enlarge and see what it's talking about. Something about being how many millions years old. It was a split path,where we chose which route that we are going to take. And we took the right one,because we wanna get down asap. It's just too damn cold!
Yes please,we are so climbing THIS. Grab onto the rocks or any bushes so that we won't fall off and die. I tried my best to combine the pictures without it looking too weird,cause my DSLR doesn't have paranomic function. Yes,I brought a freaking DSLR to mountain climbing.
Click to enlarge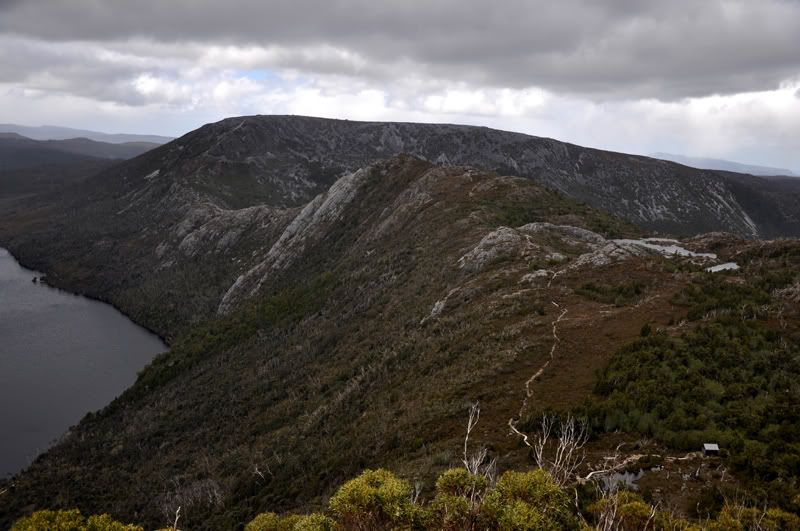 I think you can more or less imagine how big this mountain is.
Then I stop taking pictures until I reached solid ground,because it was way too dangerous. Plus hail (where its like rain,but it's not water but small little ice) hit us twice. So when we finally reached solid ground,you can't imagine how relieved I am!
Are you kidding me? No,I don't look so fresh after climbing the mountain for hours. I edited my eyebags of course! We walked all the way back to the station to wait for our shuttle bus. Climbed the mountain from 12pm-6pm. 6 hours,gees.
Click to enlarge
We walked from Lake Rodway track to Face Track,Lake Willis and down to Dove Lake circuit. I would love to say I went to Marion Outlook but I didn't. I would love to accomplish something bigger than what I did,but I would probably not want to go back there. Because I might not return. And I'm proud to say,I hit
1100m
in height!
Look at the map,face track's highest altitude is
1240m
! Whatever that is required to bring along the trip,I didn't. My friend only wore his long sleeve and sneakers. While I wore my flats,long sleeved and jacket. Not to forget my polaroid,DSLR. Nice? Nice.
While waiting for the shuttle bus to pick us up,a Hong Kong couple asked us where did we reached. I told him,added that it's cold. He laughed and looked at us,saying:
It's not that hard,you're just underdressed.
LOL!
This meal costs us about $50 SGD. But I think it's pretty yummy,warm and fulfilling.
And we reached our hotel at 8pm. At that time,our poor tour guide has been asking around where are we. Because everyone were suppose to sign in so that he knows we are back. He started to
panic
a bit when we weren't back at 6pm. The moment he saw us,he said:
I'm very happy to see you back.
I didn't really understand that sentence and thought he was making conversation. Until the next day when we were leaving,I asked him if anybody
died
at the mountain or just fall off. He said every year,people did. Sometimes their bodies were found,sometimes not. And he added:
That's why I told you last night,I'm very happy to see you back.
Now I know.
Byebye Cradle Mountain!
(Besides the 'Geology at work' sign)