Advertorial
I got a lot busier this year. Dropping some stuffs and picking up some stuffs as life goes on. But personal hygiene is something that everyone,no matter how busy,have to maintain. I got busier but of course,I still have to bath!
Unlike the public transport,you can see oily patches on the windows. YUCKS TO THE MAX!
Anyway,back to topic. The bad thing about washing long hair is that you have to wait for it to air-dry if you don't want to damage your hair. Yet if you are rushing,hair dryer is the only option out. And I chose the second option,only to have my hair getting more and more damaged with split ends.
Essential
Damage-Care
Boy,am I glad that I am now being sponsored with their products. I can now haz whole range of Essential to try! I dare not venture far for shampoo because some brands that I tried made me drop a lot of hair. >:(
It is 100% made in Japan and formulated high purity honey & milk protein to deeply repair and strengthen hair. It also has ultra shine hair essence to restore shine to your hair and there's
Wild Rose Essence

(Nuance Airy)
/
Sunflower Oil Essence

(Rich Premier)
to leave protective layer to keep your hair moisturized.
The difference between these two:
Wild Rose Essence

(Nuance Airy)
gives limp flat hair a
bouncy
and
airy
feel.
-boing boing boing-
Sunflower Oil Essence

(Rich Premier)
gives untamable hair a
smooth
and
mangeable
feel.
-wheeeeeeeeeee~-
Left to right
Shampoo
is a must,
conditioner
is a bonus.
Yet
Treatment
is 2x as powerful as
conditioner
,to be used once a week!
And then comes the
Hair Mask
,3x more powerful than
Essential Treatment
!!
Lastly,the
heaven
Essential-sent
Hair Essence
. Daily usage and is the most
powderful
one!!!
Morning! Every morning when I wake up,my hair is always like that.
No thanks to often blow-dry my hair,which makes it frizzy. Thanks to Essential Rich Premier,it's going to make a miracle of my hair! Let me show you how it's done and the difference: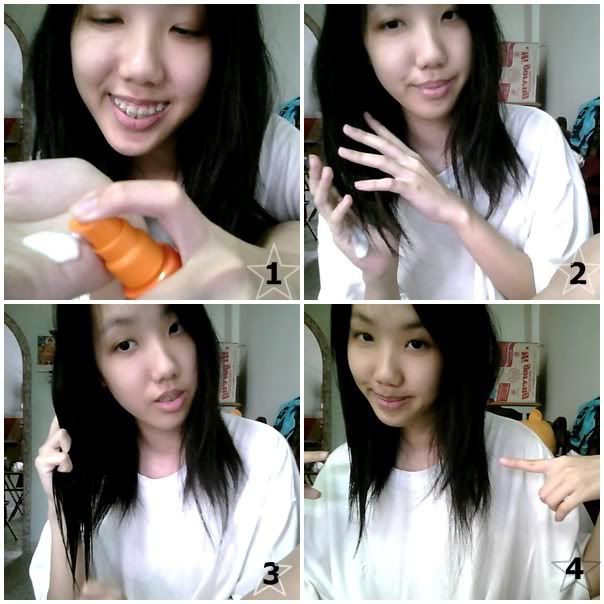 1.
Pump an appropriate amount of lotion onto palm
2.
Spread,
3.
Apply evenly onto hair!
4.
Now see the difference between 2 sides? What a huge contrast! One side smooth,the other side frizzy still. Apply apply,onto to the other side....
Tadah!
Now both sides are no longer frizzy. There is no need to rinse off either!
My hair is much softer,no longer so harsh and dry. I need no worry about having tangles in my hair when I am out and about. In case you didn't know,this
Essential Rich Premier Nourishing Care Lotion
has no oily feeling after applying. It is suitable for dry,damaged hair and protects your hair from blow-drying/styling damages to your hair!
Whereas the
Essential Nuance Airy Anti-Frizz Serum
gives an extra shine to your hair end,making it light and airy. A natural bounce and a whiff of fragrance when the wind blows! Definitely catching the attention of every guy ;)
Below is a short .gif picture.
About Hair Ends
- The
last 15cm of your hair
ends are the oldest; it is 1 year older on average compared to the rest of your hair
(for those who have hair longer than shoulder)
. Hair ends have gone through the most. On average, it has been permed/coloured/rebonded
2.5x
more than the hair crown.
Hair Damages
Typically a flat iron or curling tong uses a temperature of 175 degree to style hair – same as the temperature used by clothes dryer to wring out moisture from wet laundry. Females, in general, spend an average of one hour and 53 minutes a week washing, blow drying and styling our hair. That may not sound like a lot, but by the time we reach the age of 65, we will have spent more than seven months of our lives on our hair!
Check out the secrets to Japanese girls' hair care!
-Video is in mandarin
For more information,head over to
Sassykawaii.com
now!
Once again,thank you to
the sample store
and
Essential
for providing the information!