Gadget Review
Introducing the
Garmin Asus A10
which is launched into the market not too long ago. Nowadays,the phone market is SO competitive. Every phone has a standard functions which are calling,smsing and to some of us,data plans such as twitter and facebook. So what makes
Garmin Asus A10
stands out?
Forget the fact that it's android,forget the fact that it's so user-friendly that all the buttons are at the right place. I can honestly tell you,it's the
map-navigation
function!

-shiny eyes-
Why so? I'm a traveler. You can read my past entries. Not trying to be a show off,but I just want to highlight a problem that every traveler face: road navigation. What more,I enjoy traveling alone. But I hate buying maps or having to ask people for directions. Let's take a look into the phone!
This is how the phone looks like.
I didn't put my pictures or anything inside as I don't think I want to take the trouble to synchronize everything. So it's kinda plain,but you can customize it once you got it. Put your finger on the screen and pull upwards,you will get your menu like this:
There's twitter,facebook,youtube,google maps and even weather reports! Those are probably the typical applications that a person like you and me would wanna use. Anything additional application that you wanna use,just download. But don't forget to check the compatibility! Don't worry,you can slide the menu up and down,it's pretty smooth too.
You can pull the menu from side to side too.
See that cute little arrow on the front page? Click on it,and that leads you to this: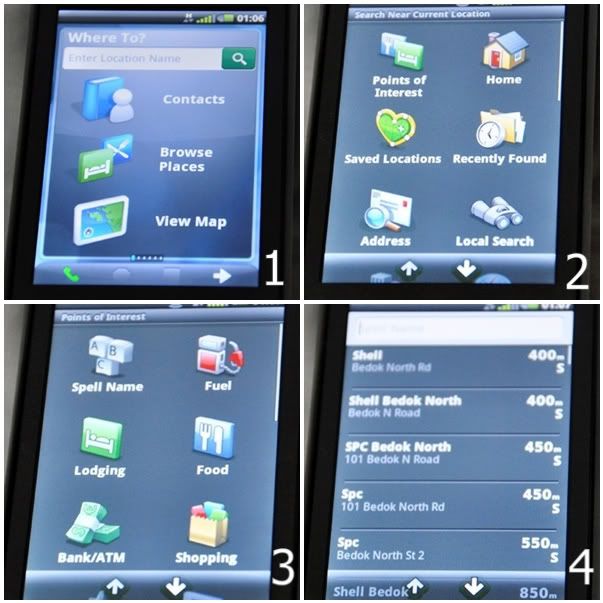 1.
You will reach a screen that says "

Where to?

"
You can search the location by typing in the name of the place,a few suggestions will drop down and you can select. View map shows the location that you are currently at. No need to worry about getting lost!
2.
Let's go to "

Browse places

"
From there,you can see points of interest which shows,well,points of interests of course! Anywhere that is near you. Also,you can set your home location or saved locations. So that way,you can always go to the location you used to go from any parts of Singapore.
3.
Let's try "

Points of Interest

"
Inside points of interest,you can search places by spelling. You can even search for the nearest fuel stations,food or even ATM machines!
4.
How about "

Fuel

" for a start?
It directs you to the nearest fuel station. It shows you how far away are you from a fuel station. By clicking the fuel station that you want to head to,another screen will pop up asking you whether you want to travel there by
car
or
foot
and it gives an estimation of your
arrival time
including the
speed
you are traveling at! I know,I know! It sounds like a multiple choice teleportation but it isn't,it's a high-tech GPS system with Singapore map in-built! For other maps,you should head to the HTC website and purchase one. Like France's map! Hehe!
Take a walk with me,guess where am I:
-click to enlarge
Yeap,you should be smart enough!
Now,the verdict?
Thanks to Garmin Asus and Yamuna for lending me this phone to review,I had my very first contact with Android phone. It gave me some time away from my blackberry and I think this would be an excellent start first-timers to android phones. Boasting the capability to run smoothly with all the applications,this smart phone also comes with
map-navigation
! They boast to be the fastest in the world,why shouldn't I believe? Each time I took a wrong turn,it recalculate within 1 minute;or rather,35 seconds! What more can I ask for? It's like a all-in-one for a fantastic price. Speaking of price,A10's retail price with a car kit is
$598
.
Of course,not all phones are perfect. The only thing I loathe about it is it's
battery life
. It's not that bad that it runs out every 3-4 hours. But running twitter,facebook and sometimes the GPS? It probably lasts me about 10 hours. I guess all smart phones are like that?
I told my mom about this fantastic phone,but she said NO. How am I gonna convince her this is good for me whenever I travel? I nearly got lost in
Paris
and
London
because the place is HUGE. And I don't know where I could eat,take a bus etc. Gee. If all goes well,I am heading to
Australia
in 3 weeks time. Would this phone help me out? Hmmm...
-shows shinier eyes-