Food Review
KFC is introducing a new burger in town. Yes,you have seen it stomp.
In a positive way.
Many
gian
freebies auntie uncle has tried to grab the suspended burger but phail.com! Hahahaha! Let me now present to you:
KFC

ROASTA

BURGER
Real one okay! It's not an empty box!
The packaging is an oven. Because the meat of this
Roasta Burger
really IS cooked using an oven. Traditionally,KFC is thought to be chicken wings and deep-frying. Now,
Roasta Burger
is here,a healthier choice in KFC. A typical burger with meat,tomatoes and lots of lettuce? Dream on!
Check this out:
They removed

all

the skin.
Marinated it with their signature sauce.
Put it inside the

oven

for 7 minutes to let it cook.
Take it out and dip it inside their signature sauce again.

Here's your burger!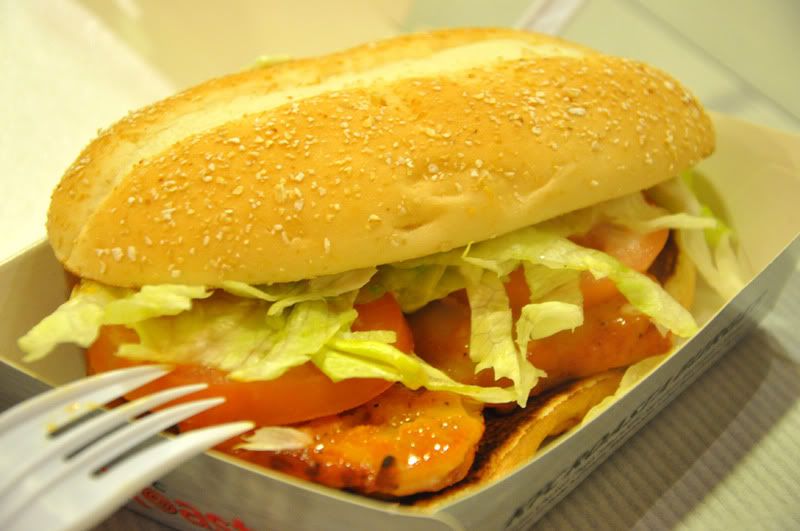 Yummy?
Yes,definitely.
Juicy?
You could say that again!
To show you how it looked like on the inside,I dissected the burger:
Now you know why I said it's
juicy
? You can totally see the sauce on it!
You can click on it to enlarge. I'm gonna make you crave for it,especially those who are reading this at night! Hahahaha! So what do I think of the taste?
It tastes
juicy
,and a very mild taste of
spiciness
. Whenever you finish chewing one mouthful,the sauce just makes you wanna have another bite. Or in other words,it tastes like Pizza Hut's spicy chicken wings,except this one without bones and in form of patty! But it isn't that spicy.
What wasn't suitable for me is that personally,I'm a person who doesn't eat much. So this is slightly big for me. After finish 3/4 of the burger,I don't feel like eating already. Then the chicken and sauce becomes a little too much for me. But for the rest who eat normal meals
(yes,you can call me unhealthy)
,this should be fine and definitely worth the bucks.
How about an egg tart as dessert after the meal?
It's damn yummy,freshly baked from oven too. No worries about it being cold,you can even put inside the fridge. It comes out like custard insides. They used the original recipe from Macau. In other words,you can call this the authentic Portuguese egg tarts!
In case you don't know,
Roasta Burger
will only be on the delivery menu on 19th October. The
Roasta Buddy Meal
is only until the 23rd November. So hurry! Head down to KFC to enjoy the meal at a better price with your buddy ;)
Say
AAAAAHHHHHHHHHHHHHHHH.....
I could feed ya or you could head down to the nearest KFC and check out the Roasta Buger!