OLA! Remember the movie "Love Cuts"?
A Clover Film produced locally,the female lead and the director had a sharing session on courtesy of kbox. I was excited to see what the actor and directors had to say about the movie,imagine up close and listening right from their mouths! Hurhur,okay,I'm a bit crazy. But here are the photos anyway.
Our pretty host before the stars came out,
interviewing some of the people on how they feel about the movie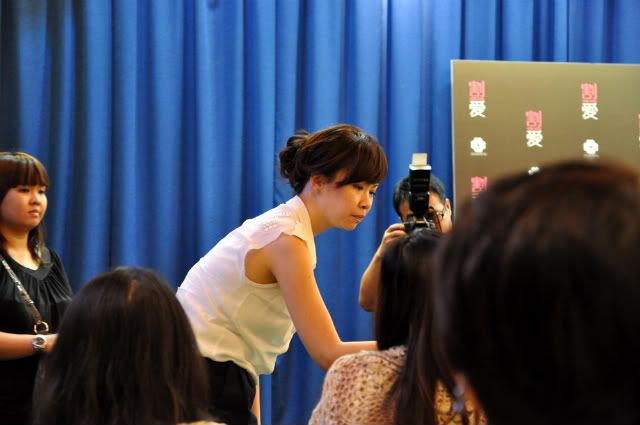 This is one of the many women who wore pink to attend the session. Apparently they are breast cancer survivors and they wore pink to support the movie.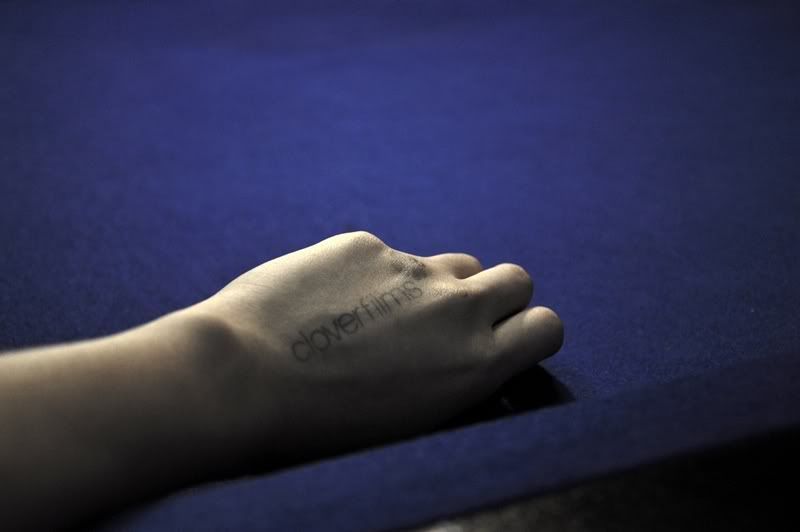 A chop don't know for what. Clover Films.
And finally the stars came out!
Here is each of them talking about the movie,answering the questions from the audience.
Zoe Tay is pretty for her age! I really like her :)
Also they asked for the opinions from the audience,which many said that they like the movie and can relate to the movie. It's just like what I have mentioned in the previous post,some felt that it's not possible for 'Sissy' not to share with the model that she too has breast cancer,so yeah,that part was unrealistic. I do agree on that.
Unexpectedly,she brought 2 items to auction at the session!
Woah,definitely a surprise. Was not expecting this. First item was a 4-section bag which she bought from Japan while shopping with her friends. I can't remember the brand. The auction went like this,each time a person puts up their hand,the bid will go up by $50. The base was $50. It was a fierce auction for this bag,it went all the way up to $1001.68 !
Wondering why is the price so weird? Well,this man here is a BIG fan of Zoe Tay! He had a fierce competition with another 2 auntie who wants the bag too. And he decided to to go for $1001.68 cause it's Zoe Tay birthday! Born on the 10 of January 1968,now I know her birthday ;)
And the second item?
A Armani dress bought while she was in New York,which was settled for $350. I like the dress too! But sadly,I'm only a student. I can't afford it! And the successful bidder of the dress?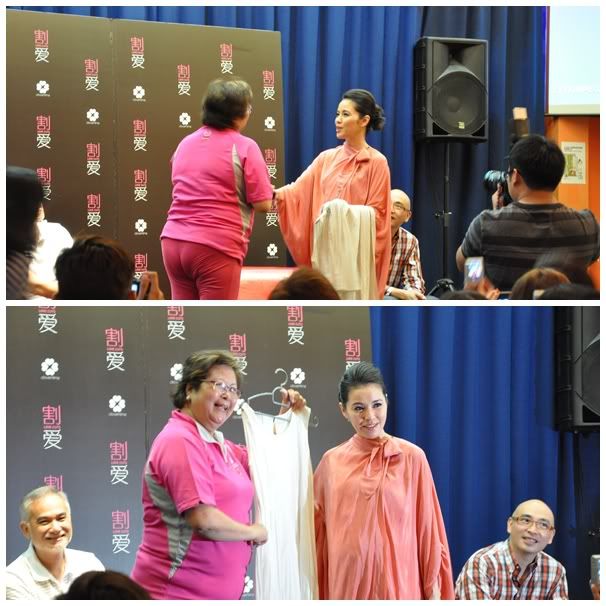 One of the pink ladies!
Though honestly,I think I would do more justice to the dress.
Hmmm.
Before they leave,a group photo of them for everyone!
And another photo with the Kbox manager. I think she's like,damn cool.
You know,her style and her look.
Behind the stage,in one of the rooms. I finally got a clear shot of this fan! He even got flowers Zoe when the session ended. Here is him requesting an autograph from Zoe.
Yay! I got a pic with Zoe Tay! Wheeeee!
-click photo to see twitpic